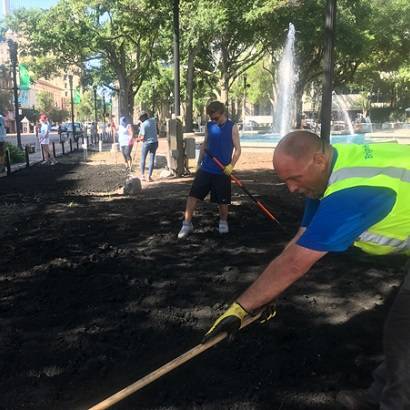 Friends of Hemming Park, a nonprofit organization, was contracted by the City of Jacksonville in 2014 to manage Jacksonville's oldest public park. Since our inception, we implemented placemaking projects and brought regular amenities and programming to the park. We have been making significant improvements to Hemming Park by providing friendly ambassadors and dedicated security. In addition, we have:
Added two stages for entertainment and programs,
Set up moveable tables and chairs,
Created an open-air outdoor seating area called Charlie's Café, where a bronze statue of Congressman Charles E. Bennett stands,
Designed a Kids Zone, and
Softened some of the hard spaces in park which remained unchanged for over the past 30 years.
In our tenure, we have benefited from community partnerships and have collaborated with businesses such as:
MOCA Jacksonville (Museum of Contemporary Art),
The main branch of the Jacksonville Public Library,
Sweet Pete's and Candy Apple Café, just to name a few.
We have a dedicated social services coordinator who works with individuals in the park and downtown library and has assisted over 3,000 points of contact, created over 300 résumés, and placed over 50 people in housing. It has been our honor to be a part of large-scale events such as First Wednesday Art Walk, GastroFest, Bourbon & BBQ and the Hemming Park Beer Festival.

Although great things have happened in Hemming Park, the park has also had some recent challenges. As one of the transit stations for the Jacksonville Transportation Authority (JTA) Skyway, Hemming Park has seen an increase in pedestrian traffic, in addition to loitering and panhandling. The park has also become a focal point for press conferences, meetings, gatherings, tourist groups and field trips. Since the closure of the Jacksonville Day Resource Center in October 2016, the park has become a gathering place for transients and those needing social service. Shortly after the closing of the center, we hired private security to enforce the park rules and deter nuisance activity from sunrise to sunset, seven days a week. We have seen a dramatic decline in criminal activity and continue to look for ways and programs to ensure our city park is a safe, welcoming and clean destination for everyone.

Earlier this year, with the help of the mayor and city council, Friends of Hemming Park was able to continue its mission of providing much-deserved upgrades to the park with a six-month contract extension, additional city funding of $40,000, and a $175,000 city grant earmarked for capital improvements in the park. Along with the daily cleanliness and safety measures by our park ambassadors and security staff, parkgoers will see several remarkable improvements in the park throughout the fall of 2017. With this additional boost from the city and the help of the National Recreation and Park Association, we received sweat equity from our hard-working staff, Citi volunteers and Jason Secura from BrightView Landscapes in celebration of Citi's 12th annual Global Community Day, held in Hemming Park on June 24, 2017. Groups such as Keep Jacksonville Beautiful and Jax Parks donated tools.
During Global Community Day, we were able to complete the following projects:
The fountain ledges and brick pavers in the area along Laura Street across from the library and MOCA Jacksonville were prepped by Danis Construction before receiving topsoil and mulch.
We added wood stain to our café stage.
A mother and her child spent hours painting several of our trashcans in our Hemming Park green! As they walked away, I hugged them and thanked them for their hard work.
Main Made Studios added decorative posts and chains around fountain.
There's definitely a buzz from locals on how the park has a friendlier and inviting look and vibe. Our next goal is to add softer elements in the park's existing design and to ultimately make the park more aesthetically pleasing and welcoming. Friends of Hemming Park also plans to work with other volunteer groups to complete our capital improvements and will be collaborating with MOCA Jacksonville, the Cultural Council and other key stakeholders to install a one-of-a-kind sculpture garden in the park.