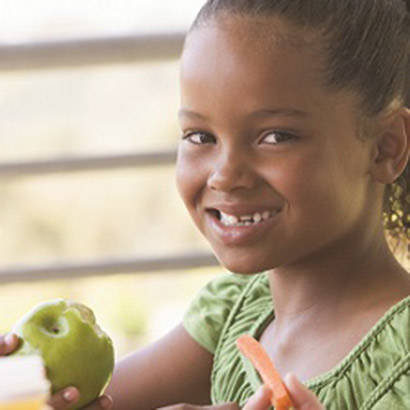 A partnership in O'Fallon, Missouri wanted to address growing rates of childhood obesity among their population. Childhood obesity has numerous causes and groups with the best of intentions can get bogged down in the details: Do we build open spaces or change vending machine options? Do we improve school lunches or implement a smoking ban at local parks? But the partnership, which included schools, public health and parks and recreation leaders, had no problem choosing their first target: improve school lunches.

School district food systems can be difficult to navigate. Layers of local, state and national laws governing the types of food offered can create confusing systemic challenges to school insiders and outsiders alike. The details of contracts with particular vendors and the timing of contract renewals or RFP releases create further obstacles to timely change. But having a high-level advocate for change within the school system in O'Fallon created both the institutional will and the momentum to make significant changes to the quality of food offered to children at school. With strong internal leadership support, O'Fallon's Fort Zumwalt School District implemented dramatic changes such as offering whole wheat pasta and French fries once a week instead of every day, contracting with local farms, and creating colorful guides to help schoolchildren make healthy food choices.

Flexibility and creativity in approach have been key to expanding the O'Fallon partnership's success beyond the lunch line. While the insider approach was hugely successful in the schools, different tactics were required to accomplish other goals. For example, the group wanted to assess support for a bicycle helmet law for children. This proposal was met with resistance from local law enforcement, who were concerned about how to monitor compliance. The alternative approach used was to build urgency for a helmet law through data on youth injury rates from outside the community. The partnership has also supported groups working to create tobacco free spaces by providing information and resources regarding health impacts of tobacco.

To ensure sustainability, the coalition in O'Fallon has been deliberately focusing on empowerment and encouraging community voice rather than implementing a specific set of public health programs. And this will be the legacy. Community groups who now understand how, why and when to raise their voices will be able to make lasting changes in their environments. A new community health-focused collaborative, the "St. Charles County Partners for Progress", has expanded beyond the core to include businesses, public employees, and community members committed to long term impacts on health, wellness, and a robust local economy.