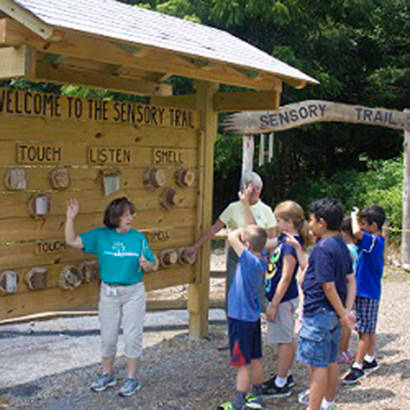 Nestled in western Maryland is a nature park that is one of Frederick County's true jewels. Catoctin Creek Park captures the imagination of visitors every day as guests enjoy not only historical elements in this one hundred and thirty-nine acre park, but also miles of trails and the County's newest green energy efficient nature center.

The running water of the meandering Catoctin Creek and the abundance of wildlife create an atmosphere that is like no other in the County. Employees and volunteers have dedicated time and resources over the years to develop various improvements in the park, including partnering with the University of Maryland Extension to develop a "Certified Maryland Master Naturalist" program. The program itself engages citizens as stewards of Maryland's natural ecosystems and resources through science-based education and volunteer service in their communities.

During the first Maryland Master Naturalist program initiated at Catoctin Creek, Dawne Howard, a nature enthusiast with a passion for helping others, was inspired to develop a multi-sensory program for the blind and vision-impaired visitors. This unique idea would manifest into what is now called the 'Catoctin Creek Park Multi-Sensory Trail'. The trail provides a distinct outdoor experience for visitors, including those who may have disabilities. "Nature is so beautiful and Catoctin Creek Park offers so much for the outdoor experience; so much to listen to and smells of the pine forest", Dawne said as to why she was inspired to create this project. Dawne felt that every individual should have the opportunity to experience nature and "Catoctin Creek Park was the perfect fit."

After almost 10 months of planning, collaborating, and overall construction, the trail was born. The Multi-Sensory Trail includes twelve interactive touch and smell stations. Each station has a fabric sleeve at the top, which visitors can place their hand inside to feel the textures of various tree barks, a variety of bones such as a white-tailed deer jaw bone, an assortment of seeds and leaves from local plants and trees, feathers, and a turtle shell, as well as other animal artifacts. Stations are also provided along the trail to enhance the experience and engage your sense of smell through a variety of distinctive aromas. In addition, a team of staff and volunteers developed a series of written clues in braille for the artifacts in each of the 12 stations. The braille clues are a pleasant enhancement to the project that allows for a bit of "fun", as guests attempt to guess the contents at each station.

At the grand opening of the Multi-Sensory Trail in April 2014, a five year old visually impaired guest, Max Dalyai and his mother, Amber Elia, cut the ribbon to the trail entrance. Amber could not contain her enthusiasm saying, "It's a wonderful project and we are so pleased that we can benefit from it. It's just incredible and we thank you, for all your hard work to create this…we really appreciate it."

Guests to the park can interact at the newest feature, the trail head kiosk, which allows them to hear sounds from a xylophone and wind chimes before entering the trail.
The Catoctin Creek Nature Center employees have developed a corresponding curriculum and field trip program offering a Multi-Sensory Trail experience for Preschool through third graders. Students have the chance to participate in sensory related nature activities, which encourage them to explore the world around them and learn about the local Maryland habitat.

In addition to being accessible to vision and hearing impaired guests, 'disability awareness hikes' have also been developed to lead blindfolded guests through the trail so that they too can experience the trail as it was initially intended.

Frederick County Parks and Recreation and the surrounding community are very proud of the impact that this type of resource provides. This Multi-Sensory Trail is a fantastic example of how a community can be impacted by an individual's profound vision of inclusion to enhance the quality of life. The National Recreation and Parks Association recognized all of these efforts at their recent congress in Las Vegas. The Catoctin Creek Multi-Sensory Trail was one of the major reasons that the Frederick County Division of Parks and Recreation was awarded with the "Excellence in Innovative Programming Award".