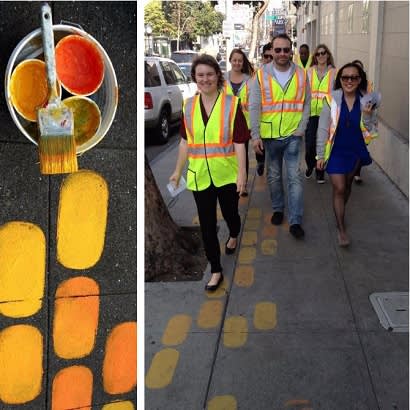 The Neighborhood
San Francisco recently commemorated the great success of being the first city in the nation where every resident lives within a 10-minute walk to a park. It is, indeed, a great feat worth celebrating. But not every 10-minute walk is the same.
The Tenderloin neighborhood, in the heart of the city, is by far the densest, accounting for the most children by block and the least amount of park space per capita than any other neighborhood in San Francisco. The area also has a great number of supportive housing and hotels converted to Single Room Occupancy (SRO), often with little to no community gathering space, leaving the sidewalk as the primary open space available to residents. While sidewalks are where many in the community come together, it is also where many of the significant challenges faced by the community come to the surface. These include, but are not limited to, open drug dealing and use, mental illness, homelessness, and occasional violence.
Tenderloin Safe Passage
Tenderloin Safe Passage is a program where volunteer Corner Captains, mainly neighborhood residents, stand along a designated route, anchoring corners during afterschool commutes to provide a safe presence for neighborhood children. Safe Passage started in 2008, at the behest of neighborhood mothers concerned for the safety of children walking to and from school.
The group met in coffee shops or peoples' homes to define and hone their mission of creating a culture of safety in the neighborhood. For a short time, a "yellow-brick road mural" was painted on sidewalks designating the route, but several factors, including upkeep, maintenance and cost, deemed the mural unsustainable. In lieu of that, artwork created by students is placed in windows of partnering organizations along the route and serves as a visual designation of the Safe Passage.
From 2008 to 2012, Program Director Kate Robinson estimates Safe Passage operated on a total budget of $15,000. In 2013, Safe Passage received a $200,000 grant from San Francisco's Office of Economic and Workforce Development Invest in Neighborhood's initiative. Over the next two years, Saint Francis Foundation provided $281,000 in grants. The program has also become a priority of the Tenderloin Health Improvement Partnership, a collective impact initiative for improving the health, safety and well-being of the neighborhood. Also in this time period, Tenderloin Safe Passage began operating out of Boeddeker Park, improving its capacity and practice while being in a location conducive to establishing, cultivating and strengthening existing partnerships.
In 2016, Safe Passage began operating under the umbrella of the Tenderloin Community Benefit District (TLCBD). In March of 2017, TLCBD and Safe Passage moved to a ground floor office along the Tenderloin Wellness Trail to be closer to the community they were working to serve. Since coming into the fold of the TLCBD, the capacity and core purpose of both organizations to "Lead the Evolution of the Tenderloin into a Vibrant Community for ALL" has strengthened.
Since joining the TLCBD, Safe Passage has expanded its Corner Captain capacity and developed a stipend program, in addition to directly hiring resident Corner Captains to create economic opportunities for residents. A key component of the success and sustainability of the Tenderloin Safe Passage Corner Captains has been the reward of taking an active role in the well-being of their community. These Corner Captains have grown to become data collectors and evaluators, health and safety educators, and coordinators who connect organizations, residents and the city in building a culture of safety in the Tenderloin.
Below is a list of current projects and programs undertaken by TLCBD and Tenderloin Safe Passage, as well as partners like The Trust for Public Land, that look to harness and improve equitable access, connection and activation between the neighborhood's public realm and parks.
Turk-Hyde Mini Park Pilot
Ahead of a major renovation, TLCBD/Tenderloin Safe Passage kicked off the Turk-Hyde Mini Park Pilot. Corner Captains are stationed outside the park on Tuesdays, Wednesdays and Thursdays from 1–3 p.m. and serve as "inviters" by being friendly park ambassadors who greet residents and visitors, provide informational resources, and coordinate activities — such as clean ups — in the park. A micro-grant opportunity program was developed through the TLCBD to further engage Tenderloin-based activators to bring positive, healthy programming to the park.
Safer Taylor Street Meetings + Public Life Study
In addition to presenting at various community meetings, TLCBD staff and Safe Passage Corner Captains participated in a full 12-hour Public Life Study focused on pedestrian behavior on Taylor Street from Market to Sutter Streets. TLCBD/Safe Passage are working directly with the San Francisco Municipal Transportation Agency (SFMTA) to cultivate community input and participation in the SFMTA's Safer Taylor Street Project, which proposes improvements along these streets with a focus on pedestrian and cyclist safety, traffic circulation, parking management, and creating a more livable street for everyone.
Tenderloin Wellness Trail
While all of these projects — as well as other lighting and traffic calming projects on the horizon — work to improve the equitable access to parks, none are as ambitious and potentially fruitful as the Tenderloin Wellness Trail. The Tenderloin Wellness Trail is being led by a partnership between TLCBD/Safe Passage and the Trust for Public Land, and will serve as a tool to help prioritize sites and future improvements. Project partners are conducting extensive community outreach to identify pathways to connect important community resources, such as parks and open spaces. Specific interventions are also being developed along these pathways, and innovative prototypes will be demonstrated as part of this. An online interactive mapping tool and "Storymap" will used to inform residents and decision makers alike.