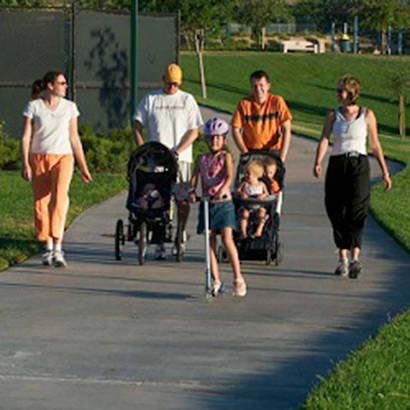 "Mom, can I walk to the park?"
"No, it's too far."

These are words you won't hear in the City of Henderson, Nevada. Currently, almost 70 percent of Henderson residents live within a half-mile of a park or recreation amenity—the equivalent of just two laps around a track. With so many parks and trails within walking distance, Henderson residents have a unique opportunity to participate in outdoor experiences right in their own neighborhoods. This commitment to parks and recreation brings a wealth of both tangible and intangible benefits to the community.
"Research and our own experience suggest that there can be serious health and social consequences for individuals leading isolated or sedentary lifestyles. That is why I've always believed that access to parks and open spaces is vital to our quality of life as individuals and as a community," said Mayor Andy Hafen. "At the City of Henderson, our objective is to have a park, trail or recreation amenity located within a half-mile of most Henderson homes. Parks provide a sense of place and limitless opportunities for people to connect in a shared environment. They are the cornerstone of our quality of life and of our premier community."

Located in the Mojave Desert, Nevada's second-largest city has over 1,300 park acres and 64 parks, including neighborhood parks, community parks and sports fields, plus over 130 miles of off-street bike trails. In May, The Trust for Public Land ranked the city's parks 19th on its 2015 ParkScore Index, a park system rating of the 75 largest U.S. cities. Henderson scored well in areas such as its park access, size, facilities, and investment.

In 2014, the city's Public Works, Parks and Recreation Department received the National Gold Medal Award for Excellence in Park and Recreation from the National Recreation and Park Association. Those who live, learn, work and play Henderson take great pride in the award.

The objective of having a park or recreation amenity located within a half-mile of nearly every home has been a priority since the 1990s, when the City of Henderson experienced exponential growth as the fastest-growing community in the country. City leaders then, as now, understood that parks build great communities and where parks and recreation is, families are sure to follow.

The wide availability of these amenities encourages people to get outside and exercise. Many parks also provide access to the city's extensive trail system, which serves as an alternate mode of transportation while also encouraging people to bike, run, hike and walk for recreation and fitness. The department also hosts a wide variety of programs designed to encourage people to walk or hike while exploring the city's parks and trails. Popular programs include Homeschooler Hikes, which provide guided outdoor learning opportunities for homeschoolers, and Fall Hikes & Walks, which includes a series of three walks/hikes ranging from four miles to eight miles for teens and adults. The purpose is to get people outdoors and on their feet, regardless of age or location.
"The thing that sets our community of Henderson apart from the rest of Southern Nevada is its dedication to providing a high quality of life for all of its residents. Whether you live in an affluent neighborhood or one of our older, historical areas, Henderson has quality parks and recreation accessible to every family," said Michelle Nelson, a member of the city's Parks and Recreation Board. "Having parks so close to every Henderson resident is important as it preserves family time, provides open spaces, and protects health and wellness by offering a natural and easily accessible alternative to our mostly indoor lives. To become a true community, we must meet and interact with our neighbors. Our city does this expertly through our parks and recreation system. I am proud to call Henderson my home."

Nelson isn't alone in her sentiment. In a recent community assessment survey, an overwhelming 99 percent of respondents said they are satisfied with Henderson as a place to live and 98 percent are satisfied with the community's quality of life. When it comes to parks and recreation, more than 90 percent said they are satisfied in all areas.

Although these satisfaction rates are arguably among the highest in the nation, the city and its Public Works, Parks and Recreation Department are always striving for improvement. With the strong support of Mayor Hafen, members of the City Council and Henderson residents, the future looks bright for a city that has become synonymous with parks and recreation.