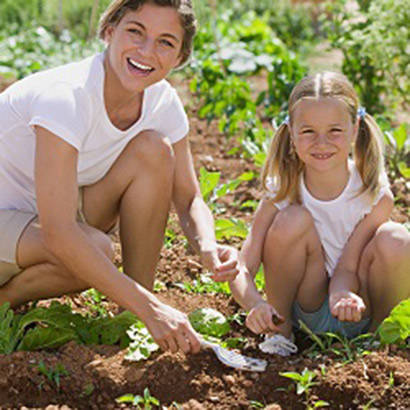 The Salina Parks and Recreation Department (SPRD) was one of five Kansas communities to receive a Serving Kansas Communities grant to help support their summer food service program. In fact, Salina Parks and Recreation was able to utilize the grant to increase the number of nutritious summer meals served to community youth by 5.7 percent—up from 4,470 meals in 2011 to 4,726 meals in 2012. In addition to increasing the number of healthy meals served, the parks department was able to expose children to nutritional education and gardening during summer camp sessions.

Incorporating nutrition education into Salina summer camps was a significant achievement, as SPRD had never previously included this sort of curriculum in their youth programming. Moreover, the children appeared to really enjoy the material—they had fun eating healthy foods and learning how those foods were important to their well-being. The success of the program became clear to staff when the children's parents and families began inquiring about the new OrganWise Guys materials. The family members' curiosity demonstrated that kids were effectively absorbing the educational material and were eager to share their new knowledge.

Another valuable opportunity that the Salina Parks and Recreation Department provided local children in summer 2012 were lessons offered by a local Master Gardener. With the Master Gardener, campers learned about fundamental gardening techniques and the benefits of community gardens. Each camper was also responsible to plant, water, and care for a pepper plant. At the end of the program campers were excited to bring the plant home and share it with their family. Staff attributed the campers' enthusiasm, in part, to the pride each child took in their responsibility for the plant.

SPRD made every effort to share information about their summer meals and nutrition programming with the larger community. Flyers and banners were posted in both English and Spanish, and articles were written in the local activity guide and newspaper, the Salina Journal. Staff gave presentations at the back-to-school fair, a local Old Navy, and the Salina Community Service Council. At the end of the day, the outlet that was observed as the most effective in promoting the Serving Kansas Communities program was word of mouth. SPRD is hopeful they will see continued increased attendance at summer meals in future years. They also plan to expand their community gardens, particu¬larly children's access to the gardens. There are already plans in the works to create an outdoor learning center, complete with a pizza garden.