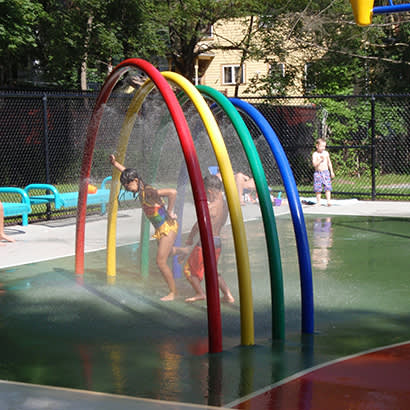 For an enhanced digital experience, read this story in the ezine.
Splash pads are increasingly popular because they provide a level of aquatics entertainment that can be enjoyed by any age and ability level and have fewer operation and maintenance (O&M) requirements than a traditional pool. The combination of barrier-free entry, no standing water and interactive features allows for a safe environment for aquatics entertainment while reducing owner costs and liability.
Inclusive Play
By designing splash pads with different zones based on age and physical ability, younger children can have safe separation from older children whose play levels and gross motor skill development may be quite different. However, locating these areas near to one another provides a strong sense of inclusion and collaboration.
Additionally, with barrier-free entry on all sides, everyone has equal access, regardless of their physical ability or mobility-assisted devices.
Designs for Water Management
There are two strategies for managing water use in splash pads: recirculation and spray-to-drain. Recirculating systems reuse water while spray-to-drain systems do not. Both require daily O&M but greatly reduce overall water consumption.
Recirculation Systems
Larger aquatics facilities rely on recirculation systems to keep the water clean. They use a series of tanks and pipes to supply water, then capture that same water and convey it to a collection tank where it is treated so it can be safely reused.
Typical daily maintenance for recirculation systems involves checking water levels in the collection tank, checking filter pressures, backwashing filters, cleaning strainer baskets, and checking and recording chemical levels. Newer technology allows for automated testing and wireless messaging systems to alert operators when something in the system is amiss.
Treatment chemicals used in these systems are typically chlorine and acid-based liquids, tablets or powders. Many states now require the use of ultraviolet (UV) disinfection, which is essential for any aquatics facility with high bacteria levels in the water. UV light offers immediate destruction of pathogens, such as Cryptosporidium, that can develop and become resistant to chlorine.
Spray-to-Drain Systems
Rather than capturing the water and conveying it to either a drain or an infiltration system, this model allows the water to percolate into the ground. Health codes vary from state to state and determine where water from splash pads may be discharged.
In areas where water is plentiful, it is common to see spray-to-drain systems that use potable water for recreational use. However, municipalities that pay for their water use are often wary of spray-to-drain systems because even though they are less expensive to construct and easier to operate, the cost of water will exceed the original capital and maintenance costs of a recirculation system in about six to eight years.
To optimize spray-to-drain systems, they can be designed to capture the water with subsurface tanks and reuse it for irrigation purposes. These spray-to-reuse systems also can convey water into perforated pipes below planting areas to help water trees and other plants. If the water will be sprayed through an irrigation system onto playing fields, then it must be filtered and disinfected to ensure human health and safety. These irrigation heads are typically a specific color indicating the water is not suitable for human consumption.
Feature Options
Ground jets, arching sprays and misters can be used for play or as an ornamental piece. When paired with lighting, these facilities can be engaging features for both day and night.
Spray features mounted flush with the ground surface can be used by any age group or ability, and are quite popular with children younger than 5 years old. They can individually play at each nozzle or collaboratively play by running through them with friends, stand on nozzles to push the flow higher on another feature.
Above-ground features are exciting for kids of all abilities. Five- to 12-year-olds typically enjoy the thrill of having water dumped or poured on them, and the sizes of the features can range from small singular use to larger multi-bucket drops.
Water tables also are becoming more popular as an added splash-pad feature. These are gradually sloped tables with shallow sides that have a pump or activator at the highest end. Children start the flow and can then introduce objects like sticks, leaves and sand to the table surface. In addition, these features can include water gates, weirs and dams that allow kids to interact with the water and learn about hydraulic principles and mechanics.
Activation bollards are either hydraulic or electronic buttons that initiate the flow of water on splash pads and can act as a play feature themselves. More sophisticated electronic systems offer the ability to program sequencing of spray events, variable timing and intensity of specific features.
Proceed With Caution
Wet kids and bare feet don't always mix with nearby dry-play features, so care must be taken in the overall design and context. Systems should be created that limit the amount of running to prevent abrupt movements, slipping or crashing into others.
Slip-resistant surfaces are essential. Epoxy painting and coating systems with sand can provide slip-resistant surfaces. Soft surfaces need to be impervious to prevent microbial growth.
Any dry decking must extend beyond the typical five-foot "splash zone" further than the required five feet of play zone because wind movements expand the footprint by spraying water outside of the pad itself. Durable plantings and limited mulch surfaces will help reduce maintenance. Increased hard surfacing around the splash pad also helps reduce mud and debris tracking onto the pad.
Splash pads can be a popular alternative to pools or represent a fun and safe complement to them. With their lower capital costs, reduced O&M requirements and flexible water use in areas with little water to spare, they can fit into most communities' budgets and don't create great strains on overstressed water supplies. They can be built more quickly than pools, offer a wide variety of design features, and be enjoyed by users of all ages and abilities.
Cheri Ruane, FASLA, is a Vice President and Design Discipline Lead at Weston & Sampson's Design Studio. Mark Mariano, P.E., CPO, is a Senior Project Manager in Weston & Sampson's Aquatics Group.