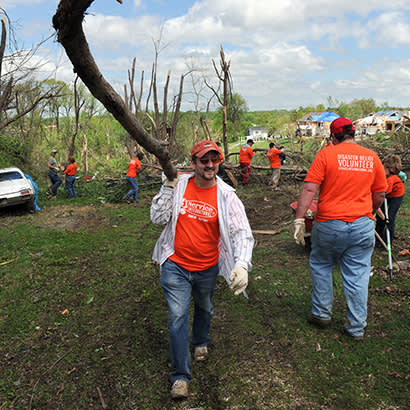 For an enhanced digital experience, read this story in the ezine.
"Resilience to disasters is increased when the societal impacts of disasters are reduced." — Increasing communities' resilience to disasters: An impact-based approach
Wildfires, earthquakes, floods, hurricanes, tornadoes and other types of extreme weather events and natural disasters are becoming far too common around the world. Chances are, if you have not been affected by one of these events recently, then one may be coming soon. Are you and your agency prepared?
The services that park and recreation agencies provide are essential, especially in times of disaster. During a disaster, parks and facilities often serve as safe public places where people can go. Following a disaster, the opening or reopening of community trails, parks, facilities and recreation programs encourages recovery. Restored programs and services often signify to community members a "return to normalcy" and provide spaces for stress reduction and social connection. Park and recreation agencies are so vital to the mental, physical and environmental health of our communities that if an agency is not prepared for disaster, then the communities they serve are not prepared.
In 2019, GP RED and RRC Associates conducted a REDLine Survey, exploring the role of parks and recreation in disaster response and recovery. Key findings include:
Local park and recreation agencies play a significant role in disaster response, recovery and management, specifically related to physical, mental and environmental health.
A majority of agencies that responded to the survey have been affected by major disasters in the past 10 years.
A majority of agencies that responded to the survey have not received training or preparation for a natural disaster in the past three years.
Prepare, Respond, Recover
Natural disasters can be vivid reminders of how vulnerable community health can be. The social ties that develop through community change efforts improve health outcomes and support survival and recovery when disasters occur. Too often, the under-resourced populations in our communities are most affected by disasters.
Park and recreation agencies can take action to create resilient communities. Consider these key factors for preparedness and response:
Prepare — before an event
Determine who is on your team. Identify and connect with the right partners and staff.
Create a component-based digital asset inventory in GIS. Having a complete digital inventory of every component your agency owns and manages can help you secure federal funding, insurance dollars and grants to rebuild.
Know where your land and lease records are located and have redundancy in case files are destroyed.
Have a general security plan and emergency risk management and communications plans. Make sure staff know who is to work during an event, how to contact each other, and how to cover for personal needs.
Create care and shelter plans. Often, park and recreation facilities become shelter locations. Are you ready to shelter hundreds of displaced families?
Conduct training. Build your staff's preparedness expertise, learn how to work with other regional and federal agencies, and establish and understand roles and responsibilities to prepare for the next phase: response.
Respond — during an event, are you ready?
How will your established Community Emergency Response Team (CERT) react?
Do you have mutual aid agreements with other agencies so they can help, and can you reciprocate as needed?
Who will run your shelters and programs?
Who will evaluate your parks, trails and facilities?
In larger events, federal agencies — such as the Federal Emergency Management Agency and Red Cross — will respond. Are you ready to work with them quickly?
Recover — the rebuild to normalcy
The best way to recover is to proactively plan so that your parks and recreation facilities are designed and updated to withstand natural disasters. When you are building or updating your assets and programs, incorporate disaster and resiliency planning as much as possible. The more you prepare, the more quickly you'll be able to mobilize, get funding to rebuild, and help your community return to normalcy.
No one likes to think about potential disasters, but creating good plans, updating inventories, and incorporating sustainable and resilient designs will go a long way in preparing your community and fostering resilience. Additional help and training are available — don't put off preparation any longer!
Teresa L. Penbrooke, Ph.D., CPRE, is Director of the Healthy Communities Research Group for GP RED, a Consultant for BerryDunn, and Co-Director/Faculty for the Parks and Recreation Emerging Professionals Program for University of Colorado-Denver School of Public Affairs Institute.