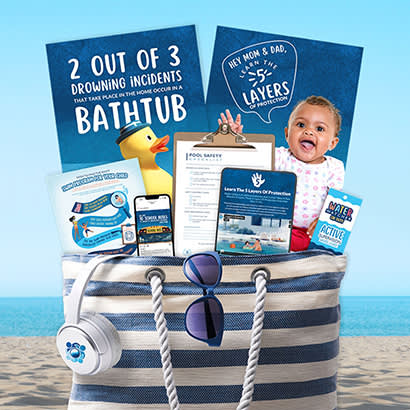 For an enhanced digital experience, read this story in the ezine.
With water safety season officially underway, children in particular are at a significantly higher risk of drowning as they spend more time enjoying community centers and parks with inviting pools and lakes to cool off on hot summer days. The National Drowning Prevention Alliance (NDPA) works to prevent the tragedy of drowning through education, awareness and advocacy, and its new campaign includes a free-to-download toolkit that makes it easy for local park and recreation agencies to help spread the word on water safety. NDPA's #WaterSafetyChampion campaign stresses the need for anyone and everyone in a position to protect a child while in and around open water to learn and adopt the "5 Layers of Protection" and help reverse the misperception that any single strategy for drowning prevention is enough. The campaign theme arose from the most common response parents who have lost a child to drowning express time and time again — "we didn't know." These parents express that they didn't know how prevalent childhood drowning is, how easily it can happen and the importance of applying multiple strategies for prevention.
Statistics
The Centers for Disease Control and Prevention (CDC) states that drowning is the single leading cause of death among children ages 1 to 4 and the second leading cause of injury-related death for children up to age 14. Meanwhile, according to reports from cities and towns across the United States, childhood drowning rates have reached historic highs in some states, and have been steadily on the rise since 2019, up 11.5 percent overall between 2019 and 2021. In fact, in 2021, the number of child fatalities due to drowning was equal to almost 18 children per week — enough to fill as many as 11 school buses. Further, the CDC reports that for every one fatal child drowning, another seven children receive emergency department care for a non-fatal drowning incident.
Sharing Water Safety Information
NDPA's #WaterSafetyChampion campaign drives awareness of drowning prevention, how easily drowning can occur, and most importantly, how to protect children while in and around open water. Central to the campaign is a free, downloadable Water Safety Season Toolkit that contains pre-produced content, materials and resources to help share the message and save lives.
As most areas of the country transition to consistently warmer weather, the importance of water safety is increasing by the day, with children and families gathering en masse around aquatics environments for pleasure and relaxation. Sharing quality and sound water safety information with park and recreation center staff, volunteers and the local community this summer is what's needed most. With higher-than-average drowning rates since the start of the pandemic, the time for collective action is now. For years, there have been calls to create a universal summer water safety campaign that everyone could utilize in their communities and regions across the country. NDPA's #WaterSafetyChampion campaign and Water Safety Season Toolkit help answer the call. The free toolkit offers a variety of resources that park and recreation centers can use to increase awareness of water safety and share the 5 Layers of Protection. Developed with input from pediatricians, epidemiologists and aquatics education professionals, the 5 Layers of Protection include barriers and alarms, supervision, water competency, life jackets, and emergency response and preparedness.
NDPA's Water Safety Season Toolkit is available now and includes the following resources:
Social Media Campaign: The toolkit includes a pre-developed social media campaign that anyone can use, whether individuals, local businesses, partners or local park and recreation centers. The campaign provides more than 25 social posts, including graphics and animations, suggested post content, recommended posting dates, links and hashtags.
Digital Assets (Printables): The toolkit also includes 14 printable items, including posters, infographics, checklists and the layers of protection guide. All of these can be downloaded for free and printed at your local print shop.
Sample Blogs/Press Releases: The toolkit provides three simple water safety blogs that can be shared on digital platforms and three press releases designed to share with local newspapers and TV/radio stations.
Social Frames: Templated social frames for Water Safety Month and Water Safety Champion are included. Instructions to set up and use on Facebook, Instagram and LinkedIn are provided.
Local/State Government Proclamation: A sample local/state government proclamation that is ready to share with your local policymakers is included in the toolkit. This sample is downloadable, and each community can simply enter its specific information.
Press and Media Toolkit: In addition to the press releases, the toolkit provides a guide on working with the press and media when discussing water safety. This includes tips on dealing with media, water safety stats and safety information to share.
Layers of Protection Video: NDPA's 5 Layers of Protection video is now available in English and Spanish. The NDPA encourages everyone to share this video with parents and caregivers. It can be downloaded from the toolkit for free and shared on social media or on your website.
Water Warriors Group: The toolkit also invites all users to join the NDPA Water Warriors Facebook Group. This is a private Facebook group for water safety advocates and professionals to connect, share and learn.
With the right water safety strategies in place, drowning is preventable. To download the Water Safety Season Toolkit, visit ndpa.org/toolkit. For more information on the National Drowning Prevention Alliance, visit ndpa.org. Thank you for being a Water Safety Champion!
Adam Katchmarchi, Ph.D., is Executive Director of the National Drowning Prevention Alliance.