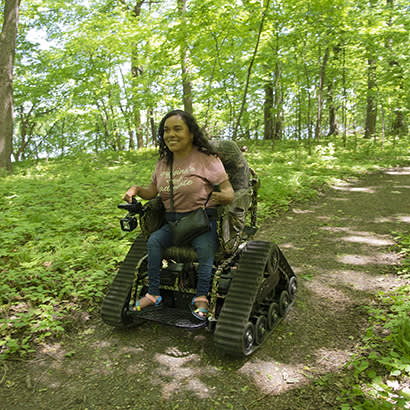 For an enhanced digital experience, read this story in the ezine.
Electric power, ATV wheelchairs and mental health programming make this year's list
"What's a top trend?" We love to throw this expression around. People are endlessly fascinated by what's "trending," and they view lists of top trends at the turn of each new year. Just Google "top trends" and you'll find dozens of lists for technology, fashion, foodie trends and more. One fun site for top trending topics is Exploding Topics. Recent trending topics there include: TikTok ads, digital twins, fasting tea, prime gaming, and cat toothpaste. Cat toothpaste. Who knew?
The Electrification of
Parks and Recreation
One of the most far-reaching and important trends that will affect parks and recreation is the coming electrification of much of what we use to conduct our business. It will encompass buildings, vehicle fleets, power equipment, mowers and landscape equipment. And the changeover from fossil-fueled power to electric power will be far quicker than you may think.
Why will we be changing over to electricity? Simply because it is cheaper, more efficient, more healthful for our communities and workers, more environmentally beneficial, and is possibly the single-largest contribution that parks and recreation will make to reducing our carbon outputs to the atmosphere, thereby slowing the negative impacts of climate change.
This is not to say that there won't be profound challenges in switching fossil fuels to renewable energy sources. Only a handful of park and recreation agencies have already begun to strategically plan for the changeover by assessing costs, estimating timelines and developing their charging infrastructure. The good news is that the expected benefits in efficiency, cost, climate and health will be huge.
Two innovative examples of how electrification is taking shape are in Boulder, Colorado, and Seattle. In Boulder, the city has piloted an innovative Vehicle-to-Building (V2B) charging station at the North Boulder Community Recreation Center. A bi-directional charger has been installed, so an agency administrative vehicle can plug into the charging station when it is not in use for regular daily business. Because the charger is bi-directional, it can charge the battery normally, but it also can send power from the charged battery back to the building at times of peak demand, which occur on the hottest and coldest days of the year. Because power costs increase at times of peak demand, there is a net savings from using stored power of the battery. This results in a savings from the electric company on average of about $250 per month, according to Matt Lehrman, a policy advisor on energy utilities for the city.
Seattle Parks and Recreation (SPR), a national leader in sustainable operations, is looking to convert fossil fuels to renewable energy sources by 2028, according to Andy Sheffer, director of planning, development and facilities maintenance for SPR. "We intend to get rid of all fossil fuel sources," he says.
As part of this effort, SPR has installed a microgrid system at the Miller Community Center that utilizes a large battery energy storage system (BESS) to store energy from a rooftop solar array that can feed that power back to the facility for heating, cooling, lighting and other electricity needs. "An expanded microgrid could even provide power to the community," says Sheffer, "and we can make all of this carbon neutral."
ATV Wheelchairs
The implementation of a program to loan off-road, tracked, powered wheelchairs to persons with disabilities in parks is a remarkable step forward for visitors experiencing mobility challenges. Five state park systems in Colorado, Michigan, Minnesota, South Dakota and Georgia, and one national park, Sleeping Bear Dunes National Lakeshore in Michigan, now have loaner track chairs for public use. As reported in the Washington Post, Jamie McBride, a state park and recreation area consultant for Minnesota Department of Natural Resources, says, "People have told us this is life-changing."
Digital Twin Mapping
Digital twin maps are three-dimensional (3D) models of the actual physical environment that are rendered to be compatible with a geographic information system (GIS) database. The resulting images are virtual representations of the real world that show spatial relationships of objects, buildings, trees and even sun/shadow patterns.
The City of Des Moines, Iowa, has produced a digital twin map of the viewshed of the city from home plate at the renovated Principal Park to the historic golden dome of the city's capitol building. GIS manager and interim chief information technology officer for the City of Des Moines, Aaron Greiner, says that the city wanted to be sure the view from Principal Park to the city capitol building would be preserved as urban development takes place. Real estate developers will now be able to input their building plans into the 3D model that the city has created, and planners will be able to make a determination on how new buildings and structures might affect this historic viewshed.
Parks and Recreation
as Anchor Institutions
Anchor institutions are enduring nonprofit organizations that create strong social, economic and healthy bonds within communities. Traditionally, most anchor institutions have been "eds and meds," that is, universities and hospitals. Park and recreation systems have not often been regarded as anchor institutions, but there is an increasingly strong case to make to include parks and recreation as a critical community support system in the top ranks of anchor institutions. Positioning parks and recreation in this way will help shape a wholly new narrative of the value of parks and recreation to communities. Parks and recreation can prove they are vital because they enable the members of communities to connect to each other on a daily basis in a way that transcends the ways that eds and meds do.
An excellent example of how parks and recreation functions as an anchor institution is seen in the development of Community Wellness Hubs. NRPA's report, Parks and Recreation: Advancing Community Health and Well-Being, states, "At the core of a Community Wellness Hub is health equity — ensuring that park and recreation operations, programs and services center equity so that all people in a community have fair and just opportunities to be as healthy as possible so they can thrive."
Allison Colman, NRPA's director of health, agrees that a new conceptual framework regarding parks and recreation as anchor institutions is very much aligned with NRPA's strategic vision for health and well-being. "We are moving away from terminology, such as 'amenities.' These spaces are not just nice-to-have in communities. They are essential, vital spaces and programs that are social drivers of health, resilience and equity."
Would You Work for Free?
Quiet quitting may no longer be a burning issue, but are park and recreation workers satisfied with their jobs? Gallup's State of the Global Workplace: 2022 Report indicates that there may be a lot more unsatisfied workers than we presume.
Fewer than one in four U.S. workers feels strongly that their employer cares about their well-being. This is the lowest percentage in more than a decade. Workers who believe strongly that their employers care about their well-being are far more likely to engage in their jobs, are significantly more productive, are much less likely to say they feel burnout, have many fewer safety incidents, and are five times more likely to advocate for their company as a great place to work.
The report found that in 2021, 44 percent of employees experienced a lot of stress during the previous workday, a new high for the survey. What's more, U.S. working women reported the highest levels of stress on a daily basis in the history of the survey.
In the world of parks and recreation, we often take for granted that our workers are very satisfied with their jobs. But the reality is that our workers face the same stresses as other occupations. Gallup emphasizes that organizations should be concerned about the whole person, not just the worker. Employee well-being should be a top goal of organizational culture.
Jim VandeHei, CEO of Axios, the influential news organization, says regarding the depressing data published in the Gallup report, that he advises any college graduate hitting the job market to "persistently pursue work so personally satisfying that you would do it for free."
Pickleball Noise Complaints
There is one recreation trend that stands alone among all others: pickleball! What seemed to be a niche activity for older adults with bad knees has exploded into a full-fledged recreation trend, complete with pickleball performance apparel, celebrity influencers and even professional leagues.
Park and recreation agencies are flooded by public demands to build more courts, and the popularity of the sport has even reached the level that it is generating complaints from nearby neighbors about the incessant day and night "thwack-thwack" emanating from pickleball courts. Nearby residents claim the noise can reach 70 decibels from 100 feet away, noise that exceeds most local community standards.
According to FindLaw.com, standoffs between local residents and pickleballers have led to altercations on courts and at public meetings that were so heated that the police had to be called to restore order. Dozens of lawsuits have been filed to stop tennis court conversions to pickleball. Among the strategies recommended to aggrieved neighbors: Build a soundproofing wall; prohibit play early in the morning and late in the evening; and if all else fails, find a partner, pick up a racket and start playing.
You Can Make More Money Working at McDonald's
The childcare crisis and lack of lifeguards for both indoor and outdoor pools have seriously impacted park and recreation agencies, and the trendlines don't look favorable for recruiting adequate numbers of workers for either of these positions in the near future. The childcare workforce is down 88,000 workers since the coronavirus (COVID-19) pandemic, one of the only occupations in the job market that has not yet rebounded, according to the U.S. Bureau of Labor Statistics.
The conditions causing the lack of qualified workers have not changed substantially in the past year, despite some increases in the salary scales of park and recreation agencies hiring childcare, daycare and lifeguard positions. After all, as frustrated managers say, "You can make more money working at McDonald's."
Mindfulness, Nutrition
and Stress Reduction
One trend that aligns with the growth of Community Wellness Hubs and a greater focus on individual and community health are programs that support mental, emotional and social health. Yoga, tai chi, guided meditation, nature therapy — including forest bathing — and especially programming to teach mindfulness and stress reduction are all growing in popularity.
"I have found that people are more concerned about getting and staying healthy, especially given the effects of COVID-19. People want to learn more about nutrition, stress, proper exercise technique and mental health," says Katrina Williams, health and wellness officer for Maryland-National Capital Park and Planning Commission. Additionally, she says, "Two of our virtual health programs — Dine, Learn and Move — and our nutrition workshops have soared in the virtual world. Prior to COVID-19, we had an attendance of 20 people or so. Now we have 40 to 50, and we are serving not just our community, but [also] out-of-state participants as well."
Pot and Alcohol in Parks
Twenty-one states now allow the recreational use of cannabis, and another 10 states and territories allow its medicinal use. Many park and recreation agencies in recent years have relaxed prohibitions on the use and even sale of alcohol in parks, especially for special events. Some permit alcohol at concerts, athletic events and family gatherings, or sell beer and wine at designated locations, such as golf courses and even dog parks. Milwaukee County (Wisconsin) Parks and Recreation has established five permanent and two traveling beer gardens in its parks, which produced an eye-popping $2.6 million in revenue in 2021 alone. Will recreational use of pot in parks be far behind?
Eat Your Utensils
Single-use plastic utensils have long vexed park and recreation facility managers who want to show that their agency is taking sustainability seriously. A solution is on the horizon: edible utensils. While some biodegradable eating utensils have already been on the market, none have quite the flair as those you can eat when you finish your meal. Sorbos and Equo market edible straws that are available in a variety of flavors. Lavazza coffee is using cups from Cupffee, "The cup you can eat with your coffee," and Incredible Eats sells edible spoons and forks in vanilla, chocolate and black pepper flavors. What a way to make your food-serving facilities greener!
Revisiting a Top Trend:
Utilizing Composted Human Remains in Parks
Five states — Washington, Colorado, Oregon, Vermont and California — have now passed legislation to allow for the Natural Organic Reduction (NOR), or composting, of human bodies. In New York, legislation has been approved and is awaiting the governor's signature. In Washington, the first state to allow human composting, the authorizing law permits the disposition of composted remains "on public or government lands or waters with the approval of the government agency that has jurisdiction or control, or both, of the lands and waters."
With the growth of green burials and the desire by many people to live regenerative lifestyles, it is only natural that some people would wish for their organic remains to be placed in parks to nurture the nature that is there. "There's a beautiful connection to be made between the natural places we spend time in when we are alive and the potential for our bodies to give back to those natural places after we die," says Katrina Spade, CEO of the public benefit company Recompose in Washington.
Given the well-established tradition of public parks as suitable places for individual and family memorials, such as benches, gardens and memorial trees, it is only a short step to allowing the respectful use of human compost in horticultural plantings, memorial tree groves, and even pollinator plantings in parks. A public-private partnership with a forward-thinking park and recreation agency only seems a natural fit. Is your agency ready to consider it?
Richard J. Dolesh is NRPA's retired Vice President of Strategic Initiatives and Editor at Large for Parks & Recreation magazine.