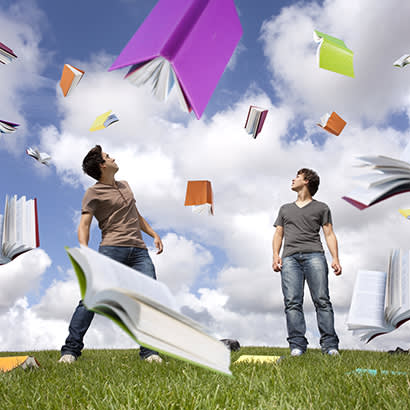 For an enhanced digital experience, read this story in the ezine.
As academic institutions across the country modify their programs, what will this mean for the future of the profession?
In western and central Pennsylvania, a recent change in the state's system of higher education shook more than just the trees of knowledge. It started a figurative landslide of park and recreation career climbers, and flatlined a long-established educational track to their summit.
Based on a plan to merge six universities into two to capitalize on collective strengths while reducing administrative costs, Pennsylvania's communities and park and recreation providers experienced the loss of a Bachelor of Science recreation management program in both consolidated colleges — and a key route of entry for many students into the profession.
Bloomsburg, Lock Haven and Mansfield Universities are now collectively known as Commonwealth University. California, Clarion and Edinboro Universities of Pennsylvania are now Pennsylvania Western University, or Penn-West for short.
While sport management, criminal justice and conservation law enforcement are included in the program for the new universities, they do not provide adequate coursework on tourism and event management, outdoor recreation and natural resource management, youth and community development, and other specific studies required for the basic competencies of our industry's working professionals.
Trends Across Universities
In other colleges, the Recreation and Park major has lost both enrollments and visibility as it becomes absorbed into less-obvious departments. Cheyney University's Recreation and Leisure major is housed in the Department of Business, Education and Professional Studies. East Stroudsburg University has lost its accreditation from the Council on Accreditation for Parks, Recreation, Tourism and Related Professions (COPART), and its enrollment in its Recreation Services Management program has been declining steadily throughout the past decade.
These trends also carry across other states. The University of Minnesota dropped its Recreation Administration program in 2020, citing declining enrollment. Ithaca College's Recreation and Leisure Studies program is fighting a recommendation to discontinue the entire department. At the University of Utah, the Department of Parks, Recreation and Tourism is found in the College of Health. At Kent State, the program is offered among many others in its School of Foundations, Leadership and Administration.
From the view of park and recreation providers, such tactics not only undercut our future profession, but also our communities' livability and the healthful enrichment of their residents.
But should we really expect our higher education system to embrace a poor return on their educational investments? As they painfully adapt to changing fiscal, social and academic expectations and restrictions, colleges and universities can't afford to offer what students aren't demanding.
That's the reality. To its credit, the new Commonwealth University's website states it is "committed to working with regional and statewide employers to build short-course and credentialing programs for working professionals, as well as traditional students who are looking to pick up specific certifications and credentials as they progress through their education."
And that's the opportunity. Higher education's role as a preparatory network to the production of new and emerging park and recreation professionals is changing nationwide, and with it comes an emerging array of new possibilities.
Issues and Trends
Overall enrollment in Pennsylvania's state-run colleges peaked in 2010 and has since plummeted about 25 percent, suffering from the same trends troubling higher education at large: historically feeble state investment, a shrinking pool of high school graduates, and a saturated college marketplace.
And after a bruising year of coronavirus (COVID-19) pandemic-related enrollment declines, according to an October 2022 report by Inside Higher Ed, the current evidence reveals a mixed bag: while some colleges are reporting record first-year classes and enrollment increases, others are facing further declines — especially Black, first-generation and low-income students.
Among that shrinking pool of high school graduates is a widespread lack of awareness among youth, parents and guidance counselors of parks and recreation as a viable career choice. The open secret among faculty at many universities is that parks and recreation is often a "discovered" major, as upper-class students seek a change in their original majors.
A nationwide State of Education Research brief prepared by GP RED notes that related degree programs are spread across more than 20 names, which may contribute to confusion of a professional identity.
Exasperating the national trend is the recruiting practices among universities to market themselves as a whole, rather than their specific programs or departments.
Perceptions of the Field
Of course, readiness of the park and recreation workforce and its competencies is not solely the responsibility of higher education, nor is it limited only to various academic challenges. A properly prepared and available workforce is also highly influenced by current and trending social and workplace attitudes, perceptions and choices.
As a majority of park and recreation agencies can attest in a post-pandemic emergence, there is a widespread lack of willing workers for the available jobs in the public sector, especially at largely noncompetitive wages.
The U.S. labor market is as tight as ever in the modern era, according to Kevin Roth, NRPA's vice president of research, evaluation and technology. "Park and recreation leaders find themselves competing with better-funded employers that can offer higher wages and benefits. Agencies that faced sharp budget cuts during the pandemic and resulting recession are simply unable to keep up with rising labor costs. As a result, parks and recreation must entice workers with nonfinancial benefits that come with their jobs, including the ability to serve their community."
In Philadelphia last year, the city raised the hourly rate for lifeguards to $16, yet it still could not open 12 of its 65 pools due to the lack of staffing amid the national shortage of lifeguards.
According to the U.S. Occupational Outlook Handbook, recreation workers' median pay in 2021 was $14.27 per hour, yet the number of jobs for them is expected to rise 10 percent in the next 10 years — faster than the average for all occupations.
The closure of pools and reduced hours and services at recreation centers also have left children in some neighborhoods without a safe, walkable place to go amid a surge in gun violence. Tiffany Fletcher, a Philadelphia Parks and Recreation employee, was shot and killed in September 2022 while on the job at the Mill Creek Recreation Center playground when she was caught in gun crossfire.
These real and perceived gaps in such workplace issues as competitive wages, safety, access, health, diversity and equity; and in workforce capabilities of trust, training, mentoring, leadership and management, also have contributed in no small part to the lack of willing, competent workers.
Further, in too many agencies, ongoing training is neither expected nor required, nor is it an organizational priority. Many professionals lack the necessary time, funding or personal motivation to hone or gain new skills.
Opportunities
Even without fully documenting the breadth and depth of the issues and trends (which is far beyond the scope of this article), we know enough to embrace such challenges as unique opportunities to exert influence for increasing and improving our future workforces and workplaces.
Industry Recruitment: How may we better promote recreation and parks as a career choice?
Local park and recreation agencies can use their social media platforms to demonstrate what it's like to work in the field. They should ensure their social media activities direct users to appropriate outlets to continue their exploration of a related career. The Pennsylvania Recreation and Park Society developed a website portal with direct links to all Pennsylvania university departments that offer recreation and park programs of study.
The Colorado Parks and Recreation Association produced a five-minute video to introduce highschoolers to the concept of parks and recreation as a viable career choice, featuring vignettes of working professionals at their jobs enthusiastically showing what they do for a living. Such a promotion could be shown at summer seasonal orientations and trainings throughout every state and locality.
In every state, the NRPA State Association Affiliates can renew their relationships with each of their state's educational institutions to connect what they are teaching in the classrooms to practical experience in professional responsibilities. Through their regions, districts and member agencies, affiliates can appeal to alumni and coordinate in-classroom visits by working practitioners.
Workforce Readiness: What are emerging ways to recruit and train students and those already in the workforce?
The traditional models of higher education are shifting as trends in work, tech and student expectations demand new curricula, modes of instruction and funding models. Specialized, virtual access to certificate programs, such as Denver University's Leadership in the Outdoor Recreation Industry program, focuses on core business skills, like accounting, finance and marketing.
Stackable certificates are becoming increasingly popular among students and working professionals — particularly those who want to acquire specific career skills without the long-term commitment and high costs of earning an additional degree.
Independent, university-aligned training programs — like Colorado University's Parks and Recreation Emerging Professionals Program and Indiana University's Executive Development Program for Park and Recreation Professionals — and outdoor industry capacity-developing consortiums, such as Oregon State University's Center for Outdoor Recreation Economy, are building engaging entrepreneurial niches.
Community colleges also are stepping up. Those that establish and maintain relationships with local employers not only are better informed to respond to actual needs, but also build a strong incentive for those employers to work with them, like Lorraine County (Ohio) Community College's Business Growth Services. They can work together through apprenticeships, leadership training, noncredit and continuing education courses. Northwest Arkansas Community College offers an accredited certification in bicycle assembly and repair. McHenry County (Illinois) College offers open-enrollment training on workplace skills, technology, occupational languages, safety and wellness.
Other Routes to Park and Recreation Careers
Of course, many jobs in the park and recreation sector don't require higher education degrees, but nonetheless, contribute to the health and welfare of their communities, and the local park and recreation agency need not develop that workforce all on its own.
NRPA's Workforce Development and Career Exploration in Parks and Recreation report notes that 88 percent of agencies partner with other organizations to implement workforce development programs to recruit, train and connect people to jobs. One prime partner to local agencies is often the state professional park and recreation association — many offer training in professional competency skills via in-person and online/on-demand curricula; microlearning modules; and job shadowing, mentoring and certificate programs specific to the industry.
In New York City, the Parks Opportunity Program (POP) hires people referred by the Human Resources Administration/Department of Social Services to clean and green its parks, playgrounds and other facilities citywide. POP workers receive career coaching and specialized on-the-job training during their six months of employment, which not only benefit the parks, but also their future employability.
Nationally, The Corps Network engages young adults and veterans in community and conservation jobs to gain work experience and develop skills. Youth Build, with 273 programs in the United States and an annual capacity of 10,000 students, focuses on young people who lack jobs, finances and a high school diploma to build skillsets and mindsets.
Government programs, like Pennsylvania's Outdoor Corps, offer job training and environmental educational opportunities to young people paid to complete recreation and conservation projects on the state's public lands. Others, like Arizona's Youth Employment Center, offer more general work-based learning, which can be applied in a broad range of parks, conservation and leisure services settings.
And as 35 percent of the total U.S. workforce is now choosing to work freelance, the gig economy has begun to encompass all types of roles — just as savvy agencies are adapting existing jobs to be performed in different ways. Moreover, enlisting such a major talent pool of seasonal, consultant and gig workers is no longer limited to print or online ads. Customizable apps and digital platforms, like MuniTask, can connect employers with local gig workers.
As nature demonstrates, changes to our environment always demand a successful adaptive response from those who continue to thrive. And the indispensable park and recreation profession, populated by some of the most creative and mission-driven people, is up for the challenge.
To hear Tim Herd speak more about workforce development, tune in to the February bonus episode of Open Space Radio.
Tim Herd, CPRE, is the CEO of the Pennsylvania Recreation and Park Society.