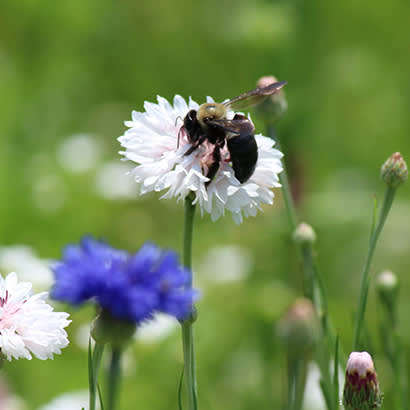 For an enhanced digital experience, read this story in the ezine.
It is the mission of parks and recreation to support vibrant, healthy, resilient communities through its infrastructure, amenities and programming. The more than 11 million acres of land managed by agencies nationwide have the power to mitigate the impact of severe weather and climate change, improve tree canopy equity and help native habitats flourish. But there is much more that parks and recreation can do to make their communities more sustainable.
For example, park and recreation leaders work to reduce their agencies' carbon footprints and water usage to comply with city, state or federal mandates. Parks and recreation also educates the public on the importance of this work, showcasing best practices and connecting their communities to sustainability efforts.
However, many agencies face challenges in advancing their sustainability work. Scarce funding and staff resources, evolving technical expertise and lack of political leader prioritization keep these efforts from achieving their full maximum potential.
NRPA recently released a report based on a survey of nearly 200 park and recreation leaders that explores how they are working to make their agencies and communities more sustainable. The Sustainability in Parks and Recreation report views agencies' goals, the level of financial and political support for these efforts, and the challenges and barriers hampering greater success.
The survey found that at least two-thirds of park and recreation leaders place high importance on strategies and actions that protect the natural habitat, embrace park infrastructure to manage stormwater better and lower agency water usage. Other important sustainability focus areas include decreasing landfill waste and water usage and reducing or eliminating the use of carbon-based energy.
Sustainability Plans
Nearly every park and recreation agency has sustainability strategies and takes actions that aim to reduce energy usage, decrease water consumption and/or protect the natural habitat. But only 43 percent have or operate under a formal sustainability plan with specific goals and targets developed by either the agency or the city/town/county/state under which it operates. This includes:
14 percent of agencies that have their own formal sustainability plan
29 percent of agencies that operate in a jurisdiction with a formal sustainability plan
The plans typically focus on:
Protecting the natural habitat
Reducing/Eliminating the use of carbon-based energy
Reducing landfill waste
Using park infrastructure for stormwater management
Reducing water usage
Twenty-eight percent of park and recreation agencies have a goal or mandate to reduce their carbon footprint. Forty-four percent of those agencies aim for net zero emissions. Nearly a third of agencies aim for a net reduction of 50 to 99 percent in carbon emissions, while a quarter look to reduce net emissions by less than 50 percent. Fifty-nine percent of park and recreation agencies aim to achieve their carbon footprint goal by 2030.
Taking Action
To achieve their sustainability goals, a majority of agencies are planting trees, transitioning to native and climate-adaptable plants, and updating and retrofitting buildings and other infrastructure. These agencies are drawing from their own operating and capital budgets, state and federal grants, public-private partnerships, and collaborating with other government agencies in their jurisdiction to fund these and other sustainability actions.
Additionally, a majority of survey respondents indicate that local lawmakers, community leaders and the general public support their agencies' sustainability efforts. This is critical as park and recreation leaders will be relying on greater access to funding and resources to make their most aspirational sustainability goals a reality.
Sustainability plays a growing and vital role at park and recreation agencies nationwide. Park and recreation leaders are continually reviewing and updating their plans to address their communities' specific needs and goals while leveraging the latest knowledge, best practices and technology to advance these sustainability efforts one community at a time.
Kevin Roth is Vice President of Research, Evaluation and Technology at NRPA.