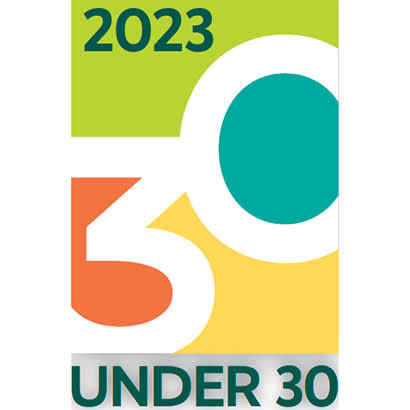 For an enhanced digital experience, read this story in the ezine.
Editor's Note: The following article includes the young park and recreation professionals' certifications that are not included in the print edition.
Parks & Recreation magazine and NRPA's Young Professional Network unveil the third annual program spotlighting 30 top young park and recreation professionals
Since NRPA launched its 30 Under 30 program two years ago, the response from the park and recreation field has been phenomenal. For some winners, this recognition program has garnered acknowledgement in their local newspaper, while for others working part time, it has led to full-time employment with their current park and recreation agency. We hope this year's program fosters continued career advancement opportunities for these hardworking young professionals!
The 30 Under 30 recognition program is a joint effort by the NRPA Young Professional Network and Parks & Recreation magazine, honoring 30 of the top young park and recreation professionals who serve as everyday champions in their communities. More than 100 nominations representing 15 different states comprise the class of 2023. The scoring committee evaluated the nominations on one or more of the following criteria:
Impact on the agency's community and service population
Contributions to the professional development of the field of parks and recreation
Innovative ideas, programs or research in the field of parks and recreation
Following are the profiles of the outstanding Parks & Recreation 30 Under 30 winners for 2023. With diverse backgrounds and varying areas of expertise, these talented individuals have each contributed exceedingly to the profession, but more importantly, to their constituents. Their stories illustrate the incredible work happening across the country every day.
Jacob Agee, CPRP, 28
Director, Floyd County Recreation Department (VA)
In March 2019, Jacob Agee, CPRP, joined the Floyd County (Virginia) Parks and Recreation Authority as director. At the time, the authority endured severe funding issues, lacked community support, faced facility dilapidation and more. Agee recognized these deficiencies and collaborated with county administration to take the authority on as a recognized county department. In August 2019, Floyd County Recreation Department was formed. Agee oversaw the renovation of the recreation park: replacing the playing surfaces with athletic turf and infield mix, installing a net/block backstop system, and putting in concrete sidewalks, pathways and driveways around the park. He also brought adult softball, basketball and volleyball back to the county.
Myia Ashmore, 30
Stewardship Area Manager, Miami-Dade County Parks, Recreation and Open Spaces (FL)
As stewardship area manager for Tropical Park, a 275-acre jewel of the Miami-Dade County Parks system, Myia Ashmore's creative business innovations have increased revenues more than $80,000 from the previous highest year. In addition, her contributions to the park's special events programming resulted in improved community engagement and increased public knowledge of how parks make communities stronger, more vibrant and more resilient. What's more, her leadership streamlined operations and strategic planning for this high-impact, area-wide park, including bringing in new community partnerships and innovative special events, in a way that enhances the visibility and role of park professionals at a community awareness level.
Ellen Bashor, 29
Outdoor Learning Coordinator, City of Prescott/Prescott Unified School District (AZ)
During spring 2020, Ellen Bashor obtained grants, donations and partnerships, and revived an intergovernmental agreement between Prescott (Arizona) Unified School District and the City of Prescott Recreation Department. She then transformed an older, underutilized open space, the Community Nature Center — adding outdoor classrooms, coordinating resources, and enrolling high-need public school students in an outdoor learning program. Her initiative and the nature center continued to grow, now having served more than 3,000 students and amassing program/event total attendance of more than 20,790 students, families and community members. Bashor also has raised more than $250,000 in grants, gifts and in-kind donations.
Jennifer Chirino, AFO, 24
Recreation Programs Coordinator, City of Doral (FL)
Jennifer Chirino serves as the recreation programs coordinator for the City of Doral, Florida. Chirino created Genius Labs, a science, technology, engineering, art and mathematics (STEAM)-based educational program that provides low-cost educational STEAM exploration to children in the community. Since the program's implementation in 2019, it has served more than 300 children. Chirino noticed a deficiency in the programming available for children under 4 years old and created Toddler Time, a program focused on sensory integration through recreational play. She uses her recreational therapy background to create the lessons for the program and ensure the community is receiving the intended benefits.
Elena Christopher, CPRP, CTRS, ATRIC, 29
Inclusion and Adaptive Recreation Programs Specialist, City of Austin Parks and Recreation Department (TX)
Elena Christopher currently facilitates inclusive recreation opportunities for participants with disabilities in her recreation therapy internship with the City of Austin (Texas) Parks and Recreation, Inclusion Unit. She is launching an audio-based trails guide in Austin's park systems to increase access for the blind and visually impaired. This GPS-based project seeks to engage community members with low vision and blindness in meaningful outdoor recreation and nature experiences. What's more, Christopher continues to collaborate with park rangers and nature-based recreation sites, develop relationships with various hiking groups and establish partnerships with local nonprofits to promote this project.
Jody Dutra, 28
Recreation Assistant, City of Apache Junction Parks and Recreation Department (AZ)
Jody Dutra has developed programs, like the Princess Program, which help all children unleash their inner creativity and imagination by engaging in activities that promote socialization, respect for others, and open a child's perspective on inclusion. She also has created inner/outer governmental connections with 501(c)(3)s, library services and the school district. As a member of a youth advisory council, Dutra mentors and acts as a role model for teens. She also serves as a supervisor for the free senior lunch program. Dutra currently is looking into CAPRA accreditation, whereby she has set a path to ensure her department meets the national standards.
Danielle Giuliacci, 26
Recreation Coordinator, City of Belmont (CA)
When Danielle Giuliacci began as a youth and teen recreation coordinator in Belmont, California, she quickly realized the community's need for a scholarship program and an all-inclusive camp program. With little resources, Giuliacci reviewed, applied for and received a $28,800 county grant to provide scholarships to underserved youth and launched Belmont's first-ever inclusion camp in 2022. She also purchased Americans with Disabilities Act swings for two parks. Because of her initiative, the city was able to offer the first and only inclusion camp in San Mateo County. In addition, her scholarship program provided $9,000 toward reduced camp fees (75 to 100 percent discount) for local families.
LaNaya Hawthorne, 30
Finance Manager, Memphis Parks (TN)
LaNaya Hawthorne began in the field as a lifeguard in Memphis, Tennessee. After eight years working in the aquatics department, Hawthorne became the executive assistant to the parks director. In this role, she began learning the multi-faceted processes involved in the agency's $30 million operating budget. Her financial expertise and responsibilities grew. As finance manager, Hawthorne promotes transparency and collaboration with the budgeting process and empowers the agency's managers by equipping them with financial knowledge. Today, teams across the agency are more knowledgeable about their operating funds, enabling them to be more efficient in providing programs and services to the community.
Nicole Herrera Murray, 28
Assistant Recreation Director, City of Goose Creek (SC)
Nicole Herrera Murray first joined the City of Goose Creek, South Carolina, as a coordinator, whereby she multiplied the number of programs and participants. Herrera Murray also led a two-year project to bring a $9 million all-abilities, barrier-free park and playground to the community with a focus on inclusivity and health and wellness. She selected all of the equipment with the special needs community in mind. In 2022, Herrera Murray was promoted to assistant recreation director due to her knowledge in recreation programming, special events and therapeutics. In addition, she has taken on the role of Area 6 director for the Special Olympics of South Carolina.
Savannah Hottel, 26
Naturalist and Volunteer Coordinator, Palm Beach County Parks and Recreation –
Okeeheelee Nature Center (FL)
Since being promoted to Okeeheelee Nature Center (ONC) lead naturalist and volunteer coordinator, Savannah Hottel has processed, trained and retained 15 dedicated volunteers to support ONC's operations. In fall 2020, she helped launch the Okee-Teen Volunteer Program, providing local teens a unique opportunity to work with animal ambassadors while developing important career-building skills. She designed this program to better develop teens' educational and career skills through opportunities that are not normally available in schools. Hottel also has made vast improvements to ONC's environmental education programming for Exceptional Student Education, Autism Spectrum Disorder, and various students with unique learning needs.
Emma Jones, 25
Therapeutic Recreation Specialist, Burlington Parks and Recreation (MA)
Emma Jones leads the Therapeutic Recreation Division by developing mutual respect with family members, participants and colleagues. Jones strives to build specialized programming that provides meaningful recreation opportunities to members of Burlington, Massachusetts, and surrounding communities with diverse abilities. She has expanded specialized programming for participants of all ages by increasing program offerings for those under 13 years old by 93 percent. Jones oversees 25 staff members, as well as numerous direct support professionals, meeting with each of them to provide specific goal information for each participant. In addition, she is helping to spread the word about therapeutic recreation throughout New England.
Meredith Lawrence, CPRP, CPSI, PTR, 28
Parks and Recreation Manager, City of Mendota Heights (MN)
Within Meredith Lawrence's five years at the helm of Mendota Heights (Minnesota) Parks and Recreation, she developed the department from being the lone employee to a team of three. She built the city's first Capital Improvement Plan and Asset Management Plan and worked with the Mendota Heights City Council and Commission to write the department's first strategic plan. She initiated a rebranding project at the city's municipal golf course that revitalized the facility, increasing rounds from 6,000 to nearly 16,000 — making the course profitable. As liaison to the commission, Lawrence has developed community engagement tactics to ensure residents are actively involved in park improvement projects within their community.
Katherine (Katie) MacCammon, CPRP, 30
Community Program Coordinator, City of Fairfax Parks and Recreation (VA)
Katie MacCammon serves as community programs coordinator for the City of Fairfax (Virginia) Park and Recreation, where she runs the summer camps and oversees 100 staff. She also is chair of the NRPA Young Professional Network. MacCammon is very invested in providing opportunities for overlooked and underserved populations in her community, and making them inclusive for everyone. During the coronavirus (COVID-19) pandemic, she led the park and recreation team in opening a childcare facility for the city's at-need families. This program not only helped those families in a time of need, but also helped open doors to establishing relationships with those communities and providing better assistance to them.
Miranda Maloy, CPRP, CPP, 30
Program Coordinator, City of Temple Parks and Recreation (TX)
Miranda Maloy is often called upon to create plans for new programming that marries the City of Temple (Texas) Parks and Recreation's mission, vision and goals with NRPA's Three Pillars. She has developed numerous programs designed to make mental health and wellness programs in an at-risk community accessible — including Mindfulness and Meditations classes, art programs that encourage self-discovery and expression, skills development classes for teens, and mentorship for the community. Maloy also serves as the liaison to the Temple Youth Advisory Commission, a new endeavor from the city that looks to engage and empower local teenagers to make a difference in their community.
Chandler Musson, CPRP, LGI, CPO, 27
Recreation Program Supervisor, Chatham County Parks and Recreation (GA)
Prior to joining Chatham County (Georgia) Parks and Recreation as recreation program supervisor in October 2022, Chandler Musson served as aquatics and recreation manager for Jewish for Good at the Levin JCC. In that role, Musson created initiatives to increase aquatic access for all by providing transgender community members free, inclusive public swims, setting up partnerships with community organizations to provide swim lessons to at-risk and foster youth, and offering free lifeguard training for teens and adults with guaranteed job placement. Additionally, he refined the pool maintenance structure to allow for additional year-round outdoor swim opportunities for at-risk and COVID-19-sensitive populations, including a large senior demographic.
Michael Patton, CPRP, 30
Recreation Director, Ephraim City (UT)
Michael Patton, recreation director for Ephraim City, Utah, has established the department's first-ever strategic plan, developed master plans for all city-owned recreation facilities, obtained more than $1 million worth of grant funding dedicated to park and recreation infrastructure, and shepherded the department through the COVID-19 pandemic. These drastic improvements have led to a record number of program participation, an increase in the number of programs and events offered to residents, a record of total annual revenue generated by the recreation department, improvements to recreation facilities to promote inclusion, and the overall advancement of community support and engagement for recreation in Central Utah.
Molly Pickel, 29
Planner II, Baltimore County Department of Recreation and Parks (MD)
Molly Pickel's diverse experience from her educational background and varied prior experience — from events coordination to public outreach to research to teaching in multiple environment-related camps and venues — has helped her develop a skillset that is rare for young park and recreation planners. Her chief achievement to date was authoring Baltimore County's Land Preservation, Parks and Recreation Plan (LPPRP), a 176-page document focusing on the county's recreation and parks infrastructure and capital program. The LPPRP process included multiple levels of public and staff input, including an online survey, and coordination with other county and state agencies. She completed the vast majority of the LPPRP-related work and authored the plan.
Sammie Powers, 27
Assistant Professor of Recreation Management, George Mason University (VA)
Sammie Powers is a researcher and educator whose work centers on Justice, Equity, Diversity and Inclusion (JEDI) in the park and recreation profession. Her research focuses on equitable and inclusive management of parks and recreation, as well as actions to address systemic and interpersonal racism. Powers examines access, use and experiences within park settings among diverse populations and the circumstances under which these settings can be more equitable and inclusive. She also focuses on management strategies agencies can use to increase engagement, representation and belonging among communities of color. As an educator, Powers incorporates JEDI content into all of her courses to advance students' intercultural competencies and knowledge of systemic inequalities.
Connor Schaefer, AICP, 29
Senior Planner, Washington County (MN)
Connor Schaefer leads projects to improve Washington County, Minnesota's growing park and trail system, including master plans, policy initiatives and project funding. Schaefer intentionally and thoughtfully connects with communities of underrepresented populations — specifically people of color, first-generation immigrants, people with disabilities, low-income, and adults ages 65 and older — by tailoring engagement strategies to meet the needs and goals of the project and community. Schaefer also played a key role in establishing a regional Equity Grant Program. He worked with other regional parks and equity representatives to design a new standard-setting funding approach to help park agencies address equity issues in parks and trails system.
Alyssa Schulte, 26
Fitness and Wellness Supervisor, Centerville-Washington Park District (OH)
Alyssa Schulte has used her fitness and wellness supervisor role with the Centerville-Washington (Ohio) Park District to expand programming while combining fitness experiences with integrated environmental education. Within a year, she added five new special events, a 167 percent increase in special event programming offerings, that focused on building healthy outdoor experiences for youth in the community. Schulte's Fun Run events included environmental education and activity stations along a one-mile route, while the Great Turkey Trek featured an adventure 5K throughout a nature park. These first-time events received a strong response from the community, with participation across the events totaling more than 1,050 attendees.
Amy Seklecki, CPRP, 29
Director of Marketing and Community Engagement, Arlington Heights Park District (IL)
During her short time at Arlington Heights (Illinois) Park District as director of marketing and community engagement, Amy Seklecki already has made an immediate impact. She coordinated a listening tour with the executive director that made 12 stops around the community, allowing residents to provide feedback on the park district's strengths and areas for improvement. Seklecki joined the agency's diversity, equity and inclusion committee to create awareness and facilitate change. She was part of the first-ever Heritage Fest, which celebrated the diversity in the Arlington Heights community. At the state level, she has served as chair of the Special Event Committee with the Illinois Park and Recreation Association.
Rachel Smith, CPRP, 27
Operations Manager, James City County Parks and Recreation (VA)
Rachel Smith began her career as a therapeutic recreation specialist working part time with dementia and Alzheimer's patients while attending college. After graduating, she joined the Lynchburg (Virginia) Parks and Recreation Department (LPRD) as a community recreation programmer. At LPRD, Smith conducted 225 new programs focused on health and wellness, technology, enrichment and art education. She coordinated programs and was tasked with renovating the Jackson Heights Art Studio, which provides pottery and stained-glass programs. Smith created an open, caring and inviting relationship with participants at the art studio. In 2022, she joined James City County, Virginia, as operations manager — overseeing programming and special events, which include a pottery program.
Harper Steinbach, 26
Program Manager, North Suburban Center for the Arts (MN)
Harper Steinbach's work has directly increased food access for underserved populations. As community engagement coordinator at the City of Robbinsdale, Minnesota, they secured a black-owned farmers market through a joint memorandum of understanding. They also successfully rebooted the community garden by cultivating donor support and obtaining grant money to fund the project entirely. Steinbach's work has helped organizations market and reach out to their diverse communities in a gender-confirming and welcoming way. This past summer, they worked on placemaking through a Cultivate Art grant they obtained from Hennepin County. Steinbach currently serves as program manager at North Suburban Center for the Arts.
Kari Truax, 25
Recreation Supervisor, Centerville-Washington Park District (OH)
Kari Truax is an up-and-comer in parks and recreation. Her heart, attitude and spirit are an energy that is contagious. She is actively engaged with the Ohio Parks and Recreation Association and is thirsty for more. Truax is presenting at the 2023 state conference about her graduate research, titled "Heartbeat of an Organization." Her passion for connecting temporary, seasonal employees into the field of recreation is going a long way by changing training modules within the region, teaching recruitment and retention techniques, and helping tenured professionals learn how to connect with the changing needs of younger employees.
Luca Twohie, 20
Human Resources Generalist, Fairfax County Park Authority (VA)
As human resources generalist at the Fairfax County Park Authority (FCPA) in Virginia, Luca Twohie works with the staff recruitment team. In 2021, Twohie created the #joinFCPA hiring campaign, as the park authority revived programs post-COVID-19. He used market research data and collaborated with the communications team to implement an innovative online and offline marketing communication plan to fill 1,200 part-time seasonal positions. His campaigns filled hiring gaps and created FCPA brand awareness. The campaign targeted racially-diverse candidates, including college students and retirees. The nonpaid social media recruitment campaign reached 25,000 social media users, resulting in 3,500 applications and ultimately 1,100 hires.
Taylor Witter, CPRP, CPO, 28
Aquatic and Recreation Supervisor, Bloomingdale Park District (IL)
Taylor Witter has made an incredible impact in her agency's community and at a state and national level. At the community level, Witter enhanced her before- and after-school programming by adding innovative opportunities, including sign language, no-bake cooking, Tae Kwon Do, Spanish, self-defense, yoga and magic classes, so more than 500 children could continue to further their education. Witter then transitioned to supervising aquatics and ice programming, whereby she increased overall admission revenue by more than $30,000. At the state level, Witter is active with the Illinois Park and Recreation Association, which has given her an opportunity to provide guidance and mentorship to hundreds in the field.
Manuel Zapata, CPRP, CPSO, 30
Recreation Coordinator, City of Belton Parks and Recreation Department (TX)
Manuel Zapata is recreation coordinator for the City of Belton (Texas) Parks and Recreation Department. When COVID-19 hit, the city quickly pivoted to self-led recreation that included an "Interactive Hike" tour of the nature center, whereby one could scan QR codes along their hike to watch short informational videos. Zapata taught himself how to edit videos and spent hours transforming raw footage into interesting clips featuring historians, nature interpreters and more. As things returned to "normal," he helped ensure the department's streaming technology ran smoothly. Zapata also spent hours in the community garden, making sure it was clean and welcoming for community members to utilize.
Catherine Zietse, 29
Partnership and Development Coordinator, City of Grand Rapids Parks and Recreation Department (MI)
As partnership and development coordinator at Grand Rapids (Michigan) Parks and Recreation, Catherine Zietse has brought new opportunities to advance the agency's work through involvement in national initiatives — including the 10 Minute Walk campaign. For this campaign, Zietse developed an acquisition database that is used to evaluate and track potential properties for parkland acquisitions. This database prioritizes green space in neighborhoods of focus, increasing 10-minute walk access to parks across the city, and expanding connections to regional trail systems. She has used this database to elevate the importance of equitable park access with city leadership and has successfully acquired 30 acres of new parkland in the city.
Thank You to Our 30 Under 30 Scoring Committee
Neelay Bhatt - Next Practice Partners
Eddie Campos - Mountain Recreation (CO)
Chamreece Diggs, CPRP - Greensboro Parks and Recreation Department (NC)
Ryan Eaker - City of Austin (TX)
Angel Ferrara, AFO - Unified Government of Wyandotte County (KS)
Roslyn Johnson, CPRP - Baltimore County Recreation and Parks (MD)
Sarah Lisiecki - BCI Burke
John Penn - City of Douglasville (GA)
Paula Sliefert - The Toro Company
Shonnda Smith, AFO - City of Mobile (AL)
Anne-Marie Spencer - PlayCore
John Stutzman, CPRP - City of Golden Valley (MN)
Kevin Witte, CPRP - City of Auburn (WA)
Kimberly Zygmant, CPRE, AFO - City of Victoria (TX)
Vitisia Paynich is Executive Editor of Parks & Recreation magazine and NRPA's Director of Print and Online Content. Michael Biedenstein, CPRP, AFO, is NRPA's Volunteer and Awards Manager.