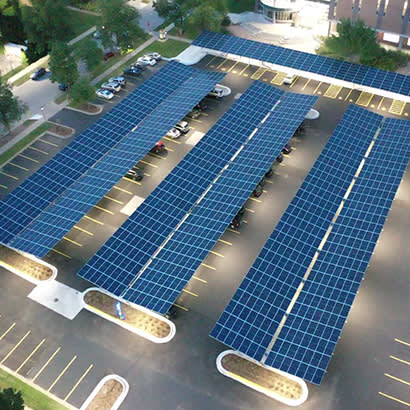 For an enhanced digital experience, read this story in the ezine.
The City and County of Denver are working to rapidly reduce carbon pollution and prepare Denver for a hotter, drier climate. Community solar is one approach that can reduce carbon pollution, increase resilience and help families lower their energy bills. In late 2022, city leaders and project partners celebrated breaking ground on the first two of 10 community solar gardens being built around the city during the next year. Solar installation sites include Denver International Airport, the National Western Complex and several local park and recreation centers — namely Montbello Recreation Center, Harvard Gulch Recreation Center, Lowry Tennis Courts and Central Park Recreation Center.
Interagency cooperation is key to meeting any city's climate goals — the deployment of these solar installs is no exception. This project would not have been possible without the partnership between Denver's Office of Climate Action, Sustainability and Resiliency (CASR) and Denver Parks and Recreation (DPR). CASR reached out early on to understand DPR's processes, priorities and clients. Working together was essential to building trust and winning over internal and public support. These recreation center installations are a win for both departments and the public. These solar installations will provide renewable energy for the recreation centers, offer ample shade and accessible parking for visitors, and subsidize energy bills for low-income households.
Charged with rapidly and equitably transitioning the city to 100 percent renewable electricity by 2030, CASR has made this $26 million investment in community solar gardens to jumpstart the efforts. More than a third of the power generated will be allocated to support low-income housing and Denver Public Schools families needing help paying their energy bills.
"Denver residents are clear that they want their city to act urgently to address climate change. And we are. Investing in community solar gardens improves our air quality and reduces emissions," says Mayor Michael B. Hancock. "We're reducing the financial burden on families while transitioning Denver to cleaner energy sources."
This is one of the first major projects from Denver's Climate Protection Fund, a voter-approved sales tax that generates roughly $40 million annually to eliminate greenhouse gas emissions and air pollution, support climate adaptation, and create new jobs. A key part of the solar projects is the workforce development and training component to expand green job opportunities. Other initiatives supported by CASR include the Energize Denver building performance policy aimed at helping building owners lower their Energy Use Intensity, and a citywide e-bike rebate program. To learn more about CASR and the Climate Protection Fund, visit denvergov.org/Sustainability.
Chelsea Warren, Communications Specialist, City and County of Denver