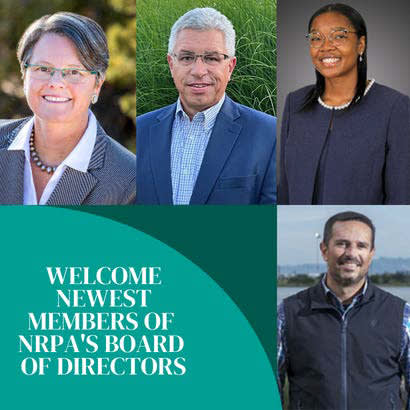 For an enhanced digital experience, read this story in the ezine.
Each year, during the NRPA Annual Conference, NRPA officially welcomes its incoming class of board members. The NRPA Board of Directors reflects our membership, which includes professional and advocate leaders in the park and recreation movement; park and recreation agencies and organizations representing the public, private, voluntary, commercial and industrial sectors; firms supplying park and recreation products and services; and individuals and civic groups interested in the park, recreation, conservation, health and equity fields. This year, we welcome four new members to the 2022-2023 NRPA Board of Directors.
Phil Ginsburg
General Manager, San Francisco Recreation and Parks
San Francisco, California
Since 2009, Phil Ginsburg has been the general manager of the San Francisco Recreation and Park Department, which oversees 4,000 acres of open space and more than 225 parks in the city. Ginsburg's focus has been on equitable park access. In 2018, San Francisco became the first city in the country where 100 percent of residents live within a 10-minute walk of a park.
In 2019, Ginsburg was appointed to the State Parks Commission by Governor Gavin Newsom. He serves as a national board member on the City Parks Alliance, a national urban parks advocacy organization; sits on the Parks Recovery Task Force for NRPA; and is a founding co-chair of San Francisco Children and Nature. Ginsburg also coaches the mighty Bayview United Soccer Club, San Francisco's first free public soccer club for Bayview youth.
John Prue, CPRP
Morale, Welfare and Recreation Program Analyst, Navy Region Mid-Atlantic
Kenosha, Wisconsin
John Prue, CPRP, is the Morale, Welfare and Recreation (MWR) program analyst for Navy Region Mid-Atlantic. In direct support of the fleet readiness director (N92), Prue conducts analytical and evaluative duties to assess the overall effectiveness of MWR programs at 14 installations and additional annex sites across a nine-state area.
Previously, Prue served as the installation program director for the MWR Department at Naval Station Great Lakes. As the chief administrator for the commanding officer, he assured a comprehensive quality-of-life program for more than 25,000 Navy personnel, their family members, retirees and other eligible patrons. He had management oversight of an organization that had more than 20 different facilities and programs that included general recreation, sports and fitness, community activities, child and youth services, a lodging/hospitality program, entertainment clubs, restaurants and other revenue-producing business activities. In 2012, Prue's MWR team received the coveted National Gold Medal Award and was the first-ever military installation to win this award. In 2017, Prue also served as a special assistant to the Department of Defense (DoD) Warrior Games, supporting the coordination, planning and sponsorship for a nine-day Paralympic-style adaptive sports competition in City of Chicago. The DoD Warrior Games played host to 265 wounded warriors from all branches of the armed services, including athletes from the United Kingdom and Australia. In September 2020, Prue retired from Naval Station Great Lakes after 34 years of service.
Prue has been an active member of NRPA and the Armed Forces Recreation Network, speaking at numerous conferences, contributing to Parks & Recreation magazine, serving on the NRPA Conference Program Committee for eight years and as the committee chairperson in 2020. He also is an elected member of the American Academy for Park and Recreation Administration.
Prue holds a bachelor's degree in recreation administration from the University of Wisconsin-La Crosse and a master's degree in management from Webster University, St. Louis, Missouri. He has received numerous individual awards, including the Department of the Navy's Meritorious Civilian Service Award (two awards) for his outstanding contributions to the Navy mission. In addition, he received the Armed Forces Recreation Society Fellow Award and the Executive Fellow Award for his achievements in improving the quality of life for active-
duty personnel and their family members. Upon his retirement from the MWR director position, he received the Navy MWR Lifetime Achievement Award for his years of service at Naval Station Great Lakes and support to the overall Navy MWR mission.
Cheredith Rhone
Division Manager of Administration, Shreveport Public Assembly and Recreation
Shreveport, Louisiana
Cheredith Rhone is a native of Shreveport, Louisiana. She earned a Bachelor of Science with a double major in business management and finance from Centenary College of Louisiana, as well as a Master of Management with a specialization in energy finance from Tulane University, becoming the first African American female graduate of the Master of Management in Energy program.
Rhone was appointed by Mayor Adrian Perkins and confirmed unanimously by the city council. She serves as the division manager of administration for City of Shreveport, Shreveport Public Assembly Parks and Recreation department. In this role, she serves as a member of the senior management team, charting the direction of the department, ensuring its accountability to all constituents and effective operation. After becoming a certified fraud examiner, she developed the City of Shreveport's first comprehensive anti-fraud policy while serving as interim assistant CAO.
As a member of the Government Finance Officers Association – Budgeting and Fiscal Policy Committee, she serves in Washington, D.C., and Chicago as the committee's youngest member. She serves on the board of directors at Tulane University, A.B. Freeman School of Business. Rhone also serves on the board of directors of Thrive Unburdened, LLC, an organization dedicated to providing mental health support and therapy for teenagers and young adults.
Rhone also has served on various boards and committees, including the Generation Progress National Leadership Council in Washington, D.C., Women in Government Relations, Shreveport Chamber of Commerce Young Professionals Initiative, Providence House Youth Advisory Board, and Centenary College Conduct Court. She received the 2022 Top Business Professional of the Year award from the Shreveport Chamber of Commerce. She was nominated as a "change maker" and attended The White House United State of Women Summit, hosted by First Lady Michelle Obama. She is the owner and founder of C.D. Rhone Capital Management, LLC, where she manages her real estate portfolio.
Rhone attends St. Paul C.M.E. Church and serves as a missionary. In her spare time, she enjoys reading, cooking and traveling. She strives daily to embody her favorite Harriet Tubman quote, "Every great dream begins with a dreamer. Always remember, you have within you the strength, the patience and the passion to reach for the stars to change the world."
Breece Robertson
Director of Impact Assessment and Monitoring, One Tree Planted
Santa Fe, New Mexico
Breece Robertson combines geospatial technology and storytelling to inspire, activate, educate and engage people to protect our planet. She is a noteworthy leader in the conservation and parks field with more than two decades of experience. She created and led the GIS, research and planning unit at The Trust for Public Land and built strategic initiatives, like ParkScore, ParkServe and Greenprinting that uses state-of-the-art technologies to make data and information accessible. In 2006, she was awarded the Esri Special Achievement in GIS award and in 2012, the Making a Difference award. She authored a book, Protecting the Places We Love, which was published in April 2021 by Esri Press.
She currently holds the position of director of impact assessment and monitoring at One Tree Planted. She is leading technology and workflow strategies for measurement, reporting and monitoring that tell the story of the co-benefits that trees, forests and nature-based solutions provide in places around the world. When she's not protecting places, she's exploring and enjoying them.