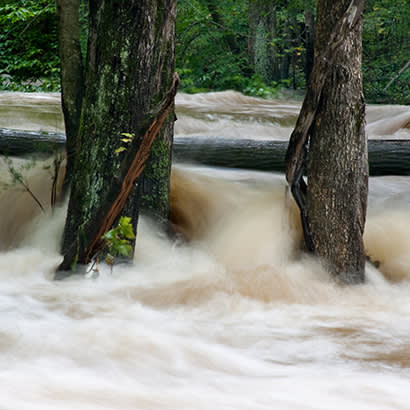 For an enhanced digital experience, read this story in the ezine.
The Safeguarding Tomorrow through Ongoing Risk Mitigation (STORM) Act was signed into law on January 1, 2021, following a bipartisan "voice vote" in both the House and Senate in December 2020. The legislation creates a resilience-revolving loan fund, similar in many ways to the highly successful Clean Water and Drinking Water State Revolving Funds, which provide low-interest financing for water infrastructure projects in communities.
While this vital resiliency program was established on the first day of 2021, it did not actually receive any funding, and rather was reliant on the annual federal appropriations process. With the past year's stalemate surrounding passage of a spending bill for fiscal year 2022, the program continued to go unfunded. However, the November 15, 2021 passage of the Infrastructure Investment and Jobs Act, now known alternately as the Bipartisan Infrastructure Law (BIL), brought a $500 million appropriation of funds to the STORM program.
Under the new program, funds will flow from the Federal Emergency Management Agency (FEMA) to state, tribal and territorial governments, which will then provide loans to local governments. Communities will use the loan funding to carry out new projects to mitigate against any potential future event deemed by FEMA as "catastrophic," such as storm surges, flooding, earthquakes or wildfires. The specifics of the grants include: individual project funding up to $5 million; interest rates not to exceed 1 percent; and repayment terms up to 20 years after project completion, or up to 30 years for projects benefiting low-income communities. The application process will prioritize applications for projects that increase resilience of natural and built infrastructure.
Ideally, these low-interest loans will be paid off with savings from the mitigation efforts, as costly disaster response projects will be less imperative due to the pre-emptive resilience efforts. Industry studies support this savings concept, with the National Institute of Building Sciences reporting a total of $6 saved in disaster response for every $1 spent on mitigation efforts.
STORM grants differ from traditional FEMA grants in that they allow local governments to invest in mitigation infrastructure and can reach communities much faster than previous loan programs. This is extremely important, as natural disasters increase in frequency and severity due to climate change.
The National Oceanic and Atmospheric Administration reported that 2020 was the 10th consecutive year when 10 or more billion-dollar natural disasters impacted the nation. The 2020 slate totaled $16 billion in disasters, with 11 severe storm events, three tropical cyclone events, one drought event and one wildfire event. The impacts of these events can cost up to 8 percent of our nation's economy per year; as such, mitigation-related savings could have a large impact on the federal fiscal budget. A new study published by the Johns Hopkins University 21st Century Cities Initiative and American Flood Coalition also reported that a $1 million investment in flood infrastructure projects could produce up to 40 new jobs in related sectors. At that scale, a $1 billion investment could produce up to 40,000 new jobs on top of the mitigation-related savings.
U.S. Senator Gary Peters (D-MI), chair of the Senate Homeland Security and Governmental Affairs Committee, was instrumental in securing passage of the legislation, as well as the $500 million appropriation to the program included in the BIL. "This funding will kick start my STORM Act loan program and give states and communities access to new opportunities to invest in major infrastructure upgrades from seawalls to stormwater drains that will protect residents, homes and small businesses from these disasters," says Senator Peters.
FEMA is still working to effectively disseminate its $500 million to communities throughout the United States. NRPA will continue to track this process closely and will alert members as soon as more information on the flow of funds is available.
Kyle Simpson is Director of Government Affairs at NRPA.