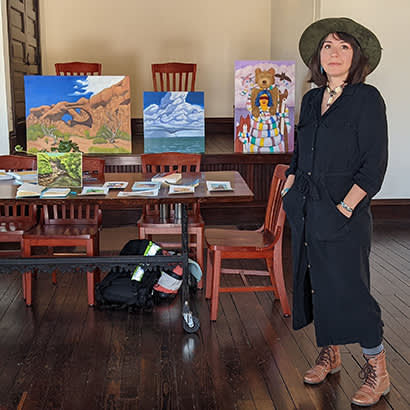 For an enhanced digital experience, read this story in the ezine.
Oakwood Cemetery, founded in 1839, is the final resting place of many people who are considered the founders of Austin, Texas. Their stories are told from generation to generation and taught in schools, but in many cases, Native Americans are either left out of these stories or depicted in a negative light. Amy Heath, a member of the Caddo Nation of Oklahoma and former employee at Oakwood Cemetery, did some investigating and created an exhibit, titled "To Relate: Indigenous Views on Native American Historical Events in Texas," to help tell the other side of the story.
"As an enrolled member of the Caddo Nation of Oklahoma, these stories are my family history," says Heath. "Even if no one reads the project, the information I learned about my own direct ancestors is worth the world to me."
A lot of Texas land that has been transformed into cities was first established by Native Americans. Austin was once inhabited by Indigenous American groups and was a central meeting spot across the state. The word "Texas" even comes from the Indigenous American word, meaning ally or friend. The stories of these Indigenous American groups are a big part of Texas' history, yet they haven't been properly told. By focusing on the Austin-specific stories, as well as the larger Native American history of Texas, in the exhibit, Heath and other exhibit creators hope that the descendants of these tribes will feel seen and understand their importance in history. They also want the Texas community to be able to connect with these stories. Visitors can view maps, showing the areas that were inhabited by Indigenous American groups. Some of these maps focus specifically on well-known parks in Texas.
"By focusing on local city parks, I think that it makes it easier for the general public to relate to the history of the people who lived here before," says Heath.
Heath, who is a geospatial analyst, created these new maps to show the importance of looking at Texas' historical events from an Indigenous American point of view, and how it has directly influenced life today. The patterns revealed by the maps portray what was important to the first peoples of Texas, which have had a direct influence on why people live where they do now.
"Once I learned about the El Camino Real de Los Tejas National Historic Trail, which goes from Northwest Louisiana into Texas, through Austin, and down to Mexico City, it became this thread that tied the whole history of Texas together," says Heath.
Native American stories have been ignored in history, but it is important to show that these tribes still exist, and that each tribe has its own important history. By presenting their "To Relate" digital exhibit, Oakwood Cemetery Chapel and Heath hope to share the stories of Native American tribes indigenous to Texas, as well as those who were there because of American expansion.
To view the exhibit, visit the website.
Auva Saghafi is Exhibit Assistant at City of Austin Parks and Recreation Department.