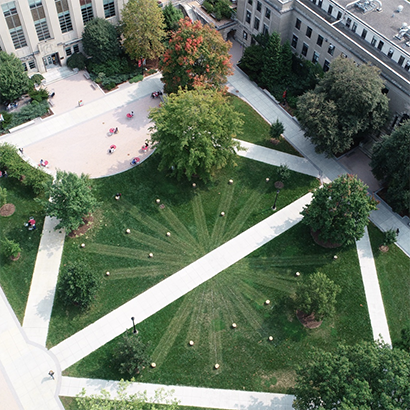 For an enhanced digital experience, read this story in the ezine.
This year marks the 50th anniversary of the Professional Grounds Management Society's (PGMS®) Green Star Awards® program, bringing national recognition to grounds maintained with a high degree of excellence. One of the oldest awards programs in the industry, the Green Star Awards® has more than 15 different entry categories, including Parks, Recreation Areas, Hotels, Athletic Complexes, Public Works Sites and Educational Institutions. Former award recipients include American University, Disneyland, Sarah P. Duke Gardens and Cornell University.
In conjunction with the 2022 awards celebration, the National Association for Olmsted Parks (NAOP) and hundreds of organizations across the country celebrate the 200th anniversary of Frederick Law Olmsted's birth. In a career spanning half a century, Olmsted designed some of the most famous landscapes in the United States, including Central Park in New York and the Emerald Necklace in Boston. Recognizing the profound influence of Olmsted as a social reformer and founder of American landscape architecture, PGMS® and NAOP collaborated on the new awards category "Olmsted Property," which will recognize properties whose maintenance practices ensure the integrity of the historic landscape as part of the annual PGMS® Green Star Awards®. Going forward, NAOP will partner with PGMS® on educational offerings focused on the work and design principles of the Olmsted firm.
"This new awards category honors the profound influence and impact that Frederick Law Olmsted's legacy has on landscape architecture," says Joe Kovolyan, CGM, president of PGMS®. "PGMS® was thrilled to have the opportunity to collaborate with NAOP, and we look forward to an excellent submission year."
The new Green Star Awards category evaluates Olmsted properties in the following categories: landscape maintenance (20 percent); safety (15 percent); challenges (20 percent); Olmsted design and management principles (20 percent); and stewardship, education, and training (15 percent). Olmsted properties have landscape management and maintenance that are carefully planned and implemented based on historic documentation. Furthermore, these properties are principally focused on retaining historic landscape authenticity. Special projects are designed to limit impacts on the historic landscape and exceptional measures are taken to protect the site/resource and to minimize construction impact.
The award will recognize institutions where the historic landscape has been thoroughly researched and documented and guides treatment and stewardship. In these institutions, historic preservation is a primary management/maintenance goal with a focus on protecting, preserving and retaining historic landscape features. The field staff have a clear understanding of the historic landscape and their role(s) in preserving it. In addition, the staff is provided with educational opportunities in historic landscape preservation.
Learn more information on the PGMS® Green Star Awards®, including the photo portfolio template and application.
Stephanie Bruno, CAE, is Executive Director of the Professional Grounds Management Society®. Anne Neal Petri is President and CEO of the National Association for Olmsted Parks.