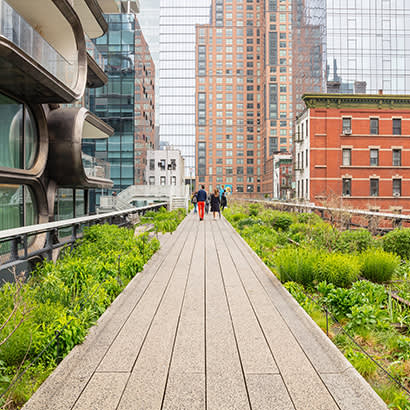 For an enhanced digital experience, read this story in the ezine.
When thinking about national parks, the first thing that might come to mind is a picturesque mountainscape or endless rows of lush green pine trees. Those images might include people hiking, camping and enjoying nature in what appears to be the most remote locations. These places are treasured and beautiful parts of the public lands system, but right now, millions of people don't have access to nature, whether it's a sweeping vista or a local park.
The 30x30 initiative seeks to protect these landscapes to protect the green infrastructure we need to take on climate change, and to ensure future generations have access to nature for recreation and enjoyment. It is true that some of the most beautiful and awe-inspiring landscapes can be found in many places that have been protected for such purposes, but we should not think that 30x30 is limited to the most iconic public lands. Smaller green spaces also deserve our attention, care and protection. These green spaces offer nearby connections to nature and possess an important history, often memorializing untold stories of the communities and people who did so much to shape and cultivate the land. One example is the Ancient African and Indigenous Burial Grounds. In my hometown of Hartford, Connecticut, an Ancient African Burial Ground is an important community resource and significant piece of history. Preserving these spaces and providing space for the community to reflect and engage with them help us remember these people and their stories, in addition to providing critical green space.
In addition to these larger protected landscapes, there are many pocket parks and similar unprotected green spaces in cities. These spaces not only are a source of natural beauty and healing, but also they have cultural significance worth preserving and protecting. Many places that do not have National Historic Site status, nevertheless, have significance to community members and how they engage with the land and natural world. These places may include community gardens, urban farms, empty lots that have been converted to arts and community gathering spaces, riverfronts, pocket parks, and other outdoor recreational facilities.
Advocating for Natural Spaces
The effort to increase access to traditional conserved spaces, such as national and state parks, should be prioritized and pursued at all levels of civic engagement. Improving public transit resources to these locations would substantially improve outdoor equity and access. The information and educational materials available on public lands also is important. Advocating for educational signs and materials about the history of these lands and the people and communities that were indigenous to these lands is vital when considering access issues.
Collaborative planning around the use of the lands with Indigenous communities also seems like a critical place to start in making these spaces more equitable and accessible. Just as we often see well-maintained nature centers or visitor centers that highlight the rich wildlife of plants and animals in a region, we have a responsibility to also provide resources that highlight the rich history of native nations and enslaved populations that spent so much time on these lands.
The Sierra Club Outdoors for All campaign seeks to address issues related to access in both large and small green spaces throughout the country, and we are not alone. Many local groups, organizations and alliances see the value and importance of these places and have sought to maintain them, often with little support from local or federal government. With the announcement of ambitious initiatives, such as the U.S. Environmental Protection Agency's Brownfield Remediation and many others that can be connected with the America the Beautiful Initiative, we might see opportunities for resources and for local organizations and communities to get involved in making lasting change when it comes to preserving and activating local green spaces. The Connecticut Sierra Club Chapter and many other groups often are working hard to protect, restore and re-envision what development and use of green spaces can be.
Parks are treasured landscapes that have provided countless people with the opportunity to make a direct connection with nature. The 30x30 initiative can help ensure generations to come will be able to do the same — both at national parks and at green spaces much closer to home. With additional funding, community partnerships and strategic planning, we can transform this inclusive vision for outdoor access into a reality.
Jameelah Muhammad is Associate Director of Sierra Club's Outdoors for All campaign.