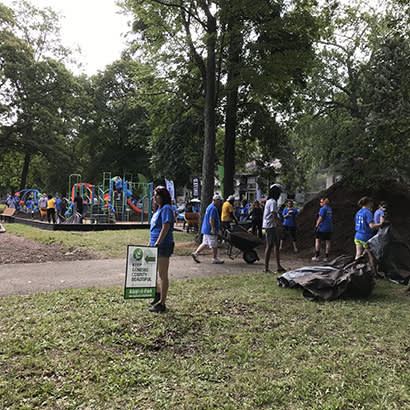 For an enhanced digital experience, read this story in the ezine.
Michiganders show what it means to rise up for parks and recreation
When it comes to adversity, the people of Flint, Michigan, have experienced more than their fair share. From a devastating economic downturn and crippling unemployment triggered by the Great Recession in 2008, to the city's ongoing lead water crisis that began in 2014, Flint residents have endured enough setbacks for five lifetimes.
However, a group of resilient community members want to change the narrative and the national conversation around the "Vehicle City." They want to squelch years of excoriating national headlines along with an unwanted negative stigma often attributed to City of Flint. They want the rest of the country to see what they and their families, friends and neighbors see every day — that they are "Flint strong."
Thanks to the state's Genesee County Parks and Recreation Commission (Genesee County Parks), they are telling their personal stories one Flint park at a time.
The Writing on the Wall
In 2003, the Flint Parks and Recreation Department had a little more than 97 full-time equivalents (FTEs) on staff, but once the recession hit, park and recreation leaders began to see the writing on the wall.
Karen West, the director and lead consultant for the Keep Genesee County Beautiful (KGCB) program at the time, was among those who foresaw the city's eventual inability to care for Flint's parks and public spaces. Thus, West developed a framework to replace the dwindling Flint Parks and Recreation, which led to KGCB signing an agreement with the city whereby the county would assist Flint parks. This agreement paved the way for a pilot program funded by the Ruth Mott Foundation, called Adopt a Park, which enabled Flint volunteers to perform basic maintenance work and upkeep.
"Adopt a Park was created as a stop-gap measure to figure out how to deal with public space that's not being maintained by the city," explains Nancy Edwards, recreation programs and grants officer and current director of KGCB.
By 2013, the entire park and recreation department consisted of only six FTEs: two people handling administration and four tasked with park maintenance and facilities duties. In 2014, the Flint Parks and Recreation Department officially disbanded.
Edwards says the park and recreation responsibilities essentially rolled into the city's Department of Planning and Development. "There was one planner who was funded about a quarter time to be the point person for anything park related," she recalls. This meant Adopt a Park program volunteers became the primary stewards of the city's parks.
The KGCB program became part of Genesee County Parks in 2016. Genesee County Parks, the largest county park system in Michigan, oversees more than 11,000 acres of county park property.
An Evolving Partnership Agreement
Genesee County Parks established a partnership agreement "to maintain some particular park properties that were associated with the city's natural resources," says Edwards. The city's park system features 70 parks comprising 1,881 acres.
"This partnership agreement started with us maintaining four specific parks: Flint Park Lake, Thread Lake, McKinley Park and Max Brandon Park," she explains.
Over the past eight years, the partnership agreement has expanded to include other park property projects.
"We have parks in every ward, every neighborhood in Flint. And we have people who deserve to have equitable access and equitable facilities," Edwards contends. "They deserve the ability to use parks that are safe, clean public spaces — and the city doesn't have the capacity to do that. So, we've tried to figure out ways to make that happen, so that everybody has access to those spaces."
The Water Crisis
In April 2014, Flint was still reeling from a crippling economy and bankruptcy when it was dealt an even bigger blow: a contaminated water crisis. As a result of the state's bungled cost-saving measure that sourced the city's water supply from the Flint River, adults and children contracted lead poisoning by ingesting drinking water from corroded waterpipes. What's more, Flint residents were forced to use bottled water for drinking, cooking and bathing.
"We're still doing waterline replacement to deal with the lead," notes Edwards. "People are still using bottled water, and so we can't have a conversation about Flint without recognizing that [it's] an ongoing issue."
The Park Adopters
For the past 14 years, Shareka Howard and her now ex-husband have been proud park adopters of Windiate Park. Both born and raised in Flint, the two saw firsthand the conditions of their neighborhood park and the lack of maintenance care. However, they knew they wanted their four kids to be able utilize and enjoy the park.
"Instead of talking about it [and] trying to get people to do something about it, we decided to do it ourselves — to start maintaining it," Howard explains.
In addition to picking up the garbage and changing out the trash bags in Windiate Park, Howard also tended to her neighborhood's gateway centers, grass areas dividing the streets, by planting flowers.
Dominque Strong, a Flint resident for the past 37 years, also wanted to make a difference in her community. "I decided almost eight years ago to be a park adopter of Brennan Park," Strong says. "We do not have any community centers in the seventh ward of Flint. So, I adopted the park to implement annual events and programming."
In addition to Brennan Park, Strong adopted McClellan Park and McKinley Park. She visits the parks at least three times a week, driving by to assess whether trash needs to be picked up or if damages to the playground equipment need to be reported.
Chad Schlosser, a Flint resident since 2011 and a father of three young children, was volunteering to clean up his local park before he even knew Adopt a Park existed. He eventually connected with Edwards and KGCB, adopting Mott Park Recreation Area and Mott Park in 2017.
"We'll rake leaves; pick up tree branches that have fallen; cut back overgrowth around the playground, on the stairs or on the tennis courts; repair and paint benches; edge the curb; and level any holes that we find," says Schlosser about the duties that he and his band of volunteers take on.
A Personal Connection
Kevin Cronin has a unique connection to one of the neighborhood parks. "Basically, once I learned about the Adopt a Park program, I was really interested and intrigued by it," says Cronin. "But, it also [had] a lot more sentimental [value] on my end." The park Cronin adopted was named after his grandfather, Donald R. Cronin, who served as the mayor of Flint from 1968 to 1970.
Back in the late 1930s, the Soap Box Derby Race was a community event cherished by Flint residents. However, the race took place on a city street. Mayor Cronin helped establish a permanent track for the event, so in 1969, Cronin Derby Downs opened to the public.
Today, the mayor's grandson aims to honor his legacy through the Adopt a Park program. David Cronin tends to the park, picking up trash and removing leaves or any obstacles that might hinder the city's ability to cut the grass.
What does the future look like for Cronin as a park adopter? "I really intend to introduce at the park — in coordination and partnership with the Adopt a Park program, Genesee County Parks and City of Flint — additional methods and modalities of [soapbox car] racing and additional multipurpose events," he says.
The Trash Factor
KGCB hosts a spring orientation for representatives from each of the Adopt a Park groups, providing them with cleaning supplies and asking them to sign a formal agreement of participation.
For a time, there was one major barrier with the city parks: trash pickup. "In Flint, what was happening with the park adopters was that they were bagging up the trash, taking it home and putting it out with their residential garbage," Edwards explains.
So, through its grant funding, KGCB paid to place dumpsters in the parks for one year. The following year, Edwards was able to work out a deal with the residential waste management company to pick up the garbage from the parks at no cost, but then the city changed companies. The new company agreed to pick up the trash again for free, but for just a couple of months.
Edwards was determined to solve this problem. "I kept harping on this long enough that we were able to get the grant from the Charles Stewart Mott Foundation…increased, so that we could then hire additional maintenance staff," she says. "So…the county parks maintenance staff is literally going to every single park at least once a week and dealing with trash."
Beyond Cleanup
Although park maintenance remains a key part of the Adopt a Park program, the KGCB budget and grant funding also have been used for park improvements and enhancements. "We've [installed] 38 brand new playgrounds in six years," Edwards notes. "Now, we're redoing basketball courts, repurposing tennis courts, as well as putting in grills and picnic tables. We're working on the next piece of capital improvements that will give all of the parks those amenities."
"We've received two brand new playground sets, thanks to Nancy and funding from the Mott Foundation," says Schlosser. The first one, a playground set for 2- to 5-year-olds, was installed in 2016. The second playground set, designed for 5- to 11-year-olds, went in last year. "Part of my role is just advocating for things like that, while the other part is just figuring out how to better take care of what already exists," he says.
After Flint Parks and Recreation disbanded in 2014, all the after-school programming and sports programs were absorbed by other community partner organizations. "We've had some funding [in which] we've been able to make available to our park adopters so that they can do programs," says Edwards.
Howard says, "We're able to now focus more on doing events." She adds that through her own nonprofit organization and KGCB, she's able to host basketball training camps and flag football for kids.
Edwards says collaboration and partnerships are key to the program's success. That also means seeking out available grants, such as NRPA and Disney's Youth Sports and Play Grant. In 2021, NRPA named City of Flint as one of 16 grantees that received a $40,000 grant toward implementing park projects that would increase equitable access to youth sports and play.
Making a Difference
"Through the Adopt a Park program and through my involvement in the parks, I've come to realize that I really enjoy taking care of public spaces, and I'm very grateful for the people who had the foresight to create public spaces," says Schlosser.
"To actually see this program grow into what it is today is so amazing and rewarding," says Strong. She adds that her volunteer work has really been about "creating a sense of belongingness" and helping "to change the narrative for the city; just showing how resilient we are."
"It's just amazing to see the big difference of how people from the outside see the city as this horrible place…," says Howard, "but when they come to actually see Flint or talk to residents, they see that we are — Flint strong. We bond together in a time of need.... We are a community."
Vitisia Paynich is Executive Editor and Director of Print and Online Content at NRPA.