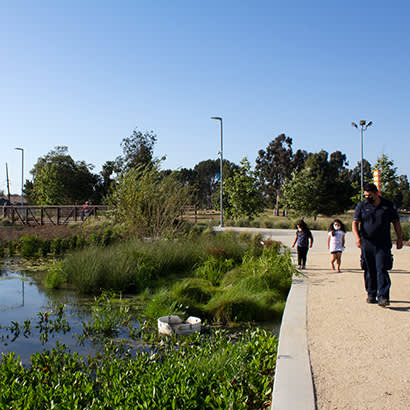 For an enhanced digital experience, read this story in the ezine.
Award-winning Earvin "Magic" Johnson Park rolls out its second phase
Earvin "Magic" Johnson Park, the 126-acre park located in the community of Willowbrook in South Los Angeles, was named for the Lakers legend in 1994, just three years after his retirement. Almost 30 years later, the largest open space in the area, it has now completed two phases of its renovation. With Phase 1A and 1B of the Magic Johnson Park Revitalization Project complete, the park is hailed as the gold star in sustainable park design.
In 2014, the multi-disciplinary design and planning firm MIG developed the conceptual comprehensive plan to show what a complete makeover could look like, including new recreation amenities and innovative green infrastructure, demonstrating how urban environments can be models of water conservation by reducing the negative impacts of untreated stormwater. In January 2021, the $83 million Phase 1A opened to the public, unveiling the ultimate community hub where fitness, programming and wetlands are laid out to provide play, health and leisure opportunities for children of all demographics for generations to come.
"Earvin 'Magic' Johnson Park, simply put, is a community gathering place," says Mika Yamamoto, regional operations manager for the County of Los Angeles Department of Parks and Recreation. "For the community, the park and its event center will be the host to family reunions, weddings, receptions, baby showers, birthday parties and more. Our mission is to serve as stewards of parklands, build healthy and resilient communities, and advance social equity and cohesion. This park fulfills the mission through its design, which brings nature and wildlife to an urban area, recreational and interpretative programs, and social gatherings and events for all."
Sustainable Design
MIG collaborated with more than 20 subconsultants, including Paul Murdoch Architects and Pacific Advanced Civil Engineering, to complete Phase 1A, which includes such features as a new community event center and offers a new nature-infused environment of scenic viewpoints, community social spaces, play areas, walking trails, California native coastal sage scrub and freshwater marsh wetland landscape. The inspiration behind this project is to transform a widely used community-based park into something much more: an interactive and dynamic center of learning, nature and engagement that is powered through environmentally sustainable design.
Of particular note is a system that diverts and captures stormwater runoff from the community's 375-acre watershed, which is part of the Compton Creek Watershed. The stormwater is then treated through a system of processes, including natural biofiltration through mitigated wetlands surrounding one of the park's two lakes. The treated water is stored within both lakes and reused for on-site park irrigation. The freshwater marsh wetland also creates an important habitat for resident and migratory birds, insects and other urban wildlife. This technology, coupled with the existing lakes, allows for the capture, storage, treatment and recycling of water, and acts as a catalyst for urban greening and meaningful outdoor space throughout Southern California.
Before the renovation, the park used 100 percent potable water for landscape irrigation and for filling the two existing man-made lakes. To minimize potable water use, the park was re-engineered through collaboration with the Los Angeles County Development Authority, Los Angeles County Department of Parks and Recreation and Los Angeles County Department of Public Works to not only recycle runoff, but also improve water quality in Compton Creek, the Los Angeles River and the Pacific Ocean.
Restoring Nature
Through this project, restoration of some of Southern California's vital native plant communities, such as the coastal sage scrub and freshwater marsh wetland habitats, has been achieved. Some of the California-native plants that are incorporated into the park are Salix lasiolepis (Arroyo willow), Juncus patens (California Gray Rush), Anemopsis californica (Yerba Mansa), Eriogonum fasciculatum (California buckwheat), Heteromeles arbutifolia (Toyon) and Peritoma arborea (Bladderpod). California natives account for 80 percent of the new plants that were installed at the park. The constructed wetland and the restored lakes on this project provide important habitats for resident and migratory birds, pollinators, fish and other urban wildlife by providing food, shelter and places to nest. Some of the species that now frequent and nest at the park are Grey Heron, Black-Crowned Night Heron, Red-Tailed Hawk and Black-Necked Slits. Since the park renovations, there have been more than 160 bird species observed at the park.
The restoration of native plant communities has brought this sense of wildness into the urban environment, further connecting the community to nature, which is the park's design vision. The park's elements, such as picnic areas, walking trails, a community center building and play area, were designed to be integrated and interwoven with the experience of the nature systems to inspire, foster community, provide education, and cultivate a healthy, sustainable environment. Picnic areas are surrounded within the landscape and integrated into the lake, creating the interaction between humans and nature. Walking trails interweave through native landscape and utilize topography to create beautiful vistas within the park, with the surrounding mountains and city as the backdrop. The park's design uses natural materials, such as play mounds, reclaimed logs, boulders, decomposed granite and plants, to create outdoor learning and play environments where nature can inspire imaginative play through curiosity.
Phase 1B
Just earlier this year, Phase 1B opened to the public. This phase included three-quarters of a mile of walking trails, an off-leash dog park (the first in South Los Angeles), educational California native habitat gardens, an informal natural amphitheater, a one-quarter-mile fitness loop with exercise equipment, and a community flexible lawn space.
"As a parks and recreation professional, it brings me joy to see the community visiting the parks. With the number of activities and amenities at Earvin 'Magic' Johnson Park, it has something for all ages," says Yamamoto. "Although the [COVID-19] pandemic has limited the full opening of the park, there were still a variety of programs and events scheduled. The park has hosted special events, such as Health Walk, Art Walk, Trick or Trunk Halloween and Winter Holiday Event, along with recreational programs, such as Everybody Plays (afterschool) and senior socials. We look forward to developing more youth and adult programs along with larger community special events and maximizing the use of the park's amenities."
The amenities of the park include:
A 20,000-square-foot community event center
A half-mile lakeside community loop trail with picnic areas
Fitness equipment
Scenic viewing points
A children's play area with a splash pad
Outdoor classrooms and educational interpretive graphics telling the environmental story of the park
Community social spaces
A lawn space for weddings
More than a mile of new walking trails
The first off-leash dog park in South Los Angeles
Educational native habitat gardens
An informal natural amphitheater
A community flexible lawn space
The project closed out 2021 with Leadership in Energy and Environmental Design (LEED) Gold certification and six awards under its belt, including the Honor Award from the American Council of Engineering Companies, Sustainable Engineering Project of the Year from the American Society of Civil Engineers, Award of Excellence from the American Society of Landscape Architects Southern California Chapter, the Architectural Award for Civic from the Los Angeles Business Council, the Honor Award from Southern California Development Forum, and Project of the Year from the U.S. Green Building Council – Los Angeles.
Wendy Chan is Senior Landscape Architect at MIG.