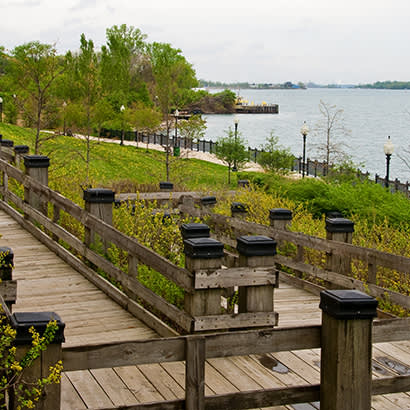 For an enhanced digital experience, read this story in the ezine.
If the past two years have taught us anything, it is that nobody can succeed on their own, and the success of parks and recreation is certainly not exempt. In 2020, Michigan Recreation and Park Association (mParks) joined forces with a broad and diverse coalition of like-minded nonprofits, private-sector organizations and municipalities to tackle their biggest advocacy effort to date — Proposal 1: Vote Yes for MI Water, Wildlife and Parks.
The proposal, which appeared on a contentious November 2020 ballot, expanded the work of the Michigan Natural Resources Trust Fund (MNRTF) and helped protect the state's drinking water sources, wildlife habitats and parks for the future. The amendment sought to safeguard a constitutionally protected revenue source for conservation and recreation efforts for future generations, insulating it from partisan gridlock.
"We are so lucky that more than 40 years ago, our advocates had the forethought to create [the MNRTF] program to protect Michigan's lands and waters," says Clay Summers, executive director of mParks.
MNRTF serves as a key funding source for Michigan's park and recreation agencies, allocating more than $1 billion from oil and mineral royalties to protect the state's natural resources and to develop outdoor recreation opportunities for residents.
Grassroots Efforts
mParks members were pivotal to the success of Proposal 1. While park and recreation departments were unable to encourage their communities to vote for Proposal 1, they stood up to tell the importance of the MNRTF. More than 20 municipalities in Michigan adopted resolutions endorsing the ballot proposal.
Partner Organizations
The Nature Conservancy, Michigan United Conservation Clubs, Heart of the Lakes, Michigan Environmental Council, Michigan Trails and Greenways Alliance, and mParks spearheaded the efforts in support of Proposal 1.
Together, these organizations created branding, messaging and ballot language; gathered endorsements, sponsorships and worked to get press coverage; but most importantly, they gathered more than 70 organizations — nonprofits and private-sector companies — to sign on in support of the proposal.
Bipartisan Support
Proposal 1 had broad, bipartisan support from the start. The Michigan Legislature unanimously agreed to put the proposal on the November ballot in 2018, and all of Michigan's living governors supported adoption of the proposal.
Michiganders made history by overwhelmingly voting "yes" on Proposal 1. Voters across the political spectrum voted to commit oil and gas royalties to the protection of our land, water sources and parks in perpetuity.
"Proposal 1 passed because of strong bipartisan support from conservationists and environmentalists, business and community leaders and our elected officials. This is a victory for Michiganders in every corner of the state," says Becca Maher, Vote Yes campaign manager. "With the passage of Proposal 1, voters sent a clear message to Lansing, [Michigan] — we must prioritize protecting our natural resources and conserving and creating access to our outdoor spaces, now and for future generations."
Our collective action continues as mParks works with partner organizations on an educational campaign, called protectMI. Launched in 2020, protectMI is the voice of the public lands and water, where we find spaces for learning and exploring, havens for healing and solace, and outdoor recreational opportunities.
proctectMI celebrates these outdoor spaces by raising awareness of their accessibility and sharing the stories of projects funded through MNRTF.
The partnerships that mParks develops are crucial to its success. By joining forces with organizations that share similar missions, mParks is given a louder voice to tell the stories of park and recreation agencies and advocate on their behalf. This in turn leads to successful legislation that supports Michigan's public lands and recreation facilities, as well as opens the door for funding opportunities for these spaces.
Tina Nowakowski is Director of Communication and Strategic Partnerships for Michigan Recreation and Park Association.