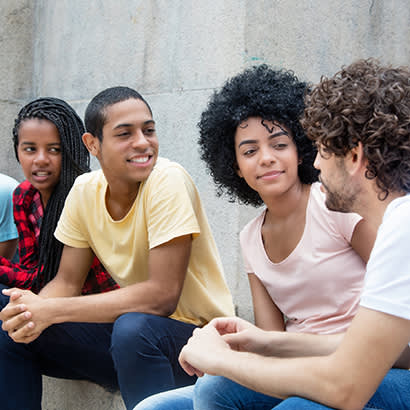 For an enhanced digital experience, read this story in the ezine.
Last month, I wrote about the particularly acute labor shortage facing employers across the United States. As recently as October, employers reported having more than 11 million open positions. State and local governments were not immune, with nearly a half-million unfilled noneducation jobs.
The difficulty in recruiting and retaining workers is not a new phenomenon. This is especially true for summer jobs that tend to attract teenagers and young adults. According to the U.S. Bureau of Labor Statistics, a seasonally adjusted 5.369 million people ages 16 to 19 held a job this past July. The good news is that this essentially matched the number of employed young adults in July 2019. Less sanguine, however, is the fact that the number of working 16- to 19-year-olds was down 26 percent from its summertime peak in 1999.
The issue is not for a lack of available young adults. In fact, the number of people ages 16 to 19 increased by nearly four percentage points over the same 22 years. Rather, a smaller percentage of young adults are working. The employment-to-population ratio for young adults has plummeted by 12 percentage points to 32.7 percent during the summer of 2021.
Fewer teenagers and young adults are looking for jobs. The 16- to 19-year-old labor force, which consists of young adults currently working or actively seeking employment, has contracted by 29 percent from July 1999 to 5.938 million people last summer. But the past 21 years only tell a part of the story. The summertime 16- to 19-year-old labor force has declined by 35 percent since its 1978 peak of 9.749 million people. Over the same time span, young adults' labor force participation rate has plummeted from 58.4 percent to 36.1 percent.
Recently, there has been a rise in the youth labor force participation rate. The percentage of 16- to 19-year-olds seeking a summertime job bottomed out in 2015 at 33.7 percent and had rebounded to 36.7 percent in 2019. Greater youth participation in the labor market over the past year is a direct result of challenges many employers have had recruiting workers, as many people have been unable or unwilling to work as the pandemic waned.
But do not expect to see the recent rise in youth workers to continue, as the fundamentals that resulted in far fewer teenager and young adults working have remained in place.
A June 2021 Pew Research Center report identifies several factors for why fewer young adults seek summertime employment:
Shorter school summer breaks (with schools in many areas not breaking until mid- to late-June and others starting the school year before Labor Day)
Students taking high school or college classes during the summer break
Students volunteering in the community (often because of high school graduation requirements, a desire to boost a college admissions application or a desire for service)
Less availability of low-skill, entry-level jobs (especially office- and retail-based opportunities)
A separate report from The Brookings Institution also finds school responsibilities crowding out the desire or ability of teenagers to seek work.
Parks and recreation is a major employer of youth. The U.S. Bureau of Labor Statistic data identify "arts, entertainment and recreation" as the third biggest summertime employer of 16- to 19-year-olds, behind only accommodation/food services and retail. Further, park and recreation agencies are a significant source of first-time jobs.
The inability to recruit younger workers weighed heavily on many park and recreation services and programming last summer, whether it be keeping some or all pools closed because of a dearth of lifeguards or greatly reduced summer camp offerings. Rising wages because of the tight labor market topped the list of challenges that park and recreation agencies face in recruiting workers.
But the changing economy also represents a long-term opportunity for parks and recreation being able to attract younger employees. For example, the transformation of retail away from brick-and-mortar to online will further reduce first-job opportunities. Similarly, the aforementioned Pew Research Center report also notes that construction and manufacturing today are less frequent summertime employers of teens.
Park and recreation agencies are a major source of first jobs for many workers, and their workforce development programs also can train future leaders. Park and recreation agencies offer a wide variety of job opportunities that may pique the diverse interests of today's youth, including recreation programming, public safety, community engagement and natural resource management. This month's Park Pulse poll finds virtually all U.S. adults agree that jobs and volunteer opportunities are valuable experiences for today's youth, helping them to develop skills, gain valuable work experience and build confidence.
Workforce development programs also provide younger adults an opportunity to give back to the community. This is particularly critical given that youth, either because a calling for service or high school graduation requirements, are seeking for more public service opportunities.
One of the interesting findings from NRPA's Workforce Development and Career Exploration in Parks and Recreation report is that only one in three agencies currently offer a workforce development program. This represents only a fraction of agencies that employ youth in the summer. More intentional workforce development programs have the opportunity to differentiate park and recreation agencies from other employers of youth by not only offering wages, but valuable work and life experiences.
Kevin Roth is NRPA's Vice President of Research, Evaluation and Technology.