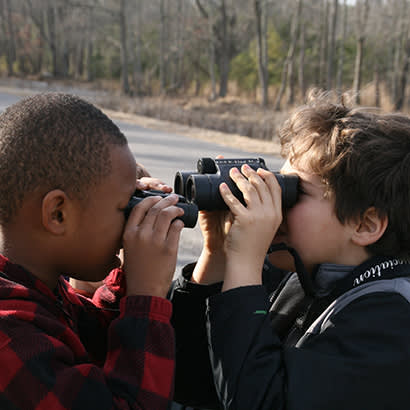 For an enhanced digital experience, read this story in the ezine.
Why park and wildlife agencies should collaborate
Park and recreation professionals maintain 11 million acres of public parks and green spaces across the country, offering important conservation, recreation and education opportunities for people and wildlife. They are working to build a healthy, more resilient and more equitable future for generations to come, ensuring access and enjoyment to the great outdoors. State fish and wildlife agencies have similar conservation, recreation and education goals and are increasingly looking for strong collaborative partnerships to accomplish these goals and to increase engagement with broader audiences. Partnerships with local and regional parks can be a win-win for both entities.
Endangered Species
State wildlife agencies are on the frontlines of America's fish and wildlife conservation. They have a legacy of success in recovering many iconic wildlife species, especially game animals and sport fish. However, according to the Association of Fish and Wildlife Agencies' State Wildlife Action Plans, more than 12,000 animal and plant species are in need of proactive conservation attention. Many of these species have lacked significant conservation attention over the past century.
The number of petitions for listing under the Endangered Species Act has gone up by 1,000 percent in less than a decade. In addition, throughout the next 100 years, all fish and wildlife will be at increased risk due to habitat loss and degradation, the spread of invasive species, imperiled water quality and a rapidly changing climate. Our window to act is short before conservation becomes too costly or even impossible — akin to heading to the emergency room, rather than taking early preventative action. Already, more than 150 species have gone extinct and 500 additional species not seen in decades may have vanished forever.
Essential habitats that conserve the broadest array of species are experiencing stress at local, regional and global levels. We are truly in a wildlife crisis that is greatly being exacerbated by climate change. We need all levels of public and private entities to be working together. While several state wildlife agencies work with municipalities, such as Maine, New Hampshire and Texas, most do not yet provide technical assistance to guide the emerging pollinator habitat and wildlife aspects of green infrastructure, including transportation, water and climate resiliency or open space. Texas serves as a model for hosting an urban biologist in all of its largest cities. As our natural world shrinks, these urban and suburban areas offer the potential to restore wildlife habitat while reaching people where they live — these are the areas local and regional parks already are working in.
Pooling Resources
In many cases, local and regional park systems currently manage or desire to manage plant and animal species for conservation. These imperiled species would benefit through sharing of monitoring and management expertise and resources. Furthermore, State Wildlife Action Plans require feedback from many, including local partners so that the needs of the entire conservation community are met. While there are examples of collaboration between such state and local entities, there are numerous opportunities for growth for both parties, and because the Recovering America's Wildlife Act is making its way through Congress, we hope potential opportunities for collaboration through increased funding are in the future.
Not only do we need all levels of government in the conservation sphere to be working together, but also we need all outdoor enthusiasts to work together to create the political will to support these agencies' work. This means we need hunters, birders and gardeners alike motivated to work together to conserve wildlife and their habitats, unified by a common desire to enjoy the outdoors, hike, paddle, and to pass on a love of nature to youth. Local and regional parks provide critical close-to-home opportunities as well as reach audiences that are underserved in their typical outreach through recreation and education programs, whereas state wildlife agencies typically fall short in these areas, focusing primarily on rural audiences (e.g., hunters and anglers) that generally lack the range of the full diversity of the United States.
The need to have these broadened and expanded recreation and education programs are important in every state. They will help meet the demands of rising numbers of gardening, birding, nature photography and other outdoor constituencies, while at the same time familiarizing and interpreting our natural world to an increasingly disconnected human population. Joint programs could include expanding access via trails, parking areas, more available and more safe land and water opportunities, enhancing wildlife viewing sites, skills training, and formal and informal education programs, like nature centers for urban, suburban and rural communities. Parks already provide these opportunities and can partner to specifically incorporate more wildlife-themed aspects. We don't need to compete, but rather to join forces to reach even more people.
The National Wildlife Federation sees the future state wildlife agency as one that expands the successful model of conservation for game species to all wildlife and expands wildlife-related outdoor recreation and education to all people. We have created a toolkit to help facilitate this work by external partners and hope you will join us in helping people and wildlife thrive in a rapidly change world.
Naomi Edelson is Senior Director of Wildlife Partnerships at the National Wildlife Federation.