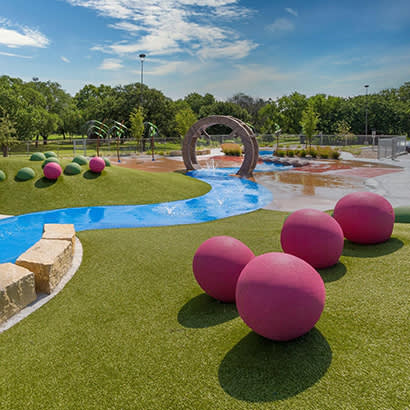 For an enhanced digital experience, read this story in the ezine.
In 2014, Wichita (Kansas) Park and Recreation began work on development of an aquatics master plan to replace and upgrade pools that were built in the 1950s. As the 2018 pool season began, two pools were closed due to mechanical and infrastructure issues. One in particular, McAfee pool, is in the heart of a Black community and had significant pressure to re-open. In all the pools, the filtration system was an antiquated diatomaceous earth system that required a huge amount of time and labor to backwash and operate.
The City of Wichita set aside $24 million in capital improvement funds and $2 million in art and aesthetics to address the issue and chose to
renovate. A twist on the original plan of replacing pools to renovate with a flare was developed and selected — as it would still serve the neighborhoods, be cost effective, fit into the budget and preserve the history of the parks.
To make the most of the funds, six pools were selected for renovations and upgrades. These six pools received new filtration and mechanical upgrades; slides; pool amenities, such as climbing walls, shade structures, pop-up jets, zero-depth entry; and other upgrades for safety and aesthetics. Each pool was selected by location and usage for equal coverage across the city. An average of $3 million was spent on each pool for upgrades, and an additional $350,000 was spent on each pool for additional art and aesthetics, with themes rooted from each neighborhood. The art was a fantastic touch that reinvigorated faded and dated pools, provided ownership and identity, and preserved the history of the pools.
The remaining four pools were converted into splash pads that were highly themed. One example is at Evergreen Park, which is within an Hispanic neighborhood. Residents chose the Aztec God Tlaloc, the god of water, as the focal piece of the splash pad. Each were built for approximately $1 million apiece for a total of $6 million. The pool conversion to splash pads has its pros and cons, but we were able to keep the restrooms and mechanical rooms to reduce cost.
In 2020, due to the coronavirus (COVID-19) pandemic, aquatics operations were on hiatus. However, the silver lining was in 2019 the plan was adopted in two phases, with project construction lasting from 2020 to 2022. The strategy to spend money to renovate the pools in lieu of full replacement seems to be a great option for our residents. These pools are smaller and now easy to operate. This strategy has really strengthened the neighborhoods, kept the projects affordable, provided splash pads for parents with small children to use for free, modernized all operations, and created pools and splash pads with fun, charm, appeal and character. Sometimes old is new!
Learn more about the master plan and facility operations. The turnout of 2022 summer has been incredible, and the new look of the old pools is a hit with community members in Wichita.
Troy Houtman, CPRE, is Director of Parks and Recreation for City of Wichita.