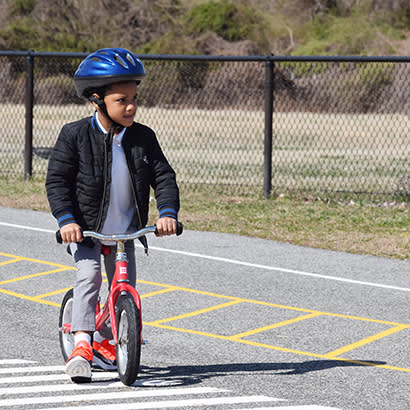 For an enhanced digital experience, read this story in the ezine.
How traffic gardens can teach children to safely navigate active transportation methods
Active transportation is beneficial for the environment; individual health; equitable and inclusive access to employment opportunities, amenities and rich resources of a region; and sense of community well-being and belonging. Bicycling, in particular, is a lifetime activity that provides enhanced mobility, independence and enjoyment.
Early life influences profoundly impact patterns of behavior. Children who engage in physical activity are more likely to engage as adults and to remain healthy into their adolescence. Yet, as a function of age and ability, children are less independent and are physically and cognitively more vulnerable. Further, they can behave impulsively, have difficulty self-regulating, be distracted from tasks, and are challenged with spatial discrimination. Many lack reading ability, English proficiency, or warning directives/symbol recognition.
While streets and public places should be a right and accessible to all, there are inherent safety issues in the built environment. Yet, children have great capacity for curiosity and learning through experience. It is, therefore, imperative that children engage in transportation activities in a safe space that will enhance their knowledge, awareness, access to opportunities, independence and well-being across their lifespan. Key to student learning is involvement in appropriately challenging play in settings that imitate real situations and are personally relevant.
Traffic Gardens as Safe Spaces for Learning and Play
Traffic gardens (also known as safety towns/villages/cities or traffic parks) are miniature city streetscapes with a network of reduced-sized streets, scaled traffic elements (e.g., roundabouts, directional traffic patterns, intersections, parking spaces, food truck spaces) and appropriate signage. As community amenities, these often are constructed on underutilized parking lots, community spaces, recreational facilities and park grounds, and school playgrounds. Traffic gardens provide small worlds in which children can learn about traffic rules, safe navigation of cities, resolution of conflicts, and how to appropriately handle interactions with other travelers on the roadway. Children are able to walk, maneuver motorized wheelchairs, ride bikes, steer scooters, drive pedal cars and negotiate a community of their own in these spaces.
Sheila Hensley, a pre-kindergarten (pre-K) teacher at Aiton Elementary School in Washington, D.C., says: "Children in D.C. are cognizant as 3-year-olds about traffic. Some 4- and 5-year-olds ride the bus alone; they are already navigating the streets at a very early age, so the traffic garden is very important to start at a young age." In addition, traffic gardens serve as safe, reality-based spaces for imaginative, creative, dramatic and risky play, and provide opportunities for enhanced risk competence, resilience, well-being and a more complete understanding of the environment.
The focus on traffic safety education for children emerged in the United States in the 1920s, with school-based road safety essay contests and the formation of school safety patrols. These school-based models became insufficient in a period of rapid adoption of motor vehicle use and an increase in child roadway fatalities, and precipitated innovations, such as safety towns. The first recorded traffic garden in the world was installed in Mansfield, Ohio, in 1937, initiated by a local patrol officer. Shortly thereafter, the Model Traffic Area No. 1 was developed in Tottenham, United Kingdom (UK). It was a more sophisticated project, publicly funded, and received widespread attention. Subsequent plans for a series of similar facilities around the UK were derailed by World War II, while in the United States, this community-based idea was highlighted in the media and spread through local champions. By the 1960s and into the 1980s, momentum was fostered through the National Safety Town Center, which also produced curriculum and program materials. By this time, many facilities had become much more elaborate, featuring actual streets, curbs, buildings and operating traffic signals. Children were brought to safety towns as part of school activities and learning opportunities were generally led by local police officers. Families visited as tourist destinations and locations for play and recreation.
Today, traffic gardens are "sprouting" all over as a result of an enhanced societal focus on equity, inclusion and access within communities; environmental sustainability (and creative repurposing of under-utilized or ill-maintained asphalt); the need for active transportation; and the availability of improved installation materials for new sites.
Traffic Garden Case Study: Washington, D.C. Public Schools
The "Mason Team" — consisting of George Mason University, Discover Traffic Gardens, Torti Gallas + Partners, Safe Routes to Schools National Partnership and Washington Area Bicyclist Association — engaged in a multi-faceted project, funded through the District Department of Transportation (DDOT) Vision Zero grant, and focused on the design, construction and installation of two traffic gardens at a public elementary school in Northeast Washington, D.C., (an urban, under-resourced, majority Black jurisdiction). The Mayor's Vision Zero initiative focuses on reducing, and ultimately eliminating, transportation fatalities and serious injuries in the District of Columbia.
Through a series of charrettes (i.e., concept design workshops), more than 130 students, teachers, families and community members lent their voices to the collaborative design of the traffic gardens, thus creating ownership of their space. The Mason Team then refined the design, purchased key traffic garden elements, and oversaw installation of the traffic gardens and programming of celebratory activities. "We involved the community; we involved the students that participated in laying out what they thought their traffic gardens should look like. We did the same for parents, inviting them in so that they [could] share what they envisioned. But having it back there [behind the school]…everyone benefits," says Dr. Marierose
Mbinack, manager, health and physical education at District of Columbia Public Schools.
Curricular materials and activity kits (including mini lessons, felt boards and characters, a song, and teacher training documents) were developed and provided to teachers to facilitate dramatic play in the pre-K classroom and encourage challenging free play in the outdoor traffic gardens. All materials were carefully crafted to be developmentally appropriate and model culturally sensitive practices. Pre-K students learned about transportation networks, safety awareness in the built environment and risk competence, as well as gaining familiarity with use of balance bikes. These activities provided scaffolded learning for children who will develop into second graders required to participate in a comprehensive District of Columbia Public Schools bike education program, "Biking in the Park." For current second graders, the traffic gardens served as a bridge from the classroom instruction to the end-of-session five- to six-mile bike ride on D.C. streets to a local park.
Key to the success of this project was an engaged team of stakeholders, collaboration with the DDOT, D.C. Public Schools and school personnel, and intentional and ongoing interactions with the school communities. This was achieved through school events, activities to engage the community members in production of felt boards for lessons, volunteer action within the schools, and celebrations surrounding ribbon-cutting ceremonies.
Engaging children and the community in design of the traffic gardens empowered them as civic-minded agents of change and impacted their collective well-being. "During COVID, the traffic garden installations provided an ideal way to get kids outdoors, practice biking and bike safety, and interact as a community, while maintaining social distancing, mask-wearing and adherence to COVID protocols," says Lauren Hassel, former Safe Routes to School coordinator for Arlington (Virginia) Public Schools. "The traffic gardens also allowed families to re-connect."
Development of these traffic gardens was found to change community perceptions of safety and the built environment. This is critical to whether children spend more time playing, interacting in the environment, or walking or biking to school. Creative and challenging play, as well as physical activity, contribute to children's cognitive, social and emotional development (e.g., enjoyment, conflict resolution, resilience, problem solving, self-confidence and independence). Further, exposing children to traffic gardens as high-value and safe learning and play spaces will help them better maneuver the built environment and engage in active transportation, as well as ensure patterns of enjoyment, healthy behavior, improved equity through access to the resources and amenities of their community, inclusivity, overall well-being, and sense of belonging. The traffic gardens serve as a mechanism for creating a better world, one child at a time.
Ellen Drogin Rodgers, Ph.D., is Associate Dean, College of Education and Human Development at George Mason University. Fionnuala Quinn, B.E., is Director at Discover Traffic Gardens. Rick Holt, M.S., is Co-Founder/Researcher at Early Childhood Mobility Coalition.