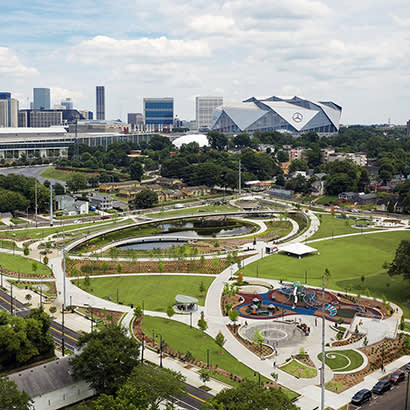 For an enhanced digital experience, read this story in the ezine.
One hundred years ago, Atlanta's Vine City neighborhood was a bustling district. A middle-class neighborhood where vibrant cultural and political life flourished, residents strolled the tree-lined streets, churches and schools dotted the landscape, and local businesses thrived. Lush vegetation grew year-round in nurseries and gardens under glass greenhouses, giving the neighborhood an uncommon beauty and its distinctive "Vine City" name.
At the turn of the 20th century, Atlanta's mayor commissioned the famed Olmsted Brothers Company to design a park with grassy meadows, fountains, shade trees, walking paths and stately streets. The park was home to the first integrated playground in the city, a source of community pride and an immensely popular gathering place. The neighborhood lost its park in the 1950s, as it was repurposed into an elementary school.
During its heyday in the 1960s, Vine City became the sought-after address for America's most influential civil rights leaders and families, including Dr. Martin Luther King Jr. However, over the course of several decades, Vine City's population dwindled, and the neighborhood fell into decline. Dramatic increases in impervious surfaces contributed to severe flooding of streets and homes, which culminated in 2002 as heavy rains damaged a large swath of the neighborhood, exacerbated by an outdated stormwater system. Unable to rebuild, many residents sold their plots, which subsequently sat empty for more than a decade and contributed to population loss, disinvestment in the community and increased crime.
To address Vine City's complex social, environmental and economic challenges, The Trust for Public Land hired design firm HDR to lead the design of Rodney Cook Sr. Park. The new 16-acre dual-purpose park and watershed management system alleviates flooding by capturing and storing up to 10 million gallons of stormwater while simultaneously creating a vibrant community destination.
Putting the "Fun" in Functional Engineering
Rodney Cook Sr. Park (informally known as "Cook Park") is a green oasis with critical hydrological infrastructure in the heart of the community. Designed to seamlessly integrate functional engineering features within a programmed park space, Cook Park's amenities — which include a destination playground, amphitheater stage, market plaza, multipurpose courts, recirculating fountains, meandering boardwalks and interpretive overlooks — provide visitors of all ages and abilities with ways to gather, connect and enjoy nature.
A watershed achievement in many ways, Cook Park also includes significant sustainable features. Beautiful and functional rain gardens filter storm flow from incoming pipes, stormwater planters line the streetscape edge to capture runoff from the neighborhood streets, and constructed wetlands and native plantings surround the wet pond to enhance water quality.
Collaborating With the Community
At the time of its completion in 2021, Cook Park was the largest investment in a public park in Atlanta's Westside neighborhood in more than 50 years. It was important that residents of Vine City and English Avenue were engaged during the early planning stages to provide critical feedback. Using a design charrette process, community members' ideas and input on the development plans were gathered, and regular updates on progress were communicated. Much of the design charrette process was an educational effort while helping community members visualize the layout and best practices of design.
The completed park further supports the community with new recreational programs and opportunities for local youth, such as neighborhood health and fitness programs, a fitness zone, a bouldering (free climbing) area, sport courts, plenty of open green space and a splash pad. Wide sidewalks were built to accommodate farmers markets and festivals, and a sloped bank of lawn seating forms a natural amphitheater with views of the city.
Going Green
Access to green space improves health through improved air quality and the reduction of urban heat islands. The monumental green space features include fresh, native plantings designed to withstand the Atlanta heat and submersion during storms. A rippling water feature and impressive works of stone and steel transport park visitors from the bustling city center to a peaceful oasis.
Green infrastructure features include bioretention ponds to collect flow from incoming pipes, stormwater planters to capture runoff from the adjacent streets, a great lawn designed to manage flood waters, and a wet pond surrounded by constructed wetlands to improve water quality. An underground cistern also provides water for the wet pond.
Storing Stormwater and Improving Water Quality
Designed in coordination with engineering consultant Freese and Nichols and the City of Atlanta Department of Watershed Management, the heart of the new park is a two-acre pond that captures up to 10 million gallons of stormwater, eliminates combined sewer overflows up to the 100-year storm event, reduces strain on the city's sewer system, and provides relief to the 150-acre watershed. Even when the park floods, it remains an asset to the community. Several areas — including the main walkways, 600-foot pedestrian bridge, fitness areas and playground — are designed to remain dry, even during the largest storms.
During rain events, the engineering aspects come to life. The gates — hidden behind a wall — open and allow the rainwater to flow in. The incoming runoff is channeled through a recirculating fountain, which helps to remove sediment and provides aeration for the pond.
Balancing the east side's two-acre pond is a 60,000-square-foot great lawn to the west. To parkgoers, the great lawn serves as a large multipurpose open space for activities, including impromptu sports and performance events with natural amphitheater seating. Designed to hold up to two feet of rainwater and underlain by three feet of engineered soils and a large, complex drain system, the lawn contributes to storage capacity during major rain events while filtering stormwater runoff. These functions allow the park and water treatment system to accommodate historic water levels without flooding the surrounding neighborhood.
Enriching a Vibrant Community
Once characterized by abandoned homes and vacant lots with outdated infrastructure and severe flooding, Cook Park showcases the benefits of tackling age-old infrastructure challenges with community involvement and innovative green solutions. Now Atlanta's fourth largest park, Cook Park represents a collaborative effort between The Trust for Public Land, the City of Atlanta Department of Watershed Management, the City of Atlanta Department of Parks and Recreation, and, most importantly, the residents of Vine City and the greater community.
A grand symbol of the neighborhood's legacy, Cook Park expands on the foundation the City of Atlanta built with Historic Fourth Ward Park, showcasing the best of urban planning while building a monument to history that will be enjoyed by the community for decades to come.
Robby Bryant, is Principal Landscape Architect at HDR.