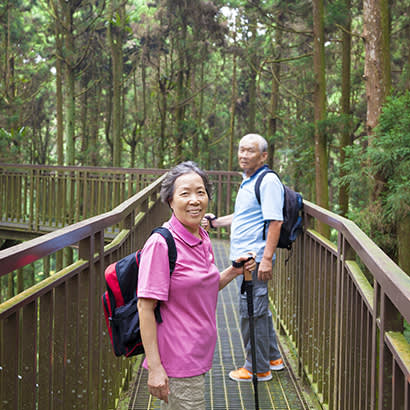 For an enhanced digital experience, read this story in the ezine.
Every September, Healthy Aging Month brings national attention to the positive aspects of growing older and highlights opportunities for older adults to improve their physical, mental, social and overall well-being. In celebration of this month, park and recreation professionals can reflect on the services they provide to older adults.
Since 2013, NRPA has supported these professionals in implementing evidence-based physical activity programs to enhance the quality of life for the 54.5 million adults with arthritis in the United States. Given the substantial evidence that physical activity can help people with arthritis improve their physical function by at least 40 percent and improve outcomes for arthritis comorbidities, the Centers for Disease Control and Prevention (CDC) recommends that adults with arthritis engage in arthritis appropriate evidence-based interventions (AAEBIs) to manage their chronic pain and reduce use of prescribed opioids. In 2016, NRPA was awarded CDC's DP16-1606 cooperative agreement, Advancing Arthritis Public Health Approaches Through National Organizations. Since that time, local park and recreation agencies have made significant progress disseminating the Walk With Ease (WWE), Active Living Every Day (ALED), Fit & Strong! (F&S!) and Enhance®Fitness (EF) programs. Through this agreement, NRPA has worked directly with 330 park and recreation agencies across 49 states and one U.S. territory, reaching nearly 25,000 individuals and creating community-wide impacts.
Communities with a high prevalence of arthritis have been able to offer AAEBIs to help the most underserved community members manage their arthritis. Within the past few years, more than 1,200 of these individuals have enrolled and attended an AAEBI. According to an F&S! instructor from Maryland Heights (Missouri) Parks and Recreation Department, "We had a participant with a weak lower body performance who was solely dependent on a cane to get around. After the 12-week Fit & Strong! Program, she is able to move around her house without the use of her cane."
AAEBI participants have expressed improvements to not only their physical health, but also their mental and social health. According to Rena, a WWE participant from Riverside, California, "The encouragement and commitment to the team from our walking leader helps to keep us motivated. I have osteoarthritis [in] both knees, and I can feel the difference — my knees are definitely less painful, my legs have gotten stronger. The friendship and closeness within our walking group [make] it a pleasure to get up, get out and walk!"
This September, we can look ahead to ensuring our programs, services and delivery formats match the needs and wants of a growing population of older adults in an evolving world. Throughout the coronavirus (COVID-19) pandemic, park and recreation professionals have innovated to help older adults stay connected and engaged in critical health programming. One innovation was the expansion of virtual programs. NRPA is working with nine park and recreation agencies to participate in a remote delivery exploration pilot. Early reports indicate that remote delivery is an effective and practical way to offer evidence-based programming, reach new audiences, and build larger networks of program providers.
At one pilot agency, Liberty (Missouri) Parks and Recreation, Health and Wellness Manager Heather Borchardt and Health and Wellness Coordinator Victoria Jackson created inclusive ways for participants to attend an ALED class regardless of their available technology. They used Zoom to create a book club, so participants only needed a land line to join. Participants used the breakout rooms feature to encourage open conversations in smaller groups. This format was so successful that Liberty Parks and Recreation plans to use it with other programs.
Over the past several years, the number of AAEBIs offered in park and recreation settings has increased by 245 percent. These initiatives also have resulted in nearly 240 new partnerships, which are crucial to this program's continued success and the creation of future public health solutions.
Colleen Pittard is NRPA's Partnership Manager. Tiff Cunin is NRPA's Senior Program Manager. Allison Colman is NRPA's Director of Health.