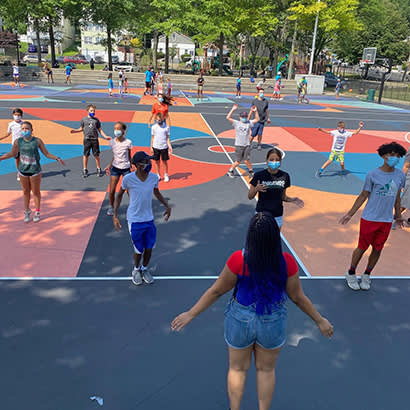 For an enhanced digital experience, read this story in the ezine.
Located in southeastern New York, with nearly 80,000 residents, the City of New Rochelle is approximately 20 miles north of New York City. Founded by French Protestants — known as Huguenots — who fled religious persecution in 1688, many of the settlers were artisans and craftspeople from the City of La Rochelle, France — thus the name "New Rochelle."
In March 2020, history was made just down the street from New Rochelle's City Hall. A local lawyer became the second confirmed case of coronavirus (COVID-19) in the state. Schools were immediately closed, all public gatherings were canceled and neighborhood residents sheltered in place. The National Guard was sent in for precautionary measures.
At that time, the idea of hosting any form of summer recreation for youth seemed like a pipedream. However, New Rochelle's Parks and Recreation Commissioner William Zimmermann looked at the challenge as an opportunity, rather than a roadblock. "We learned throughout the pandemic that park usage was at an all-time high and residents of all ages were craving our city's parkland and open green spaces," says Commissioner Zimmermann. "That was the moment we knew we had to get creative for Summer 2020."
Zimmermann and his staff worked together to form "Outside the Box in Our Parks." Although camps and organized team sports were not permitted statewide, small outdoor group recreation in parks, under the proper supervision and COVID-19 protocols, were permitted. The newly created program was offered free of charge and hosted at parks and athletic fields citywide for children of all ages. Traditional summer day camp was replaced by small groups of 15 to 20 children participating in yoga, fitness classes, kayaking, gardening and other activities outdoors that promote healthy and safe fun.
As a respected professional from the field with 46 years of experience at multiple municipalities in New York State, along with past service on the NRPA Board of Trustees, Commissioner Zimmermann thought he had seen it all. "Personally, I've managed through several national disasters and, of course, being in the New York metropolitan area, we endured the tragedies of September 11 in an intimate way. Yet, the COVID-19 pandemic experience has been the most unique," he reflects. "You never knew what the next challenge or roadblock would be. But I could not be prouder of the way our staff rose to the occasion and put so many smiles on children's faces across our city."
New Rochelle is rich in history in many ways. In the heart of New Rochelle lies historic Lincoln Park, once the site of Lincoln Elementary School. The area was the focus of a 1961 landmark decision that garnered nationwide attention in a desegregation case that eventually made its way to the U.S. Supreme Court. The decision would lead to the first-ever court-ordered closing of a segregated school in the North. When entering Lincoln Park, visitors immediately come upon the anniversary dedication plaque. The sign reads: "On this site stood Lincoln School, the first segregated school in the North to be closed by a court order. This tablet honors all who participated in this struggle for equality in education and commemorates the 25th anniversary of the landmark Taylor v. Board of Education of New Rochelle decision of 1961, a milestone in the search for unity in the midst of our diversity." It was only fitting that this historic site would become the first location in the city for the "Outside the Box in Our Parks" recreation program.
"Summer 2020 will be remembered as a season of recreational challenges we will never forget," adds Zimmermann. "But through creativity, hard work and trust from our local leaders, parents and children, our department successfully filled a huge community void. For this type of unprecedented recreation to also take place at one of the most historic locations in our area made it an even more special summer of 2020."
Vincent Parise is Deputy Commissioner for City of New Rochelle Parks and Recreation.