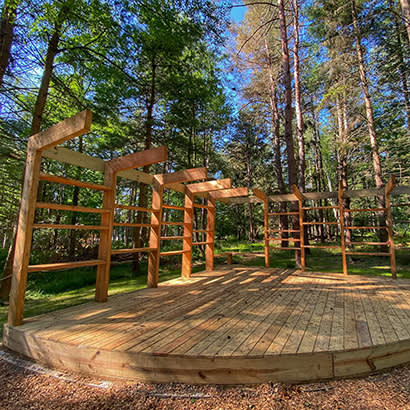 For an enhanced digital experience, read this story in the ezine.
The Autism Nature Trail at Letchworth State Park makes nature accessible for all
"Everything in nature invites us constantly to be what we are." — Gretel Ehrlich, an American travel writer, poet and essayist
In 2015, Letchworth State Park in Castile, New York, was voted the Best State Park in the United States by USA Today. Now, it is also known for having the most inclusive trail in the country. The Autism Nature Trail (ANT) is the first of its kind, designed specifically to meet the needs of those with autism spectrum disorder (ASD). This benefits not only those with autism, but also those with other cognitive or physical impairments. And while it was designed thoughtfully for those with special needs, all visitors to the park will marvel at it as well.
As the mother of a teenager on the spectrum, this trail is a sign of hope that the world will become more inclusive for people with disabilities that may not be easy to see nor understand. Trail Founder and Co-Chair Loren Penman understands. "We aren't just making a public place accessible, we are making an accessible place public," she says. This small yet significant idea is what makes this private trail in a public space so unique. From conception, the trail has consistently been a celebration of inclusivity, collaboration and learning from others.
Why an Autism Trail?
Mountains of research prove the benefits of nature in our lives. Exposure to nature improves cognitive development, increases concentration and improves working memory. Studies using scientific parameters prove the benefits of "nature therapy" for those with ASD. Incorporating interactions with nature into daily lives of those on the spectrum can lead to better sleep, higher tolerances of sensory stimulation and elevated moods.
Family members of those on the spectrum don't need scientific research to convince us — we see it firsthand. Many parents report that their children become more verbal, curious and peaceful when in nature. However, the presence of parking lots, power lines, and/or vending machines can all break nature's spell. It's the complete immersion of nature that helps. This is what the founders and developers of the ANT understood when creating and designing the trail.
Partnering to Make the Trail a Reality
In 2014, Penman and her neighbor spoke about the new Humphrey Nature Center at Letchworth State Park. During the discussion, the neighbor thought her grandson, who is on the autism spectrum, would love it. However, she was concerned that his sensitivities and behaviors might make a visit to the nature center challenging. Penman shared this conversation with her friend Susan Herrnstein, who also has a grandson with autism. Both grandsons shared a similar autism experience, and both were soothed when visiting Letchworth State Park. The women were struck with a thought — how could they encourage those with autism and their families to come to Letchworth State Park? What could a fully inclusive, autism-friendly nature experience at a park look like?
Park managers and elected officials get great ideas for parks all the time. However, Art Briley, regional director of New York State Parks – Genesee Region, and Doug Kelly, park manager for Letchworth State Park, point out that there are only so many resources to support these ideas. "We love getting great ideas, but there is the question of cost, maintenance and programming," Briley says.
Penman and Herrnstein continued talking, and brought a third friend, Gail Serventi, into the conversation. The three women discussed how a fundraiser for the Humphrey Nature Center at Letchworth State Park had been mostly private. Could private fundraising be how the ANT could become a reality?
Penman, Herrnstein and Serventi quickly became known as the ANT aunts, and the success of the trail is attributed to their tenacity and enthusiasm. A large part of their success was asking for help where and when it was needed. "It truly was a grassroots organization, because the more we talked about it with people we thought could help us, the more partners we found," says Penman. "We all kept asking, 'What if?'"
One such partner was leading expert Dr. Temple Grandin, who advised hiring staff with expertise in both autism and outdoor environments; incorporating interesting things to see, but ensuring there are "no surprises"; and building in places to decompress in case overstimulation occurs.
In addition, the aunts contacted the Open Space Institute (OSI), an organization that works to protect and preserve the natural habitats and wildlife, which became the 501(c)(3) sponsor. Now, tax deductible donations could be gathered.
By August 2016, a concrete vision and pathway forward was determined, and New York State Parks gave the go ahead to the aunts, provided they understood no funding would come from New York State for this project — the agency would only provide the land.
The aunts began a soft fundraiser with a goal of raising $2 million. If they could raise this amount, it would prove to all involved that there was a need for such a trail. By December 2019, the $2 million was raised, and on December 12, 2019, New York State Parks officially greenlit the project. Natural Heritage Trust (NHT), with its mission to receive and administer gifts, grants and contributions to further public programs for parks in the state of New York, became the fiscal sponsor for the ANT.
Now that the project could be made public, more ideas for fundraisers were generated. Of course, the coronavirus (COVID-19) pandemic threatened to slow the project down, but in the spirit of inclusivity and accommodation, it didn't. A virtual auction was designed, and many of the auction items reflected sensory-friendly items and experiences that paralleled the design of the trail. Examples included online autism consultations with experts in the field and consultations of sensory-friendly playground equipment. Because it was held online, word of the ANT spread around the globe. To date, $3.2 million has been raised.
As fundraising efforts continued, the aunts encouraged partners to join them by inviting community members to meetings to learn about the project. Daryl McLaughlin, superintendent of Perry Central School District in nearby Perry, New York, remembers meeting the aunts. "They were a force. They were amazing, and had the 'wow' factor," he says. It only took that one meeting for McLaughlin to be convinced his school district needed to be a part of this one-of-a-kind project. "I was thinking of the ultimate long game, both educational and economic," says McLaughlin. "When you consider mission statements of schools and businesses, isn't the number one mission to improve the quality of life? If it is, we should all move forward on the same path. This project engaged local partners on a path to have a global impact."
The School Board of Perry Central Schools unanimously agreed to create an ANT coordinator position. Now, Perry Central Schools coordinates the ANT website, and will help set up and coordinate visitors, promote events on social media, meet with the park about maintenance, and help facilitate community service opportunities for the trail.
Jen Hackett, executive director and founder of Camp Puzzle Peace, will develop programming events at the trail and provide materials. In addition, the organization will provide trail guides, and when making reservations, families can let the trail guides know exactly what modifications may be needed. Camp Puzzle Peace also will help create videos and social stories that outline what the trail looks like, and who will be there. These accommodations can greatly help visitors on the autism spectrum.
Briley insists these carefully planned considerations are what made it possible to move forward with the trail. The aunts were not only thinking of what the trail would and could look like, but they also were considering how the trail would be maintained and utilized. "Otherwise," Briley states, "we're just building a nice trail in a nice park."
The Groundbreaking
With $3 million of the funding committed, a COVID-style groundbreaking was held on February 19, 2021.
Activities along the trail are fun for all visitors, not just those on the spectrum. The one-mile trail begins and ends in the same location, providing predictability. Videos and pictures can be viewed ahead of time, and well-marked, yet understated, signs clearly mark different aspects of the trail. This is a critical component for many on the spectrum because the unknown can cause great anxiety.
Eight sensory stations help develop auditory, visual, tactile and balance processing. One example is a music station, where visitors can play with instruments made from nature. Musicians can control the sounds they create and the volume at which the sounds are made. At another station, a meadow run and climb allows running, jumping, climbing and balancing, which helps improve awareness of one's body in space.
Doug Kelly, park manager of Letchworth State Park, says, "This project is unique in that we were given the blueprints but had weekly meetings to discuss improvements and changes. Everybody was invested in the mission of the project. People could come to us with ideas, and then our engineers could find a way to make it happen or explain why it couldn't. As families with autism have learned about the project, they have offered information and suggestions that can be incorporated into the trail as well."
Another aspect designed for those on the spectrum are reflection points and "alone zones," where people can go to reflect, calm down, if necessary, and relax in a quiet environment. One element of these zones is cuddle swings, which are great for sensory integration therapy. Swinging back and forth can stimulate the vestibular system and improve proprioception.
What's more, the potential for global impact should not be diminished. McLaughlin is excited to see how the thoughtfulness of the design promotes change outside of the park. He wonders: If other businesses took part in training those with various cognitive challenges, how could businesses become more inclusive? For example, the hand dryers at the Humphry Nature Center are loud. Could quieter hand dryers exist? Could area restaurants begin to change for a more sensory-friendly experience, such as providing menus with picture cues for those with communication challenges?
While interviewing the many partners involved in bringing the trail to life, one theme was clear: Everyone was inspired, motivated and wanted to be a part of it. What's more, each person claims it was someone else who made the ANT happen. The aunts attribute the success to the partners they found. Others state it was the aunts' excitement and drive that made it happen. Erik Kulleseid, commissioner at New York State Office of Parks, Recreation and Historic Preservation, agrees. "The trail happens to be in a park, but autism is not the specialty of the those that work at the park," he says. "This had to be done through the volunteers. The Autism Nature Trail is proof that a community of people can come together when they are inspired. My hope is that it is a successful template, a model used to inspire larger and smaller parks."
According to Penman, "In a time of division, the Autism Nature Trail was a unifying project."
This mother, who happened upon the trail just before construction began, could not be more excited, or more hopeful, that the world is headed in the right direction. Autism awareness is not just a phrase, it is something concrete — and thanks to the Autism Nature Trail, it is happening!
Julia Garstecki is a Freelance Writer based in Buffalo, New York