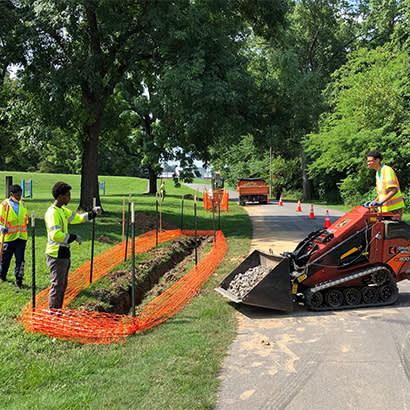 For an enhanced digital experience, read this story in the ezine.
I believe it remains a fair statement that Black people and other people of color are generally underrepresented in the broadly defined conservation field. Events of the past year, including the death of Breonna Taylor in my city of Louisville, Kentucky, have revealed the racial status quo to be unacceptable. In the face of environmental issues, such as pollution and climate change, that have affected and will continue to affect communities of color more disproportionately, it should be no surprise that there is a growing demand for a shift in power dynamics that gives greater voice and representation to those populations more negatively impacted. So rather than offering a recitation of a problem we know exists, perhaps it is useful to explore some self-reflection as conservation professionals on the systemic issues at play and our role in altering the status quo.
I can only speak from my experiences as a white person who recognizes the privileges that have benefited me on my path to my chosen career in the field of conservation. Growing up, I had many experiences around nature and took part in a wide range of outdoor extra-curricular activities. But a more honest appraisal of my youth reveals the myriad of advantages, many based in historical racism, that have facilitated my professional path. Today, I am thankful to be positioned to oversee stewardship, outdoor education and recreation, and guest services as the administrator of the Natural Areas Division of Louisville Parks and Recreation. As such, I have obtained a certain degree of authority over decisions related to staffing and resource allocation. I recognize that I have a responsibility to carry out my duties in a way that builds a more equitable future. Care for the environment requires as much, and I suggest that we all must strive to do our part.
Work Myself Out of a Job?
Normally, the phrase "work myself out of a job" is associated with building a team that can keep things running when we move on. Done correctly, this is an active process requiring a great deal of effort over time to put in place organizational structure, make strategic investments in staff training, and work to recruit and hire the best candidates. If we accept that nature is for everyone, regardless of skin color, then the lack of substantial progress in improving racial diversity within environmental fields must be the result of systemic issues we collectively have failed to address. I've come to explore systemic issues in part through resources made available through NRPA, as well as through participation in the Cities Connecting Children to Nature collaborative. These issues include structural and racial bias in hiring and talent development, inequitable allocation of programming resources, and implicit thoughts staff have about race in relation to the outdoors. At whatever level we find ourselves, we must work to identify and address these barriers as they exist within our agencies and communities. We must make equity a focus of our environmental work, so that "working ourselves out of a job" means leaving behind a workforce that is truly representative of the communities we serve not just at the agency level, but also at the departmental level.
What Are We Doing in Louisville?
Although our efforts remain a work in progress, we have taken significant steps toward addressing systemic issues within the structure of our natural areas program at Louisville Parks and Recreation. In 2008, as a result of a focus on equity by the Obama administration, we were able to launch our Louisville is Engaging Children Outdoors (Louisville ECHO) initiative with funding support from the U.S. Forest Service. Focused on creating sustained opportunities for underserved youth to experience the outdoors, the initiative has grown to now offer 2,800 youth (ages 3 to 21) with continual, free opportunities in the outdoors, including early childhood nature play, school-based educational field trips, out-of-school time outdoor recreation in partnership with local community centers, and youth summer employment. After 12 years of sustained growth and partnership development, we are seeing real improvement reflected in our staff representation, which in turn is being echoed back within the community served. Most importantly, the gains made are more likely to be sustained, as we've made investments in equitable programming and outdoor infrastructure within priority neighborhoods. By doing so, we are creating viable pathways for youth to experience the outdoors where they live and to realize opportunities to express their passion for the outdoors through meaningful leadership and employment opportunities.
Bennett Knox is Parks Administrator, Natural Areas Division for Louisville Metro Parks and Recreation.