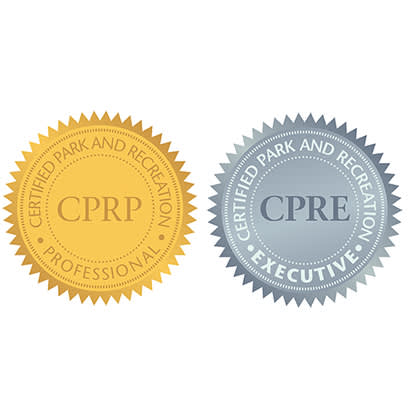 Certified Park and Recreation Professionals (CPRPs) and Certified Park and Recreation Executives (CPREs) represent the individuals in the park and recreation field who have gone above and beyond to provide the essential benefits of parks and recreation in the communities where they work and live.
NRPA would like to recognize those professionals who became newly certified between August 1, 2019 and August 31, 2020. Thank you for taking the next step in your career and for being extraordinary leaders in the field.
NRPA also would like to recognize the National Certification Board; the CPRP and CPRE Certification Committee; and the CPRP Examination Committee, CPRE Examination Committee and Job Analysis Committee volunteers. Your hard work and dedication ensure that NRPA's certification programs are of the highest standards.
Thank you all for your continued commitment to parks and recreation and for what you do for the profession!
CPRE
Joel Bateman — Wake Forest, North Carolina
Kyle Bernis — Rock Springs, Wyoming
Jennifer Bruggeman — Saint Charles, Illinois
Amanda Creque — Parma, Ohio
Therron Dieckmann — Vista, California
Bret Fahnstrom — Prospect Heights, Illinois
Tyler Florence — Seward, Alaska
Michael Frickanisce — Suffolk, Virginia
Nicole Ginger — Chicago, Illinois
JoAnn Gould — Littleton, Colorado
Wendy Hartnett — Bedford, Texas
Kristen Herndon — Greensboro, North Carolina
Stephanie Holtkamp — Saint Cloud, Florida
Alisa Kapusinski — Hoffman Estates, Illinois
Michael Kirk — Springdale, Arkansas
Ken Klis — San Luis Obispo, California
Laure Kosey — Oak Brook, Illinois
Kyle Langlois — Sterling Heights, Michigan
Eric Lopez — Fort Worth, Texas
Brad Luck — Essex Junction, Vermont
Monica Martin — Denton, Texas
Kimberly McEntire-Barber — Homer, Georgia
Kevin Mitchell — Grapevine, Texas
Myla Neal — Manassas, Virginia
Jamie Neldner — Minneapolis, Minnesota
Martin O'Brien — Morton Grove, Illinois
Sandy Pfundheller — North Port, Florida
Trina Rodriguez — Pasadena, Texas
Kirsten Santor — Essex Junction, Vermont
Tony Schmitt — Bismarck, North Dakota
Caroline Seward — Denton, Texas
Joseph Smith — Palos Heights, Illinois
Shannon Sorrell — Whitehall, Ohio
Karen Spandikow — Wheaton, Illinois
Randy Strawn — Grand Prairie, Texas
Lisa Tovar — Henderson, Nevada
Nathan Ullyot — Maricopa, Arizona
Leann Williams — Loveland, Colorado
Suzanne Wolf — Fremont, California
CPRP
Corey Abbate — Leander, Texas
Spencer Abbott — Seven Hills, Ohio
Sandra Abell — Hollywood, Maryland
Adam Acoba — Rowlett, TexasEdward Acosta — Hialeah, Florida
Chelsey Adams — Fair Oaks, California
Jaime Adams — South Miami, Florida
Kevin Adams — Park Forest, Illinois
Tyler Agee — Houston, Texas
Mark Aker — Williamsburg, Virginia
Christopher Alban — Wylie, Texas
Jamie Albrecht — Puyallup, Washington
John Albrecht — Spanaway, Washington
Emmett Aleem — Oakland, California
Anthony Alexander — Wylie, Texas
Zebulon Alford — Raleigh, North Carolina
Eboni Allen — Chicago, Illinois
Ronald Alston — Warsaw, Virginia
Brandon Altenburg — Wheat Ridge, Colorado
Brian Anderson — Leawood, Kansas
Jenny Andersen — Grafton, Massachusetts
Ken Anderson — Geneva, Illinois
Ritchie Anderson — Cumming, Georgia
Tiffany Anderson — Coppell, Texas
Gabrielle Anglin — Victoria, Texas
Jessica Antrim — Loudon, Tennessee
Ryan Applegate — Missoula, Montana
Tamara Aquino — Dallas, Texas
Victoria Arevalo — Bellaire, Texas
Rachael Arroyo — Farmers Branch, Texas
Magan Ascher — Wheaton, Illinois
Brandon Ashe — Henrico, Virginia
Brock Atwell — Naperville, Illinois
Roxie Augustine — Arvada, Colorado
Silvia Avalos — Chino, California
Abigail Ayers — Wentzville, Missouri
James Babb — Oakland Park, Florida
Kari Bachle — Lynnwood, Washington
Jonelle Bailey — Bartlett, Illinois
Brian Bailey — Leavenworth, Kansas
Jacob Baker — Ocala, Florida
Michael Baker — Saint Petersburg, Florida
Sydni Baker — Manhattan, Kansas
Tera Baker — Bridgeton, Missouri
Brianna Baker — Athens, Tennessee
Kenneth Baldi — Thornton, Colorado
Jessica Ballash — Stuart, Florida
Joshua Banse — Garner, Iowa
Carolyn Baptista — Elk Grove, California
Juan Barajas — Fremont, California
Steven Barako — Hollidaysburg, Pennsylvania
Matthew Barber — Gloucester, Virginia
Laura Barbrick — Kentwood, Michigan
Craig Barger — Streetsboro, Ohio
Brad Barker — Iowa City, Iowa
Charnon Barnes — Columbus, Ohio
Dominique Barr — Fayetteville, New York
Sarah Barthelemy — Jacksonville, Florida
Madison Bass — Hurst, Texas
Lauren Batts — Fort Worth, Texas
Steve Batz — Tukwila, Washington
Claire Baumgartner — Downers Grove, Illinois
Zachary Bayless — Manhattan, Kansas
Carolyn Bean — Fort Lauderdale, Florida
Bryan Beary — Boulder, Colorado
Jordanne Beasley — Lacey, Washington
Ann Beck — Mansfield, Texas
Tara Beck — McKinney, Texas
Ross Becker — Fort Myers, Florida
Karen Beckerbauer — Gardnerville, Nevada
Ken Beckham — Las Vegas, Nevada
James Bell — Macon, Georgia
Matthew Bell — Minneapolis, Minnesota
Traci Bennett-Hobek — Collegedale, Tennessee
Kevin Bennington — Virginia Beach, Virginia
David Benson — Bloomington, Minnesota
Rachel Berg — Knoxville, Tennessee
Lorena Berry-Tayman — Avon, Indiana
Dustin Betthauser — Chantilly, Virginia
Doug Betts — Largo, Florida
Jeffrey Biegler — Rapid City, South Dakota
Tyler Bierman — Aberdeen, South Dakota
Dave Bietz — Fargo, North Dakota
Alexis Bill — Largo, Florida
Bret Bjorkman — Arroyo Grande, California
Austin Black — University City, Missouri
Shawn Blackburn — Bay City, Texas
Christina Blackwood — Duncan, South Carolina
Keith Blomberg — New Lenox, Illinois
Erika Bloom — Fort Collins, Colorado
Shanna Blue — Bunnlevel, North Carolina
Brandon Bochat — Spring, Texas
Jon Boles — Siloam Springs, Arkansas
Amanda Bolt — Moline, Illinois
Geoff Bonar — Gardnerville, Nevada
Jason Bond — Lehi, Utah
Rebecca Booker — Tuscaloosa, Alabama
Deborah Boone — Orem, Utah
Heather Borchardt — Liberty Missouri
Christopher Bornfleth — New Port Richey, Florida
Victoria Boschert — Prince Frederick, Maryland
Eric Bowers — Austin, Texas
Mitchell Boyce — Lisle, Illinois
Joseph Boyd — Palm Bay, Florida
James Boyd — Wildwood, Missouri
David Boyer — Saint Augustine, Florida
Heather Boyer — Wyomissing, Pennsylvania
Douglas Braches — Plano, Texas
Bryan Bradley — Chicago, Illinois
Brandi Bradley — Scarborough, Maine
John Bradley — Santaquin, Utah
Christopher Bradsher — Burlington, North Carolina
Megan Brady — Millbrae, California
Willie Brandon — Saint Louis, Missouri
Cori Branscum — Odessa, Texas
Nicholas Brauninger — Jacksonville, North Carolina
Jeff Brazzale — Sheboygan, Wisconsin
Dolly Brechin — Hernando, Mississippi
Dustin Brewer — Los Alamos, New Mexico
Tina Briggs — Broomfield, Colorado
Kathryn Brinker — Charleston, South Carolina
Kimberly Broome — Acworth, Georgia
Jeremy Brown — Waterford, Michigan
Caitlin Brown — Burlington, North Carolina
Jason Brown — Frisco, Texas
Tracy Brumett — San Mateo, California
Nicole Bruns — Crete, Illinois
Connor Bulger — Boulder, Colorado
Paul Burdziakowski — North Port, Florida
Caleb Burgard — Dickinson, North Dakota
Paige Burkett — Parker, Colorado
Michael Burleson — The Villages, Florida
Clinton Burnell — Naperville, Illinois
Nancy Burney — Charlottesville, Virginia
Adriene Busch — Millbrae, California
Daniel Bush — Lebanon, New Jersey
April Butler — McKinney, Texas
Amy Buxton — Middleburg, Florida
David Buzzell — Round Rock, Texas
Linda Cadotte — Superior, Wisconsin
Joseph Caesar — Orlando, Florida
Alyssa Callan — Essex Junction, Vermont
Chris Cantu — Pasadena, Texas
Mark Carney — Sierra Vista, Arizona
Julia Carpenter — Mooresville, North Carolina
Courtney Carroll — Lagrangeville, New York
Frank Carter — Coinjock, North Carolina
Nolan Carter — Greensboro, North Carolina
Jenny Cash — Indianapolis, Indiana
Deborah Catoggio — Richboro, Pennsylvania
Kim Catris — Oak Brook, Illinois
Troy Channell — Brighton, Colorado
Scott Chase — Gainesville, Florida
Kenneth Cherry — Evanston, Illinois
Brenda Chilcott — Bend, Oregon
Kyle Clark — Cullman, Alabama
Jaclyn Clark — Orlando, Florida
Patrick Clark — Midland, Michigan
Claud Cluff — Chandler, Arizona
Andre Cobbs — Villa Park, Illinois
Charity Coker — Shawnee Mission, Kansas
Shannon Coker — Howell, Michigan
Bradlee Colburn — Tuscaloosa, Alabama
Gary Colello — Bridgton, Maine
Tony Colinas — Shoreline, Washington
Antonio Combs — Pickerington, Ohio
Amy Conkling — Hutchinson, Kansas
Sean Conway — Kirkland, Washington
Jess Cooper — Columbia, California
Cristina Cordon — Land O' Lakes, Florida
Philip Cornelius — Brownsburg, Indiana
Nathan Cota — Seaside, California
Christopher Cotten — Salina, Kansas
Clint Courtney — Phoenix, Arizona
Korina Covaci — Fort Myers, Florida
Nancy Cowan — Saline, Michigan
Keith Cox — Bryant, Arkansas
Jessica Crawley — Largo, Florida
Paul Crisman — Plainfield, Illinois
Irmaris Cristy-Ortiz — Winter Park, Florida
Joseph Crocker — Lewiston, Maine
Greg Cronin — Leesburg, Virginia
DeRocke Croom — Hampton, Virginia
Janelle Crossfield — Brooklyn Center, Minnesota
Gregory Crotchett — Oklahoma City, Oklahoma
Emily Crowley — Burlington, North Carolina
Brittany Crumback — Lehi, Utah
Justin Crutchfield — Pleasant Hill, Missouri
Jonathan Cudzewicz — Belvidere, Illinois
Bradley Custer — Pickerington, Ohio
Jason Cutchins — Lawrenceville, Georgia
Allison Dains — Asheville, North Carolina
Stacey Daley — Fort Lauderdale, Florida
Ryan Danescu — Waterford, Michigan
Travis Davey — Ocean City, Maryland
Devin Davis — Miami Gardens, Florida
John Davis — Rome, Georgia
Jared Davis — The Woodlands, Texas
Katherine Davis — Ashburn, Virginia
Kristopher Davison — Thornton, Colorado
Raymond DeFalco — Charlestown, Rhode Island
Thomas DeGruchy — Fuquay Varina, North Carolina
Shirley Deibler — Virginia Beach, Virginia
Rachel Deis — Monterey, California
Nicholas Deitering — Seattle, Washington
Michael Del Campo — Burbank, California
Michael Delgado — Oak Brook, Illinois
Stacey Dempsey — Brentwood, California
Meghan Denhard — Bel Air, Maryland
Robert Dennis — Tucson, Arizona
Matthew Denton — Smithville, Missouri
Thomas DeSiervo — Elmwood Park, New Jersey
Steven Diaz — Hialeah, Florida
Lakeisha Dickens — North Las Vegas, Nevada
Jessica Dickinson — Lagrangeville, New York
Steve Dietz — Itasca, Illinois
Chamreece Diggs — Greensboro, North Carolina
Christine DiGioia — Cooksville, Maryland
Kyle Dock — Louisville, Kentucy
Jody Dodson — Hoffman Estates, Illinois
Donald Domann — Phoenix, Arizona
Daniel Dominique — Sunrise, Florida
Kate Donohue — Pompano Beach, Florida
Jon Dorr — Breckenridge, Colorado
Will Doss — Princeton, Texas
Jennifer Dowdell — Thornton, Colorado
Logan Downey — The Woodlands, Texas
Laina Doyle — Arvada, Colorado
Lisa Drzewiecki — Tinley Park, Illinois
Chrystal Durity — Naples, Florida
Richard Durkee — Vernon Rockville, Connecticut
Janet Dyer — Madison, Wisconsin
Lauren Dynes — Galesburg, Illinois
Jonathan Dzedzy — Norristown, Pennsylvania
Kyle Easley — Ft. Lauderdale, Florida
Christian Easterday — Seattle, Washington
Lauren Eck — Fairbanks, Alaska
Amy Eckrich — Dardenne Prairie, Missouri
Elizabeth Elaine — Cape Coral, Florida
Anna Elias-Perez — Virginia Beach, Virginia
Jason Elissalde — Springfield, Oregon
Chase Ellis — Desoto, Texas
Christine Elyseev — Asheville, North Carolina
Ethan Engel — Livonia, Michigan
Alexandra Engelhardt — Aurora, Illinois
William Engelman — Madison, Wisconsin
Jason English — Grovetown, Georgia
Jason Enriquez — Dallas, Texas
Erik Ertle — Manasquan, New Jersey
Caitlin Essex — Denton, Texas
Jenny Estes — Geneva, Illinois
Ryan Etter — Columbia, Maryland
Amanda Eversz — Palm Bay, Florida
Timothy Faes — San Luis Obispo, California
Nicole Falceto — Leesburg, Virginia
Istvan Fanczi — Dacula, Georgia
Kristine Farro — Brentwood, California
Gabrielle Favitta — Deerfield Beach, Florida
Caitlin Fay — Essex Junction, Vermont
Jennifer Fean — Richboro, Pennsylvania
Stephen Fehsal — Dubuque, Iowa
Meghan Fenlon — Tinley Park, Illinois
Frank Fentress — Virginia Beach, Virginia
Erika Ferreira — San Diego, California
Annette Figueroa — Boca Raton, Florida
Linda Finch — Monterey, California
Jennifer Fink — New Brighton, Minnesota
Andrew Fisher — Itasca, Illinois
David Fisher — Clarksburg, Maryland
Nicole Fisher — Bend, Oregon
Whitney Fitzsimons — Mocksville, North Carolina
Aaron Flanders — Minneapolis, Minnesota
Phelan Fletcher — Greensboro, North Carolina
Robert Floyd — Austin, Texas
Hannah Fogarty — Farmington Hills, Michigan
Ryan Forbess — Huntingdon, Tennessee
Nola Formy-Duval — Prince Frederick, Maryland
Ted Forst — Ewing, New Jersey
Scott Foster — Banning, California
Danita Fox — Newport News, Virginia
Marlus Francis — Tukwila, Washington
Mary Franey — Georgetown, Kentucy
Devin Fredrickson — Castroville, Texas
Brittany Freeman — Jupiter, Florida
Ryan French — Old Orchard Beach, Maine
Jackie Frohne — Parker, Colorado
Kyle Frye — Baytown, Texas
Nick Fulks — Shawnee Mission, Kansas
Perry Gabriel — Concord, North Carolina
Natalia Gaerlan — Irvine, California
Brandi Gainey — Virginia Beach, Virginia
Marcus Gallegos — Roswell, New Mexico
Suzannah Galloway — Hutto, Texas
Aaron Garcia — Mesa, Arizona
Kalina Garcia — Waukegan, Illinois
Whitney Garcia — Ankeny, Iowa
Rhett Gardiner — West Valley City, Utah
Erin Gardner — Watertown, New York
Stephanie Gardner — Everett, Washington
David Garmany — Minneapolis, Minnesota
Barbara Gary — Concord, California
Anthony Garza — Allen, Texas
Nick Gates — Lake Forest, California
Jennifer Gault — San Ramon, California
Ashley Gay — Orange City, Florida
Michael Geesling — College Station, Texas
John Geiger — The Woodlands, Texas
Sarah Gelder — Chicago, Illinois
Bryan Gentilini — Parker, Colorado
Danielle Gerhart — Columbia, California
Tim Gerk — Libertyville, Illinois
Heather Gienapp — Fort Myers, Florida
Jennifer Gifford — Cumberland Center, Maine
Veronica Giles — Yardley, Pennsylvania
Maureen Gillard — Essex Junction, Vermont
Ann Gillespie — Irving, Texas
Victoria Giraldo — Miami, Florida
Theresa Glatzhofer — Palatine, Illinois
Heather Gleason — Chicago, Illinois
Erik Gleaves — Chicago, Illinois
Tyler Glenn — Wasilla, Alaska
Sioban Goddard — Downers Grove, Illinois
Shauna Godlevsky — Knoxville, Tennessee
Autumn Goheen — Blowing Rock, North Carolina
Emily Caroline Goick — Ringgold, Georgia
Christopher Goldbecker — Haymarket, Virginia
Michael Goldberg — Bartlett, Tennessee
James Golisano — Rindge, New Hampshire
Kelly Gonzalez — Elk Grove, California
Andrea Gonzalez — San Marcos, California
Stacy Goodwin — Clarksville, Tennessee
Charles Grant — Lenexa, Kansas
Scott Gray — Oak Lawn, Illinois
Ethan Gray — Gardnerville, Nevada
Kara Greeley — Waltham, Massachusetts
Jeremy Greene — Pooler, Georgia
Brook-lyn Greenwood — Arvada, Colorado
Ashleigh Grenci — Caldwell, New Jersey
Kent Gresham — Friant, California
Luke Gundersen — Joliet, Illinois
Travis Gunter — Valdosta, Georgia
Sherri Gurnon — Mansfield, Massachusetts
Melanie Guyan — Elgin, Texas
Nicole Hall — Scarborough, Maine
Warren Hallmark — Salt Lake City, Utah
Nichole Hamburg — Walnutport, Pennsylvania
Margaret Hamer — Carlsbad, California
Rebekah Hamill — Denver, Colorado
Megan Hammeke — Great Bend, Kansas
Mason Handke — Idaho Falls, Idaho
Pamela Handon — Charlotte, North Carolina
Leslie Haney — Holly Springs, North Carolina
Samantha Hanzel — Hinsdale, Illinois
Shannon Harback — Pontiac, Illinois
Brittany Hargrave — Winston Salem, North Carolina
Ryan Harkema — Ankeny, Iowa
Rebecca Harling — Aurora, Illinois
Skyler Harmon — Milwaukee, Wisconsin
Daniel Harrington — Des Moines, Washington
Aaron Harris — Fort Collins, Colorado
Ashley Harris — Fredericksburg, Virginia
Chalet Harris — Dover, Pennsylvania
Kim Harris — Gainesville, Florida
Sean Hart — Hialeah, Florida
Delaney Harty — Oak Lawn, Illinois
Emily Hays — Chicago, Illinois
Gerald Heberling — Gustine, California
Richard Heck — Cleveland, Ohio
Jaymie Heibel — Victoria, Texas
Steven Heinsma — Lafayette, California
Sara Heisdorffer — Brighton, Colorado
Laurel Heizelman — Austin, Texas
Cara Helfer — Charlotte, North Carolina
Melanie Heminger — Pompano Beach, Florida
Josh Henderson — Asheville, North Carolina
Lyndsey Henderson — Hobbs, New Mexico
Daniel Hendey — State College, Pennsylvania
Jason Hendrix — Menifee, California
Rachelle Henley — South San Francisco, California
Katie Hennessy — Bristol, Connecticut
Mariana Henriques — Windermere, Florida
Philip Henry — Boulder, Colorado
Cassia Henry-Saorrono — Bryant, Arkansas
Anne Hensarling — Plano, Texas
Christian Hernandez — Encinitas, California
Carole Herr — Cibolo, Texas
Amanda Herzog — Portland, Connecticut
Cynthia Hickman — Erie, Colorado
Scott Hickman — Lafayette, Colorado
Ryan Hicks — Westerville, Ohio
Jill Higgins — Munster, Indiana
Cole Higlin — Mandan, North Dakota
Matthew Hill — Pequot Lakes, Minnesota
Erica Hinshaw — Springfield, Oregon
David Hinson — Deland, Florida
Rachel Hoben — Minneapolis, Minnesota
Ronnie Hobson — Chesterfield, Virginia
Grant Hodge — Valley View, Ohio
Brian Hogan — Prince Frederick, Maryland
Laura Holbrook — Sahuarita, Arizona
Layne Hollander — Plantation, Florida
Rusty Holley — Homewood, Alabama
Brent Holloway — Gainesville, Georgia
Ken Holloway — Cincinnati, Ohio
Adraina Holopirek — Gardner, Kansas
Jeremy Holway — Miami, Florida
Kennen Hootman — Oak Brook, Illinois
Christopher Hoover — Fredericksburg, Virginia
Joshua Hoppe — Wentzville, Missouri
Ronald Horwath — Minneapolis, Minnesota
John Howard — Lexington, Kentucy
Dillon Hoyt — Moab, Utah
Josh Hudak — Palm Bay, Florida
Lisa Hughey — Dalton, Georgia
Kassandra Humke — Waupaca, Wisconsin
Ryan Husch — Oak Brook, Illinois
Deborah Huston — Raleigh, North Carolina
Joshua Ingersoll — Raleigh, North Carolina
Josh Irwin — Tumwater, Washington
Jeff Isaacson — Chaska, Minnesota
Dave Jacob — Central Point, Oregon
Robert Jaensch — Prince Frederick, Maryland
Kathryn Jenkins — Cambridge, Wisconsin
Tiffany Jent — Taylors, South Carolina
Angela Johnson — North Las Vegas, Nevada
Deanna Johann — Gurnee, Illinois
Derek Johnson — Heber City, Utah
Donald Johnson — Gainesville, Florida
Dylan Johnson — Sherman, Texas
Krystal Johnson — Garland, Texas
Megan Johnson — Peoria, Arizona
Theresa Johnson
LaTanja Jones — Alexandria, Virginia
Shawna Joplin — Chapel Hill, North Carolina
Sarah Grace Joseph — Warrensburg, Missouri
Alana Kaleikini — Irvine, California
Matthew Kamhi — Lafayette, Colorado
Derek Kates — Fort Collins, Colorado
Holly Kaufhold — Victoria, Minnesota
Timothy Kay — Wendell, North Carolina
Benjamin Keisic — Brentwood, California
Abigail Kelley-Jenkins — Stow, Ohio
Christine Kelly — Itasca, Illinois
Kerry Kemp — Middleburg Heights, Ohio
Jamie Kempfe — New Century, Kansas
John Kennick — Parma Heights, Ohio
Mary Alexis Kerman — Jefferson City, Missouri
Ryan Kertson — Bolingbrook, Illinois
Whitney Kesler — Baldwin City, Kansas
Peter Brian Kiessling — Bloomington, Indiana
Jessica Kimble — Columbus, Ohio
Quavis King — Pembroke Pines, Florida
Todd King — Cape Coral, Florida
Steven Kinser — Moses Lake, Washington
John Kiwala — Kenilworth, Illinois
Dustin Kleefisch — Westmont, Illinois
David Kling — Shenandoah Junction, West Virginia
Kerry Klug — Wayne, New Jersey
Allison Koger — Brentwood, Missouri
Kaitlyn Koppari — Oklahoma City, Oklahoma
Ivan Kovacevic — Bowling Green, Ohio
Tiffany Krahenbuhl — Mesa, Arizona
Stephen Kramer — Scarborough, Maine
Taylor Krawczyk — Saint Charles, Illinois
Elaina Kriz — Baltimore, Maryland
Steve Krogman — Grand Rapids, Michigan
Brian Kucharski — Carol Stream, Illinois
Nikki Kukstis — Melbourne, Florida
Amalia Kulczycki — St. Helena, California
David Kurman — The Villages, Florida
Stacy Laake — Moline, Illinois
Kristina Labossiere — Miami Lakes, Florida
Jeffrey Lacher — Pompano Beach, Florida
Sarah Lagesse — Elmhurst, Illinois
Joshua Lainfiesta — San Diego, California
Madison Laird — The Woodlands, Texas
James Lakeman — Algonquin, Illinois
Terry Lane — Cocoa, Florida
Michael Lange — Chicago, Illinois
Rhettson Langston — Waynesville, North Carolina
Kirk Lanier — Garner, North Carolina
Michael LaPan — Colchester, Vermont
Matthew Lassegard — Minneapolis, Minnesota
Jeff Lauridsen — Ankeny, Iowa
Mark Lazenby — The Woodlands, Texas
Ryan Leavy — Kings Bay, Georgia
Rachel Leavy — Saint Marys, Georgia
Jazmin LeBlanc — Palo Alto, California
Kelly Ledbetter — Jacksonville, Florida
Lamar Lee — Greensboro, North Carolina
Brianna Lee — Silverdale, Washington
Teresa Leedle — Moline, Illinois
John Lefever — Knightdale, North Carolina
Kelly Lehr — Boulder City, Nevada
Kenneth Lehr — West Chester, Pennsylvania
Michael Lenhart — Pottstown, Pennsylvania
Gino Leoni — Flagstaff, Arizona
Kyle Lewis — Jackson, Michigan
Rebecca Lewis — Minneapolis, Minnesota
Valerie Lewis Taylor — Washington, D.C.
Velorie Ligon — Roseburg, Oregon
Marc Limburg — Prince Frederick, Maryland
Todd Linder — Bensenville, Illinois
Tyler Little — The Woodlands, Texas
Brad Logar — Thornton, Colorado
Patrick Logel — Wentzville, Missouri
Mark Long — Flower Mound, Texas
Dallas Long — Hendersonville, Tennessee
Tom Los — Moses Lake, Washington
Larissa Lownsdale — Loudon, Tennessee
Kimberly Luckett — Greensboro, North Carolina
Susan Ludwig — Thornton, Colorado
Melissa Luehrs — Jacksonville, Florida
Roberto Lugo — Chicago, Illinois
Monica Lui — The Villages, Florida
Troy Lukas — Baton Rouge, Louisiana
Amy Lutsko — Woodstock, Maryland
Richard Lutz — Stamford, Connecticut
Patrick Macaskill — Chicago, Illinois
Megan MacDonald — Purcellville, Virginia
Tracy Madewell — Camp Pendleton, California
David Malinowski — Commerce City, Colorado
Daniel Mallach — West Chester, Pennsylvania
Thomas Mallernee — Haines City, Florida
Samantha Malloy — Marco Island, Florida
Brett Mann — Kannapolis, North Carolina
Stephanie Manoogian — Ferndale, Michigan
Joseph Mantucca — Naperville, Illinois
Brittany Martinez — Sparks, Nevada
Kathleen Mase — Phoenix, Arizona
Matthew Mast — Manassas, Virginia
Brandon Mattison — Hampton, New Hampshire
Avalon Mays — Eaton, Colorado
Michael Mazza — Orland Park, Illinois
Sade McCallan — Missouri City, Texas
Elizabeth McCann — Morton Grove, Illinois
Ryan McClure — Norman, Oklahoma
William McConnell — Norlina, North Carolina
Melissa McCoy — Prince Frederick, Maryland
Margaret McCuan — Woodland, California
Taylor McCulley — Scottsdale, Arizona
Christa McDonough — Crestwood, Illinois
Kenneth McGlamery — Spring Branch, Texas
Ryan McGovern — Telluride, Colorado
Rachel McLure — Irvine, California
David Mellem — Pasadena, California
Joel Memmer — Columbia, California
Andrew Menendez — Carson City, Nevada
Carly Mercadante — York, Pennsylvania
Denise Merdon — Gilbert, Arizona
Shaun Meredith — Prince Frederick, Maryland
Mike Merritt — Columbia, California
Mike Merritt — Lodi, California
Elena Messenger — Stafford, Virginia
Aaron Miller — Oakhurst, New Jersey
Amanda Miller — Leander, Texas
Ashley Miller — San Antonio, Texas
James Miller — Centreville, Maryland
Jeffery Miller — Ypsilanti, Michigan
Johanna Miranda — Quantico, Virginia
Lauren Mitchell — Pasadena, Texas
Chelsea Moberg — Galesburg, Illinois
Prentice Mobley — Delray Beach, Florida
Kathryn Monroy — Concord, California
John Monson — Frisco, Colorado
Jesse Montanez — Carlsbad, California
John Monteleone — Colorado Springs, Colorado
Brenda Mooney — Parker, Colorado
Josh Moore — Arroyo Grande, California
Adrianna Moore — Memphis, Tennessee
Rebekah Morgan — Spartanburg, South Carolina
Matthew Morris — Raleigh North Carolina
Naisha Morris — Oklahoma City, Oklahoma
Leisl Morris — Riverton, Utah
Ryan Morse — Greenacres, Florida
Levi Moser — Erie, Colorado
Mary Mucci — Morton Grove, Illinois
Julie Mudd — Marana, Arizona
Mandy Mullins — Auburn Hills, Michigan
Jamie Murphy — Newton, Iowa
Samantha Murphy — Big Lake, Minnesota
Amy Murrin — Park Ridge, Illinois
Chandler Musson — Chapel Hill, North Carolina
Kristopher Myers — Bellefontaine, Ohio
James Mynes — Dayton, Ohio
James Nall — Cutler Bay, Florida
Carrie Natceli — Show Low, Arizona
Lucas Navock — Nampa, Idaho
Melissa Nawrocki — Clarkston, Michigan
James Neale — Beaumont, Texas
Cynthia Neubig — McMinnville, Oregon
Lynn Neumann — Saint Cloud, Minnesota
Chris Newsom — Fuquay Varina, North Carolina
Amanda Nguyen — Springfield, Missouri
Jordan Nichols — Cambridge, Wisconsin
Fallon Nicholson — Virginia Beach, Virginia
Tammy Nobles — Denver, Colorado
Kyle Nowak — Columbus, Ohio
Troy Nowotny — Sterling Heights, Michigan
Angela O'Connor — Freeport, Maine
Matt Odom — Warrenville, Illinois
Kyle Oldemeyer — Oxford, Mississippi
Jesslyna Olivares — Austin, Texas
Teri O'Malley — Corvallis, Oregon
Taylor O'Neal Long — Walkerton, Indiana
Kellee O'Rourke — Pasadena, California
John Orsag — League City, Texas
Adrian Ortega — Austin, Texas
Rachel O'Sullivan — Amherst, New Hampshire
Jason Owen — Plano, Texas
Kraig Owens — Gurnee, Illinois
Elizabeth Owens — Woodbury, Minnesota
Alexandra Owens — Round Rock, Texas
Benny Paiz — Thornton, Colorado
Jeremy Palmer — Kingman, Arizona
Koko Panossian — Glendale, California
Bhavik Paryani — Atlanta, Georgia
Susie Paschal — Knightdale, North Carolina
Mary Patay — Mackinac Island, Michigan
Michael Patton — Ephraim, Utah
Joseph Paul — Holly Hill, Florida
Kenneth Payne — Riviera Beach, Florida
Janell Payne — South Jordan, Utah
Andy Peal — Missouri City, Texas
Andrew Pearson — Stuart, Florida
Robert Pechous — Oak Brook, Illinois
Rachel Peña — Tucson, Arizona
Daniel Pereira — Lincoln, Massachusetts
David Peters — Erie, Colorado
Aimee Peterson — Maple Grove, Minnesota
Sidney Peterson — Fuquay Varina, North Carolina
Regina Petkus — Bolingbrook, Illinois
Honey Phillips — Cape Coral, Florida
Jonathan Phillips — Freeport, Texas
Justin Pierce — Green Cove Springs, Florida
Timothy Pigg — Hillsboro, Missouri
France Pitera — Lake Bluff, Illinois
Jamel Pitt — Rocky Mount, North Carolina
Nikelle Pledger — Saint George, Utah
Brian Ploof — Chicago, Illinois
Stephen Poh — North Palm Beach, Florida
Michael Pollack — Galloway, Ohio
Jerri Pollard — Savannah, Georgia
Hunter Pooser — Rockmart, Georgia
Mayra Pratt — Chino, California
Jamie Pratt — Madison, Wisconsin
Kristin Preston — Beaverton, Oregon
Kate Prisco — Beech Mountain, North Carolina
Nicholas Pritchard — Grinnell, Iowa
Steve Pruitt — Winter Haven, Florida
Samuel Pryor — Oxford, Mississippi
Tina Purifoy — Beaufort, North Carolina
David Putnam — Kernersville, North Carolina
Samuel Quick — Woodstock, Maryland
Timothy Quigley — Plainfield, Illinois
Jon Quinton — Fort Lauderdale, Florida
Anne Radford — St. Peters, Missouri
Samantha Radford — Aiken, South Carolina
Benjamin Rae — Washington, Utah
Christopher Rain — East Stroudsburg, Pennsylvania
Nicholas Rakestraw — Plantation, Florida
Steve Ramanand — Coconut Creek, Florida
Regina Ramos — Orlando, Florida
Teah Rawlings — Durham, North Carolina
Phedra Marie Redifer — Tacoma, Washington
Latangela Reese-Cobb — North Brunswick, New Jersey
Jonathan Regan — Oak Lawn, Illinois
Kendall Reid — Oregon City, Oregon
Heather Reith — Columbia, California
Jennifer Ressl — Thornton, Colorado
Denise Retz — Richmond, Indiana
Ryan Rhodus — Farragut, Tennessee
Michelle Richardson — Arvada, Colorado
Glenn Richardson — Frisco, Texas
Jane Riddle — Denton, Texas
Cheryl Riley — Collinsville, Illinois
Kristal Roberson — Washington, North Carolina
Ian Roberts — Fair Oaks, California
Brandon Roberts — Greensboro, North Carolina
Kristin Robinson — Bryant, Arkansas
Seth Rodgers — Sevierville, Tennessee
Lauren Rodriguez — Coppell, Texas
Miguel Rodriguez — Dallas, Texas
David Roehrig — De Pere, Wisconsin
Daniel Roelofs — Elmhurst, Illinois
Rachel Rogahn — La Crosse, Wisconsin
Brian Rogers — Cheraw, South Carolina
Thomas Romano — Nashua, New Hampshire
Teresa Romanowicz — Warrensburg, Missouri
Kimberly Rontey — Storrs Mansfield, Connecticut
Rachel Roon — Kalamazoo, Michigan
Kevin Rooney — Bartlett, Tennessee
Ashton Rosenberger — Quakertown, Pennsylvania
Bryana Ross — Columbus, Ohio
Amy Roswurm — Montgomery Village, Maryland
Darlene Rowley — Waterford, Michigan
Erika Rubo — Naperville, Illinois
Molly Rupert — Ankeny, Iowa
Lyle Russell — Tullahoma, Tennessee
Derric Rykert — American Fork, Utah
Alicia Ryles — Maricopa, Arizona
Cheryl Salazar — San Marcos, California
DJ Salvante — Scotch Plains, New Jersey
William Salvatore — Philadelphia, Pennsylvania
Tiffany Salyer — Nappanee, Indiana
Althea Sampson — Tampa, Florida
Jodi Sauro — Woodbury, Minnesota
Darris Sawyer — Elizabeth City, North Carolina
Carin Schaab — Denton, Texas
Deanna Schablik — Ridgewood, New Jersey
Lisa Scharnak — Shawnee Mission, Kansas
Jack Scherer — Chicago, Illinois
Daniel Schewlakow — Marcola, Oregon
Sara Schmalfeldt — Broomfield, Colorado
Karl Schmidt
Troy Schoblaske — Sheboygan, Wisconsin
David Schoen — Port St. Lucie, Florida
Jaime Schroeder — Reno, Nevada
Abigail Schultz — Wisconsin Dells, Wisconsin
Tyler Schumacher — Delta, Colorado
Shawn Schumacher — Woodstock, Georgia
Scott Schuttenberg — Greeley, Colorado
Mindi Schwartz — Hoffman Estates, Illinois
Lisa Schwarz — Brookfield, Illinois
Sam Schwoebel — Park City, Utah
Colton Scott — El Paso, Illinois
Cameron Scott — Pleasant Garden, North Carolina
Jonathan Seidenzahl — Palatine, Illinois
David Seitz — Frisco, Texas
Diane Self — Edmond, Oklahoma
Jill Sellers — Kannapolis, North Carolina
Lisa Semetko — Bensenville, Illinois
Michelle Sendik — Tamarac, Florida
Antanas Senkevicius — Niles, Illinois
Kayla Sensenbaugh — Miamisburg, Ohio
Lisa Shackelford — South Riding, Virginia
Jaime Shanks — Jacksonville, North Carolina
Dylan Sharp — San Pedro, California
Bryce Shearen — Saint Paul, Minnesota
Amy Shearin — Clayton, North Carolina
Shane Sheldon — Dayton, Ohio
Jodi Shepard — Sneads Ferry, North Carolina
Taylor Sherrill — Newport News, Virginia
Rachelle Shipley — Thornton, Colorado
Aaron Shumaker — Grand Haven, Michigan
Donna Siciliano — Wheaton, Illinois
Jeannette Sieler — Lacey, Washington
Ryan Siler — Knoxville, Tennessee
Hannah Silvey — Lindon, Utah
Katlyn Simber-Clickener — Camarillo, California
Mark Simmons — Voluntown, Connecticut
Joelle Simmons — Dallas, Texas
Logan Singhisen — Manhattan, Kansas
Latasha Singletary — Mooresville, North Carolina
Amanda Singleton — Seymour, Tennessee
Brett Slone — Kendallville, Indiana
Lindsay Small — Huntersville, North Carolina
Cecil Smith — Las Vegas, Nevada
Greg Smith — Parkton, Maryland
James Smith — Prince Frederick, Maryland
Justin Smith — Nampa, Idaho
Timothy Smith — Centreville, Virginia
Tisha Smith — Ponchatoula, Louisiana
Tyler Smith — Denton, Texas
Taylor Snell — Surprise, Arizona
Karen Snortland — Thornton, Colorado
Michael Snyder — West Palm Beach, Florida
James Snyder — Woodstock, Georgia
Karen Solms — Miami, Florida
William Sparks — Calhoun, Georgia
Katherine Spatz — Columbus, Ohio
Justine Spease — Kansas City, Kansas
Brittany Spencer — Knoxville, Tennessee
Seth Staashelm — Marion, Iowa
Kelsie Stafford — Muscatine, Iowa
Tiffany Staheli — North Ogden, Utah
Barbara Stalbird — Saint Petersburg, Florida
Jina Stamey — Pittsboro, North Carolina
Ezra Stark — Olympia, Washington
Jeffrey State — Beaverton, Oregon
Tracy Stayton — Carlsbad, California
Jason Steadman — Rose Hill, Kansas
Thomas Steines — West Chester, Pennsylvania
Christopher Steinke — Thornton, Colorado
Keenan Steinway — Martinsville, Indiana
Annie Stephens — Surprise, Arizona
Emily Stephens — South Jordan, Utah
Katherine Stokke — Vancouver, Washington
Michelle Stout — Arvada, Colorado
Vanessa Street — Kalamazoo, Michigan
Michael Streeter — Shoshoni, Wyoming
Malissa Streng — Weidman, Michigan
Maurice Sullivan — Frankfort, Illinois
Emily Sullivan — Prince Frederick, Maryland
Kyle Susic — Pacific Grove, California
Cody Swander — Nampa, Idaho
Lynn Swofford — Springfield, Illinois
Brenda Sylvia — Carlsbad, California
Matt Szytz — Rockford, Illinois
Kip Tabor — Saint Marys, Georgia
Austin Tasler — Des Moines, Iowa
Ryan Taxara — Springfield, Oregon
James Taylor — Avon, Colorado
Michael Taylor — Frisco, Texas
Joyce Teal-Heinlein — Chattanooga, Tennessee
Jessica Tholey — Jenkintown, Pennsylvania
Kimberly Thomas — Cutler Bay, Florida
Kyle Thomas — Hoffman Estates, Illinois
Riannon Thomas — San Ramon, California
Robert Thomas — Nashville, Tennessee
Elaine Thompson — Colonial Heights, Virginia
Julia Thompson — Missouri City, Texas
Terrence Thompson — Madison, Wisconsin
Wyatt Thompson — Manhattan, Kansas
Veronica Thring — Cary, North Carolina
Christopher Tierney — Washington, D.C.
Drew Tomasino — Kennewick, Washington
Claudia Torres — Chino, California
Clinton Tracy — Boca Raton, Florida
Jessica Tracy — Brooklyn, Connecticut
Felicia Trainor — Cooper City, Florida
Chris Treat — Bryant, Arkansas
Michael Treschitta — Hilton Head Island, South Carolina
Richard Tucci — Cocoa, Florida
Brian Tucker — Arvada, Colorado
Haley Turner — Centerville, Utah
Mary Tuttle — Tacoma, Washington
Aaron Uhle — Concord, California
Matt Ulrey — Ashley, Ohio
Seth Ulvestad — Sheridan, Wyoming
Chad Unterreiner — Marshall, Missouri
Elizabeth Valera — Miramar, Florida
Lizmari Valido — Miami Springs, Florida
Nicole Van Dine — Grove City, Ohio
Alyce Van Drunen — Highland, Indiana
Guillaume Van Wyk — Glendale, California
Jeremy Vanderelburg — West Valley City, Utah
Katie VanKeulen — Raymore, Missouri
Michelle Varley — North Richland Hills, Texas
Susana Villamarin — Shoreline, Washington
Aimee Vlachos — Biddeford, Maine
Constance Vogel-Brown — Woodstock, Georgia
Carol Vollaire Murray — Las Vegas, Nevada
Jaime Vollertsen — Parker, Colorado
Sandy Von Herrmann — Columbia, California
William Vondrasek — Baltimore, Maryland
Mike Wald — Bismarck, North Dakota
Whitney Walker — Arvada, Colorado
Keith Wallace — Frankfort, Illinois
Mary Waller — Lawrenceville, Georgia
Sarah Walls — Ann Arbor, Michigan
Andrew Walsh — Chicago, Illinois
Ryan Walsh — Traverse City, Michigan
Alicia Walters — Pelham, Alabama
Amber Ware — Fort Myers, Florida
Clint Warnick — Clearfield, Utah
Brian Warren — Aston, Pennsylvania
Erica Wasserman — Milwaukee, Wisconsin
Justin Waters — Bolingbrook, Illinois
Lynn Watkins — Greenville, South Carolina
Avery Watkins — Alexandria, Virginia
Kaitlyn Weadley — Carol Stream, Illinois
John Weaver — Broomfield, Colorado
Quentin Webb — Hialeah, Florida
John Weber — Gainesville, Florida
Heidi Weiler — La Crosse, Wisconsin
Roderick Weinschenk — Greencastle, Indiana
Howard Weinstein — Norwood, Massachusetts
Joy Weir — Prince Frederick, Maryland
Scott Weller — Watertown, New York
Karlin West — Wilmington, North Carolina
Lisa West — Lake Oswego, Oregon
Cassandra Weyer — Kent, Ohio
Jonathan Whatcott — Altus, Oklahoma
Jessica Whatley — Ortonville, Michigan
Adam Wheeler — Columbus, Ohio
Emily White — Flora, Illinois
Kyle White — Rio Vista, Texas
Andrew Whitman — Waupaca, Wisconsin
Brad Whitt — Plano, Texas
Tracy Whitten — Fruitland Park, Florida
Ashley Wiedner — Chesterfield, Missouri
Teresa Wiggins — Port Orange, Florida
Zachary Wike — Beavercreek, Ohio
Jason Wiley — Sandpoint, Idaho
Robert Williams — Jurupa Valley, California
Nicholas Williams — Coconut Creek, Florida
Cephas Williams — Greensboro, North Carolina
Darryl Williams — Greensboro, North Carolina
Adairius Williams — Columbia, South Carolina
Christopher Williams — Dallas, Texas
Arron Willis — Saint Paul, Minnesota
Calie Willis — McKinney, Texas
Kimberly Wilson — Irving, Texas
Martha Winther — Seattle, Washington
Trevor Witcher — Riverdale, Maryland
Jessica Wolf — Greensboro, North Carolina
Michael Woods — Garfield, Arkansas
Tara Woods — McCall, Idaho
Christopher Wright — Burlington, North Carolina
Catherine Wunderlich — Sarasota, Florida
Brian Wyman — Columbia, Maryland
Deondra Wynn — Louisville, Kentucy
Ashley Wysocki — Newport Beach, California
Cassandra Yates — Bartlett, Tennessee
Brian Yourstone — Beaverton, Oregon
Joseph Zarbo — New Smyrna Beach, Florida
Andrea Zglobicki — Scarborough, Maine
Martin Zidtowecki — Pompano Beach, Florida
Teddi Zonker — North Richland Hills, Texas
Jacob Zuniga — Deer Park, Texas