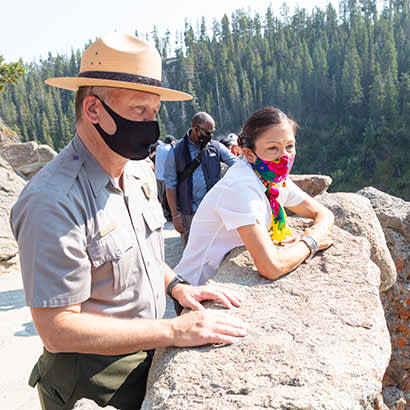 For an enhanced digital experience, read this story in the ezine.
The head of the U.S. Department of the Interior (DOI) shares her insights on racial equity, climate justice and transcending the national-local divide to create access to parks and recreation for all
"NRPA has been part of the backbone of the work that we do at Interior, and I couldn't be prouder to call this organization a partner," U.S. Department of the Interior Secretary Deb Haaland said in her virtual remarks during an opening general session at the 2021 NRPA Annual Conference this past September. "Your work to make public lands more accessible to more people no matter their background, their income or where they live is something that I hold dear to my heart."
On March 15, 2021, the U.S. Senate confirmed Haaland to her cabinet post in the Biden-Harris administration by a vote of 51 to 40 — making her the first Native American cabinet secretary. She also was one of the first Indigenous women to serve in Congress. During her time in the House of Representatives, she focused on environmental justice and climate change, among many other issues.
NRPA and Parks & Recreation magazine recently connected with Secretary Haaland to learn more about her goals as the head of Department of the Interior; and how DOI can partner with NRPA to transcend the national-local divide to create access to parks and recreation for all.
Parks & Recreation: In your opening statement during your February 2021 confirmation hearing, you acknowledged the historic significance that, if confirmed, you would be the first appointed Native American to serve as a cabinet secretary. Now that you've been Department of the Interior (DOI) Secretary for nearly 10 months, what has this experience meant to you?
Secretary Deb Haaland: When President Joe Biden nominated me to be the U.S. Secretary of the Interior, I felt the profound importance of what that moment meant for Indigenous peoples in our country. I knew then, as I still feel now, that we're at the beginning of a new era where Indigenous knowledge in our work to combat systemic inequities and craft policies to ensure fairness and a bright future for everyone is valued and prioritized. Representation matters. When people whose communities have long been underrepresented and oppressed are at the decision-making table, we can develop solutions that benefit all of us.
I'm proud to be part of an administration that recognizes and trusts that my life experiences can inform policymaking, in an effort to correct the mistakes of the past and help to create a future our ancestors would be proud of. With humility and gratitude, part of my role at the Department is to be a megaphone for Tribal issues and bring Indigenous representation to the highest levels of government. Native Americans, Alaska Natives and Native Hawaiians have pushed for this kind of representation for hundreds of years.
P&R: How do you see the DOI supporting and strengthening a park and recreation commitment that transcends "national versus local" and instead supports all communities across the country? What role do you view the DOI has in building a movement to support parks and recreation?
Secretary Haaland: We are committed to ensuring everyone has access to the great outdoors, and that every jurisdiction plays a role in providing those opportunities to communities. The ORLP program will play a crucial role in providing funding to urban areas — jurisdictions of at least 50,000 people — with priority given to projects located in economically disadvantaged areas and lacking in outdoor recreation opportunities. It is an example of partners working together across local, state and federal jurisdictions to improve and expand access to outdoor recreation opportunities for all.
P&R: Reflecting on your roles as chair of the Subcommittee on National Parks, Forests and Public Lands, vice chair of the House Natural Resources Committee and as a member of Congress, how are you bringing those experiences into your work as Secretary?
Secretary Haaland: During my time in Congress, I learned the value of working together to deliver tangible results for communities. I took the time to build meaningful relationships with both Democratic and Republican members to seek common ground on outdoor recreation, the missing and murdered Indigenous peoples crisis, and military housing protections — all issues that bridge partisan divides. For example, as chair of the Subcommittee on National Parks, Forests and Public Lands, I worked with my colleagues to shepherd the Great American Outdoors Act, which provided guaranteed, full funding for the Land and Water Conservation Fund (LWCF), to the House floor for a successful bipartisan vote.
I enjoyed my time in the House of Representatives. I really learned the value of lived experiences that drive people to take leadership positions. It's why representation matters so much and why I continue to push for equity and inclusion in my current position.
P&R: President Joe Biden pledged to place racial equity at the center of everything his administration does. How are you centering equity in DOI's work?
Secretary Haaland: I am proud to be part of the team here at Interior that reflects the diversity of America. Equity and inclusion are infused in all of the work we do, which is, undoubtedly, made stronger and more effective by the diverse backgrounds and lived experiences of our team members. Early on, President Biden's Executive Order on advancing racial equity and support for underserved communities really set the stage. It clearly established the administration's policy — that we will pursue a comprehensive approach to advancing equity for all. It's an incredibly profound call to action because it recognizes the federal government's role to right the wrongs of the past and is especially crucial when we consider the injustice that marginalized communities encounter in the face of climate change.
At Interior, we are making investments to expand capacity for national park units and programs that preserve and tell the story of historically underrepresented and marginalized groups, as well as funding to preserve sites that document the struggle for civil rights and equal opportunity for African Americans. There are also targeted investments to strengthen Tribal sovereignty, build capacity, and increase focus on environmental quality and justice needs in Tribal communities. We know that some of the roots of inequity across the country are built into many of the existing policies and processes on the federal level, and we're committed to a focused effort to address those inequities, so everyone in this country is included in our vision for the future.
P&R: In April 2021, you formed a climate change task force to coordinate efforts, such as enhancing renewable energy development on federal lands and waters. DOI also specified how science should guide department decisions and issued a directive to officials to maintain vigorous environmental reviews that analyze climate change and engage tribes and underserved communities. Can you elaborate more on how a focus on climate change is showing up in the DOI?
Secretary Haaland: From wildfire and drought to wildlife conservation and clean energy development, everything we do at the Department must be viewed through a climate change lens. We know that climate change impacts every community, but not every community has the resources to manage its impacts. Many communities can't just get up and move or rebuild when a climate disaster strikes. In many cases, these are the same communities dealing with a legacy of pollution in their communities.
The Department of the Interior supports the administration's commitment to tackle the climate crisis and put climate justice at the center of its mission. We have pledged to use the best-available science to take concrete steps to adapt to and mitigate climate change impacts, and [we] are working to ensure the integrity of federal decision making, as well as coordinate appropriate and proactive responses to impacts on public lands and waters, wildlife, cultural resources, and Tribal resources and interests. We are doing our part to help the [United States] meet our goals to tackle the climate crisis, including reducing greenhouse gas emissions, producing carbon-pollution free power, and reaching net-zero emissions economy-wide by 2050.
P&R: How does your department plan to support and protect the sovereignty of Tribal Nations? What might that mean in terms of current policies?
Secretary Haaland: The Department believes that we can best serve Indigenous peoples when Tribal governments are empowered to lead their own communities, and when federal officials speak with and listen to Tribal leaders in formulating policies that affect Tribal Nations. This has been incredibly important for us as we engage in nation-to-nation consultation.
We aren't just here to listen; we are here to implement what we are learning. Through land consolidation and land buy-back programs, Tribes have the opportunity to make decisions about economic development, restore balance to nature, seek environmental justice, and help the whole country address climate change. As the chair of the White House Council on Native American Affairs, I want to ensure that every cabinet agency coordinates with Tribal Nations as it advances work on key issues, such as climate change; Tribal homelands and treaties; economic development; energy and infrastructure; health; education; public safety and justice; and international Indigenous issues.
P&R: President Biden has stated that he wants to retool and relaunch the Civilian Conservation Corps (CCC). Given today's climate change crisis, the racial reckoning, and the needs of our evolving workforce, what could "CCC 2.0" look like?
Secretary Haaland: The President's Build Back Better Agenda includes historic investments to mobilize the next generation of conservation and resilience workers through the Civilian Climate Corps (CCC). The CCC will put a new, diverse generation of Americans to work conserving our public lands and waters, bolstering community resilience, and advancing environmental justice — all while placing good-paying union jobs within reach for more Americans. The CCC is an important jobs initiative that draws on America's strength to work together and build back better to revitalize public lands, infrastructure and communities. It will leverage the skills of young adults, veterans, Tribes, and folks from underserved and marginalized communities to help advance this vision. The idea builds from the 20th century Civilian Conservation Corps, which put hundreds of thousands of young people to work on public and private lands, providing them with jobs and training to tackle the crises of the Dust Bowl and the Great Depression.
P&R: The Biden administration under your leadership has taken a proactive approach to supporting urban parks through the reinstatement of the Outdoor Recreation Legacy Partnership (ORLP) program and other initiatives to support local parks. Can you share why you view local parks as so important?
Secretary Haaland: The Outdoor Recreation Legacy Partnership (ORLP) program is a crucial tool to advancing environmental justice and ensuring equitable access to nature and its benefits. The ORLP program is especially important to helping underserved communities that historically have had inequitable access to the outdoors connect with surrounding wildlife and its habitats. Providing opportunities for outdoor recreation is also vital to the health of communities and individuals. Time outdoors improves overall physical, social and psychological well-being. Communities need playgrounds, ballfields, parks and trails and the outdoor recreational opportunities that accompany them. They are places of civic pride that bring neighbors together.
P&R: How can local park departments better interact with your department and strengthen the relationship between local parks, the National Park Service and the DOI?
Secretary Haaland: The National Park Service provides a variety of grant and support opportunities that create or enhance close-to-home outdoor recreation experiences for communities. Since its inception in 1965, the LWCF has supported $4 billion worth of projects in every county in the country. Last year, Congress permanently funded the LWCF at $900 million per year with wide bipartisan support. At no cost to taxpayers, the LWCF supports increased public access to and protection for federal public lands and waters — including national parks, forests, wildlife refuges and recreation areas — and provides matching grants to state governments for the acquisition and development of public parks and other outdoor recreation sites. We strongly encourage local parks departments to continue working with the Department on issues of access and equity.
P&R: Local parks proved to be an indispensable source of support and resources for their communities during the pandemic. What role do you see for local parks in the post-COVID-19 world?
Secretary Haaland: The pandemic reminded everyone of the importance of close-to-home recreational opportunities. We were all looking for places where we could just get outside and enjoy physical activity, some fresh air, and perhaps, a chance to socialize safely. We will continue to work with communities to provide financial and technical support to provide nearby safe and accessible places to recreate and experience nature.
P&R: How will the DOI continue to support the needs of park and recreation professionals, so that they can better serve their communities?
Secretary Haaland: We will continue to provide funding and technical assistance to park planners and communities throughout the country. The LWCF will continue to provide money to federal, state and local governments to purchase land, water and wetlands for the benefit of the public. The funds can also enable state and local governments to improve park and other recreation areas in their communities by rehabilitating and upgrading existing parks, creating brand new parks in places that have none, and developing and expanding trail systems that link communities to each other and to additional recreation opportunities.
Kristine Stratton is President and CEO of NRPA.