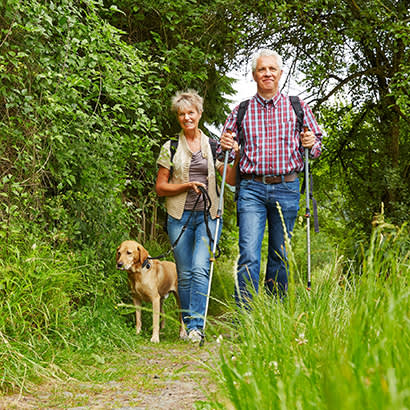 For an enhanced digital experience, read this story in the ezine.
Hiking has been a popular activity for years, and now that more people than ever are working at home, hiking is getting even more popular as people go for hikes to get out of the house and get exercise and fresh air. There are thousands of miles of local and national hiking trails for hikers to enjoy. However, hikers always should be respectful of nature and make sure they don't do anything that will hurt the environment when they're hiking. Some of the best ways for hikers to preserve nature while they hike are as follows:
Use Designated Hiking Trails
Hiking trails make it easier for people to find their way through an area. They also ease the burden that hikers put on the land. When people don't follow the trail provided and create their own trails and shortcuts, they cause a lot of damage to the area by ripping up plants, trampling grass, breaking branches off of trees and bushes, and scaring the animals that live there.
Snack Carefully
Hikers should always bring some snacks and water with them on a hike. They will need the extra energy and definitely will need to stay hydrated. However, that doesn't mean throwing uneaten food on the ground or eating wherever. Pack snacks carefully in reusable containers and make sure not to snack in an area with lots of animals. Don't throw uneaten food or scraps on the ground. If the animals in the area eat them, they could get very sick.
Avoid Scaring the Animals
It's also important to avoid scaring the animals that are in the area. The animals live there, and they may have nests or burrows with young animals inside. They probably are skittish around humans, so by approaching them, hikers can scare them quite badly. Don't try to touch them or get close to them. Don't try to get them to come closer by offering food, even if it's grass. Just leave them alone and they will leave you alone.
Clean Up After Your Dog
The hiking trail is not a dog park. If bringing dogs on a trail, hikers need to pick up after them the same way that they would if they took their dog to any other public place. Hikers should bring some waste bags with them and take them out with any other trash when they're done with the hike. Dogs also should stay leashed throughout the hike.
Leave Nothing Behind
As a general rule, hikers should leave the hiking area with everything that they brought into it, and that includes trash. Food containers, bottles, napkins, dog waste, food scraps and any other trash should never be left behind in the natural world. Throw it out the right way after completing a hike.
This article was provided by www.personalinjury-law.com, an organization dedicated to providing the public with information about personal injury and safety information. Nothing in this article should be construed as legal advice, and it is intended for informational use only.
Cendy Moliere is Outreach Specialist for Personal Injury Help.