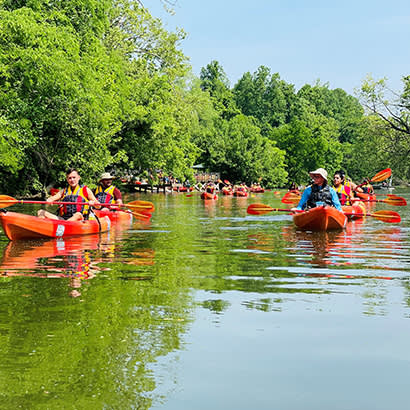 For an enhanced digital experience, read this story in the ezine.
Tennessee RiverLine and partners work to advance stewardship and equitable access to the 652-mile Tennessee River
Capitalizing on our natural assets is nothing new to us park and recreation professionals, but it's definitely a trend we saw increase when our country suddenly faced quarantine living and travel restrictions due to the coronavirus (COVID-19) pandemic.
Many turned their eyes to the water, putting their vacation money toward purchasing watercraft. According to the National Marine Manufacturers Association, boat sales increased by 9 percent compared to pre-pandemic levels. What's more, the global canoeing and kayaking equipment market is expected to grow by $124.44 million between 2020 and 2024.
In the bicycling world, the trends are even more staggering. In the initial months of the COVID-19 pandemic, for example, bicycle sales went up slightly more than 120 percent, according to The Washington Post.
In all three industries, there was a point throughout the pandemic during which a consumer was lucky to be able to use a boat, paddling vessel or bicycle the day they made their purchase due to extreme backorders.
It almost seems as if the Tennessee RiverLine, a project that aims to connect communities along the 652-mile Tennessee River through a continuous system of paddling, hiking and biking trails, is aiming to address these trends that sprouted in the midst of the pandemic. As it so happens, the vision for the initiative had been brewing for several years, and now presents a fresh and engaging model for amplifying recreation's impact on the economy, environment, health and everyday living.
"We see the Tennessee RiverLine as North America's next great regional trail system," says Brad Collett, director of the Tennessee RiverLine, associate professor in the University of Tennessee (UT), Knoxville's Department of Plant Sciences and a faculty member in the School of Landscape Architecture.
First proposed by a UT student in Collett's class in 2016, the Tennessee RiverLine's mission is to transform the way our region, communities and individuals experience the Tennessee River, thereby unlocking its potential for economic development, public health, equitable access and environmental stewardship.
"We're working with river communities to provide them with resources and programs that will connect residents and tourists, alike, to the river in new and different ways," says Collett.
Economic Development and Public Health
The Tennessee RiverLine is a collaborative effort between UT Knoxville, and the Tennessee Valley Authority (TVA), a federally owned corporation that provides navigation, flood control, electricity generation, fertilizer manufacturing and economic development to the Tennessee River Valley.
In January 2021, after supporting the Tennessee RiverLine in many ways since its inception in 2016, TVA joined UT Knoxville as principal partner of the Tennessee RiverLine by announcing a $1.2 million commitment to further the Tennessee RiverLine's regional efforts.
"TVA strives to invest in what we like to call power partnerships, those alliances that reflect our 1933 mandate from Congress to 'make life better for the people of the Tennessee Valley,'" says David Bowling, TVA vice president of gas/hydro operations and plant integration. "Eighty-eight years ago, when TVA went to work building dams that made the Tennessee River navigable, provided flood control and created electricity, the dream of a 652-mile regional trail system would have been unthinkable, but today, that vision is coming to fruition."
This is as much an economic investment as it is building an impressive trail system. Collett says federal investment in recreation assets is important because quality of living is ultimately a major consideration for corporations considering locations for expansion.
For example, the River City Company in Chattanooga, Tennessee, suggests that more than $5 billion in private investment has followed Chattanooga's public investments in open space and connected recreation systems. The quality of life these investments support also influenced Volkswagen's decision to open a major plant in the city. Chattanooga's downtown is centered around the Tennessee River, with the prestigious Tennessee Aquarium located on the waterfront. Nearby are more than 50 trailheads, bass fishing opportunities that draw professional tournaments year-round, Ocoee whitewater rafting, and some of the most visited paddling routes in the region.
"Businesses seek communities where they can attract and retain top talent, and COVID-19 has reminded us how important access to the landscape around us is to our physical, mental and spiritual health," says Collett.
Within the four states touched by the Tennessee River (Tennessee, Alabama, Mississippi and Kentucky), there are nearly 200 marinas, campgrounds and riverside resorts. So, like the nearby Appalachian Trail in the Great Smoky Mountains, paddlers, hikers and bikers would have the opportunity to spend weeks traveling the Tennessee River in its entirety or a day on a highlighted section.
Equity of Access
Communities thrive when all members are engaged, and that has been a focus for the Tennessee RiverLine in moving forward with its strategic plan.
In its first few years after forming in 2016, the Tennessee RiverLine team set to establish a partnership base, develop an inventory of assets, and help communities identify needs.
In 2019, the Tennessee RiverLine hosted community input workshops open to the public within communities across the region as part of its Pilot Community Program. At these meetings, business owners, city and state officials, and local residents provided insight to how they currently experience the Tennessee River and their aspirations to improve or expand those experiences in the future.
This research has helped identify where there were physical connectivity gaps along the river, and also brought light to socioeconomic barriers to river access and experiences for different groups within communities.
For example, community research found that while there's interest in canoeing and kayaking, this type of activity isn't always an affordable option for every household.
Part of the investment from UT Knoxville and TVA was used to purchase five fleets of 60 total kayaks for Tennessee River communities, so that free kayaking opportunities can be made available to people of all backgrounds, household incomes and experience levels.
On May 22, 2021, more than 100 members of the Latino community in East Tennessee and around the Southeast paddled for the first time with the Tennessee RiverLine's combined kayak fleet. Individual fleets of 12 kayaks have been granted to Roane and Benton County, Tennessee; Bridgeport and The Shoals, Alabama; and Paducah/McCracken County, Kentucky. These fleets support programs in these and neighboring Tennessee River communities and can be combined to support larger regional events that promote equitable river access.
Collet says his team is researching additional opportunities to make recreation gear more accessible, including a kayak-share program at kayak launches along the Tennessee RiverLine — similar to bike-share programs established in downtown areas or at trailheads nationwide.
Empowering Communities in Environmental Stewardship
In 2020, Tennessee RiverLine launched its new multi-stage Tennessee RiverTowns Program, which provides a collaborative framework for communities to celebrate their identities as river towns through a coordinated effort and a demonstrated commitment as stewards of the river's environmental health. Fifteen communities enrolled in the program's inaugural cohort, and new communities can apply to the program each summer. Communities enrolled in the Tennessee RiverTowns Program must host one or more river stewardship event each year.
On May 1, 2021, for example, the very first official river stewardship event hosted by a Tennessee RiverTowns community was held in Clifton, Tennessee. To host the river cleanup, the Tennessee RiverLine reached out to collaborate with Keep the Tennessee River Beautiful (KTNRB), which brought its river cleanup boat to take volunteers to clean shorelines and mobilized those who have adopted 40 consecutive river miles around Clifton in KTNRB's Adopt a River Mile program.
Collett and Tennessee RiverLine staff, City of Clifton and Wayne County officials, as well as local volunteers joined on the KTNRB boat for the day, removing 3,545 pounds of trash from the river, while the Adopt a River Mile participants removed an additional 3,345 pounds of trash from their respective adopted river miles that day.
There's quite the incentive to participate in the Tennessee RiverTowns Program. Besides getting awesome bragging rights, the Tennessee RiverTowns status means that participants will have access to community grant funding, resources in a network of partners, and guidance on best practices for building and connecting Tennessee River amenities. Communities that complete the second stage of the program, which culminates in the development of a local water trail, earn the prestigious Tennessee RiverTowns designation (see sidebar below).
Connecting Communities and Natural Resources
With a continuous system of paddling, hiking and biking trails stretching along the route of the 652-mile river, the biggest step is building connections to existing amenities, as well as investing in new ones along the way.
"In this initiative, we realize that we're not only creating something new and innovative, but we're also celebrating and amplifying what already exists," says Collett.
He adds that the goal for establishing new paddling trails that connect existing and new amenities is to have it started within three to five years. That being said, the Tennessee RiverLine already has announced planning collaborations with South Pittsburg and Benton County, Tennessee, as well as a historic collaboration with a complementary regional greenway initiative in north Alabama along the Tennessee River.
In May, a $25,000 Tennessee RiverLine Community Impact Grant was awarded to the Singing River Trail of North Alabama. This grant will connect Decatur, Alabama, to a quad-city area known as The Shoals (comprising the cities of Florence, Muscle Shoals, Sheffield and Tuscumbia) as part of the Singing River Trail's 150-mile trail system.
On its website, the nonprofit, called the Singing River Trail, describes the trail system as "a world-class resource that connects the region, celebrates Native American heritage, provides education opportunities, contributes to economic development, and enhances the quality of life for residents and visitors throughout North Alabama."
In all, the Singing River Trail will link six cities and counties presently enrolled in the Tennessee RiverTowns Program.
Trail connection projects, such as the Singing River Trail, will eventually help to link river communities to each other and establish critical connections between communities and the Tennessee River, establishing gateways to and from the Tennessee RiverLine for residents and visitors.
Powered by Partnerships
Ultimately, Collett says partnerships are making this vision a possibility.
In that mix of essential partnerships are universities, which he points out often have service driven missions as well as a focus on environment and health; local municipalities, which can give insight into what the communities value and help to break down socioeconomic barriers; and state and federal agencies, which can drive the economic impact of such projects.
"At the Tennessee RiverLine, we know that we're powered by partnerships," says Collett. "Building a robust team who truly believes in what you're doing has been critical to achieving all that we have to date and positioning all partners for future success."
As the Tennessee RiverLine's development progresses, hopefully, other river communities across the nation will be inspired to follow a similar model.
Our communities always have thrived when we've turned to our rivers. After all, they were the determining factors — the very building blocks — in how our cities and towns were established in the first place.
Current Tennessee RiverTowns Program Participants
The first participating communities in the Tennessee RiverTowns Program were announced in 2020. They are currently working on qualifying for the prestigious status.
Current program participants include:
Bridgeport, Alabama
Decatur, Alabama
Guntersville, Alabama
Huntsville, Alabama
The Shoals, Alabama
Benton County, Tennessee
Clifton, Tennessee
Hardin County, Tennessee
Knoxville, Tennessee
Loudon County, Tennessee
South Pittsburg, Tennessee
Stewart County, Tennessee
Roane County, Tennessee
Calvert City, Kentucky
Paducah–McCracken County, Kentucky
Building the Tennessee RiverLine Step by Step
The vision for the Tennessee RiverLine is to establish a continuous system of paddling, hiking and biking trails that spans the route of the 652-mile Tennessee River through the four states of Tennessee, Alabama, Mississippi and Kentucky.
So, how does the Tennessee RiverLine intend to reach this ambitious goal? They've developed the Tennessee RiverTowns Program to inspire and coordinate effort and investment over time. The three-stage program requires activity and reporting for five major benchmarks:
Local Leadership – Each enrolled community establishes and convenes a team of community leaders and residents who build capacity, raise awareness of and recruit support for the Tennessee RiverLine through local programs, advocacy and vision implementation.
River Stewardship – Communities inspire new generations of Tennessee River stewards by organizing events and programs, such as cleanups, invasive plant removals and shoreline plantings that raise awareness of threats posed to the river's health.
River Animation – Communities bring the river to life and promote healthy lifestyles through programs, events and resources that break down common barriers to Tennessee River experiences. An emphasis is placed on hosting community paddle events that promote river use by populations underserved by outdoor recreation opportunities.
Advocacy – Communities elevate the visibility of the Tennessee RiverLine vision and the economic development, public health, equitable access and environmental stewardship benefits Tennessee RiverLine promises to local, state and federal leadership.
Local Development Along the Tennessee River – Over the course of the program's three stages, communities incrementally discover, implement, operate and promote a local vision for North America's next great regional trail system that includes a local water trail, supporting amenities and services, public riverfront parks and connective greenway systems.
For more information about Tennessee RiverLine, visit the website.
To hear Gibi talk more about the Tennessee RiverLine, tune in to the August bonus episode of Open Space Radio.
Kathleen Gibi is Executive Director at Keep the Tennessee River Beautiful and a Member of Parks & Recreation magazine's Editorial Advisory Board.