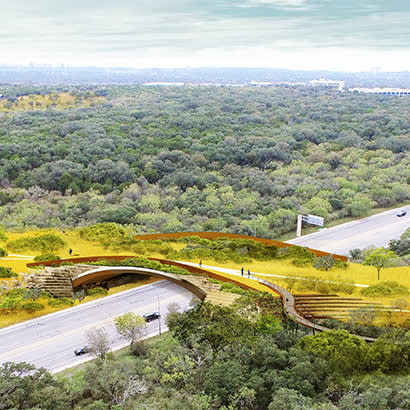 For an enhanced digital experience, read this story in the ezine.
Reclaiming the natural habitat above a busy highway in central San Antonio is the Robert L.B. Tobin Land Bridge, the newest and largest wildlife crossing constructed to date in the United States. The land bridge is uniquely designed for safe passage by people and animals, connecting the previously divided halves of the 330-acre Phil Hardberger Park. The land bridge has become a popular landmark, destination and park amenity for community recreation since opening to the public in December 2020. Walkers, runners, families with strollers, dogs and their companions are just a few of the park patrons who have enjoyed the Americans with Disabilities Act (ADA)-accessible pathways, native landscape and public art of the land bridge.
Trails from both sides of the park converge at the land bridge, offering visitors access to explore amenities that were once separated by a highway. Along the pathways across the land bridge, the park's South Texas flora and fauna are complemented with native tree plantings, such as live oaks, mountain laurels, persimmons, evergreen sumac and native plants like the prickly pear cactus, which holds the proud distinction as the Texas state plant. These native species offer diverse food and shelter to local wildlife, such as deer, coyotes, raccoons, squirrels and lizards. A 250,000-gallon catchment system captures rainwater runoff, providing irrigation for the bridge and surrounding area.
Nestled on either side of the land bridge are two wildlife viewing blinds designed by local artists Ashley Mireles and Cade Bradshaw. The designs for the blinds were inspired by the native plants and topography of the park. Nearby water features offer wildlife a place to drink or bathe while the public can take a quiet moment to observe nature from the viewing blinds. This public art project was done in coordination with the City of San Antonio Department of Arts and Culture and landscape architects from STIMSON Studio.
Another access point to the land bridge is a one-of-a-kind, ADA-compliant SkyWalk that elevates visitors along a walkway 25 feet high through the treetops, offering a bird's-eye view of the park and a great vantage point to view nature throughout the Texas seasons.
The concept of a land bridge connecting both sides of Phil Hardberger Park was part of the adopted park's master plan completed in 2009. The city of San Antonio was able to complete this project thanks to public and private partnerships, which included funding from the voter-approved 2017–2022 bond program, the Phil Hardberger Park Conservancy, the generosity of private donations and grants, and the advocacy of the people of San Antonio.
This article was written with the help of Phil Hardberger Park Conservancy in partnership with City of San Antonio Parks and Recreation.
Phil Hardberger is the former Mayor of San Antonio.