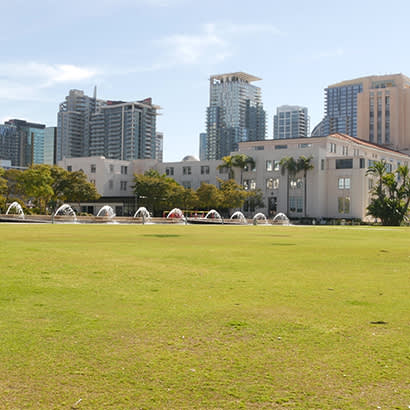 For an enhanced digital experience, read this story in the ezine.
Forward-thinking measures mean inserting a reimbursement clause in parkland dedication ordinances
Cleveland Metroparks' "Emerald Necklace" is one of the finest regional park systems in the United States. Its excellence is primarily attributable to the determination and vision of William Stinchcomb, who was hired by the Cleveland Parks Board in 1915 as its first engineer of parks, and presided over the system for 40 years until 1957. At the time of his hiring, Cleveland was the sixth largest U.S. city. However, in 1920, the park district held the title to only 109 acres of land that had been donated to it.
Soon after his appointment, Stinchcomb choreographed authorization through the state legislature for the system to levy a 1mill tax for capital acquisition. He justified the levy by arguing, "Land is rising in value, so unless we buy it now, it will cost the taxpayers almost double in a few years. The $200,000 we can get from the levy will enable us to buy. Then the adjacent land will rise [in value] and this will be reflected in the tax duplicate and hence yield more taxes. Thus, in a sort of circle, the improvement pays for itself."
He focused his efforts on assembling parkland, believing it was critical and that park development could come later. By 1930, he had acquired 9,000 acres in nine large reservations. This approach was adopted by several of the early park systems and its instigators are widely praised for their vision today.
Contemporary Application
In contemporary times, many would applaud the wisdom of such a long-term perspective by elected officials, but such visionary actions are rare. They require those of us who are current office holders to support investment of tax funds on projects that will not come to fruition for a decade or more in the future. Hence, while current elected officials incur the political cost of raising taxes, the benefits accrue for future officials — an unappealing scenario to most of us.
This political conundrum can be resolved by including a reimbursement clause in park dedication and/or impact fee ordinances. These ordinances require developers to provide land or a fee-in-lieu of dedicating land, exclusively for the acquisition and development of parks. Many communities have passed such ordinances, because they embrace the principle that parks should be financed by new homes that have created the demand for new parks.
Most of the time, communities opt to take fees-in-lieu of land, because the amount of land required to be dedicated is too small for practical use as a park. When a threshold amount of revenue from these fees has accrued, a community then seeks to buy land for a park. Unfortunately, by the time this threshold is achieved, it has frequently become too expensive and exceeds the revenues available, because land prices have risen as intensity of development in the area has increased.
To avoid this situation, a reimbursement clause could be inserted into an ordinance. A typical clause states, "If the city acquires parkland in a zone in which a fee-in-lieu is paid, the fee may be used to reimburse the city the costs of the park's acquisition and development." This enables a city to buy parkland ahead of development by using certificates of obligation or general obligation bonds for which it will be subsequently reimbursed from the fees received from future development. It apportions the cost of providing park facilities for new development before it is needed to each new development in proportion to its impact on the park.
Negotiations with landowners during times when activity in the real estate market is slow, when a bargain sale becomes available, or when the land is beyond the community's existing developed areas may result in good park and recreational land being purchased at a relatively low price.
It also will be easier to acquire substantial tracts of (say) 50 to 300 acres during this time, rather than after development reaches these outlying areas. While these acquisitions provide more land than the community currently needs, they provide additional capacity needed to accommodate new growth.
Adopting this approach is likely to be supported by developers, because the existence of parks makes new developments more attractive to homeowners. The public also is more likely to support a park bond issue if they are aware the increase in taxes to pay the annual debt charges is likely to be small because the dedication fees will contribute to paying these charges. The following example illustrates this principle:
A fast-growing city in Texas issued Certificates of Obligation to purchase two neighborhood park sites of 12 to 15 acres in advance of development. At $20,000 an acre, this involved a commitment of $240,000 to $300,000 per park. These purchases were made seven years in advance of development. This time frame was adopted because it had long been used successfully by the school district in its planning. The certificates were repaid over time by (1) the cash-in-lieu payments that the dedication ordinance required developers to contribute for neighborhood parks, and (2) 20 percent of the property taxes the city obtained from residences in close proximity to these parks. The 20 percent proportion was used because it was the estimated premium created by the presence of the parks.
Because parkland dedication ordinances are a component of a city's subdivision regulations, these ordinances usually are the purview of the planning department. However, they are in the operational sphere of park departments. This suggests that park boards and directors should take a proactive role in making city managers and elected officials aware of the potential of using this reimbursement clause approach.
John L. Crompton, Ph.D., is a University Distinguished Professor, Regents Professor and Presidential Professor for Teaching Excellence in the Department of Recreation, Park and Tourism Sciences at Texas A&M University and an elected Councilmember for the City of College Station (jcrompton@tamu.edu).