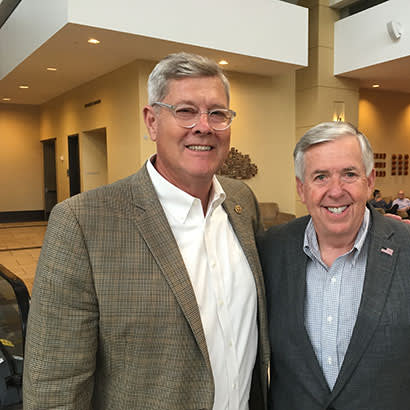 For an enhanced digital experience, read this story in the ezine.
On September 12, 2019, Lee's Summit Parks and Recreation (LSPR) in Lee's Summit, Missouri, renamed and dedicated its principal community center in honor of the department's former administrator, Tom Lovell. What was previously the Legacy Park Community Center is now the J. Thomas Lovell Jr. Community Center at Legacy Park.
"Tom Lovell was the driving force behind the successes and accomplishments of LSPR for 38 years," says Joe Snook, current LSPR administrator, in a press release. "I cannot think of a more appropriate way to honor his legacy than to name our flagship community center after Mr. Lovell."
During Lovell's service as administrator of LSPR from 1979 to 2017, the department grew from 12 staff members to 42 full-time employees and hundreds of part-time and seasonal employees. Under Lovell's leadership, LSPR acquired more than 950 acres of new open space and developed 77 miles of trails, 30 neighborhood parks, three community centers and a water park. In addition, LSPR earned CAPRA accreditation in 2003 and became reaccredited in 2008 and 2013. In 2010, the department was awarded the American Academy for Park and Recreation Administration's National Gold Medal Award.
"This is such a surprise and special honor to have this flagship facility renamed after me," says Lovell. "[Legacy Park Community Center] has served the community and has substantiated the beliefs in the parks system to provide services, benefits to our health and generate revenue for Lee's Summit. I am humbled and would like to thank all the people involved in the development of the facility and those renaming [it]."