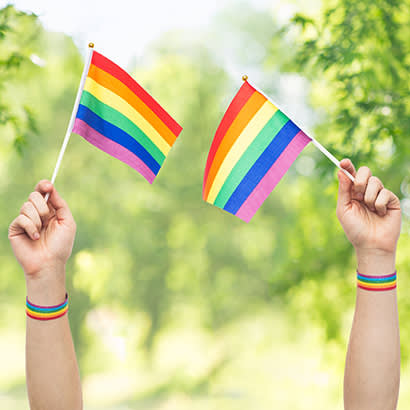 For an enhanced digital experience, read this story in the ezine.
Park and recreation professionals pride themselves and their work as being open to people of all backgrounds and offer recreation programming and inclusive spaces for everyone to create healthy and vibrant communities. The people you serve face a variety of challenges and look to their community institutions, like park and recreation centers, as opportunities to escape the pressures of life and be mentally and physically healthy. Because June is LGBTQ+ Pride Month, it allows us the perfect opportunity to consider how we can better serve our LGBTQ+ family, friends and neighbors.
To know how to move forward, we need to understand the history of injustices against LGBTQ+ people and the role parks have played in that struggle. In a June 2019 blog post on NRPA's Open Space blog, I wrote about the history of LGBTQ+ activism and our fight for civil rights, highlighting Christopher Park in Greenwich Village at the center of the movement. The blog post showed how parks have been a refuge for LGBTQ+ people for decades. Parks offered homeless LGBTQ+ youth fleeing abusive homes a place to rest. Parks were places for LGBTQ+ people to gather when they were shunned everywhere else. Underground bars and parks were the only places we felt safe, and we weren't even safe there. Police brutality and routine crackdowns on LGBTQ+ gatherings killed our friends and family and eroded any trust in government. For decades, LGBTQ+ people have been told we are less than. Whether it was diagnosing us as having a mental disorder and sending us to mental institutions to undergo inhumane, aggressive treatments or through discrimination in housing, employment and marriage because of our gender identity or sexual orientation. Today, that treatment is illegal in the United States and progress has been made, but in several states the policy discrimination still exists and LGBTQ+ people continue to face higher rates of health disparities.
P&R Can Make a Difference
In 2019, the Trevor Project, a nonprofit organization focused on suicide prevention efforts among lesbian, gay, bisexual, transgender, queer and questioning youth, released its national report on LGBTQ+ youth mental health. The report finds that 71 percent of LGBTQ+ youth reported discrimination, while 2 in 3 LGBTQ+ youth reported someone convincing them to change their gender identity or sexual orientation. This discrimination leads to a staggering statistic from the Centers for Disease Control and Prevention, stating that LGBTQ+ youth in grades 7–12 were more than twice as likely to have attempted suicide as their heterosexual peers. The solution to this is supportive and affirming friends, families and spaces. This is where parks and recreation plays a role.
We know the critical role park and recreation centers play and the many benefits they offer to our communities. The 2018 NRPA Park and Recreation Inclusion Report details how park and recreation professionals serve marginalized people. The report shows that many agencies face significant challenges with inclusion, including limited staff and funds, and even some lack a clear understanding of the needs and desires of members of the community. Currently, only 30 percent of agencies deliver programs targeted to the LGBTQ+ community. Despite these challenges, P&R professionals work tirelessly to ensure these spaces are safe, inclusive, culturally relevant and welcoming.
Take this Pride Month to reevaluate how you are serving your LGBTQ+ community members. Does your agency have a nondiscrimination policy based on sexual orientation and gender identity? Is your messaging inclusive of LGBTQ+ lived experiences and does it establish a welcoming environment? Do you offer LGBTQ+ specific recreation programming? These are just a few examples of ways to better serve the LGBTQ+ community. Though P&R professionals continue to face seemingly insurmountable challenges, don't be discouraged to take small steps of progress toward a larger goal of inclusivity.
Happy Pride Month!
Jared Mummert is Park Access Program Manager at NRPA.