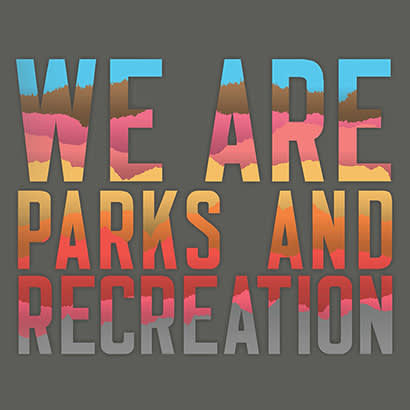 For an enhanced digital experience, read this story in the ezine.
Park and Recreation Month honors the heroes who make the profession essential to communities
The people of parks and recreation have faced some extreme challenges in recent months, and the myriad ways these professionals have pivoted and stepped in to meet the needs of their communities are awe-inspiring. Right now, our country — and the world — is facing a pandemic, systemic racism, hunger, homelessness, the opioid crisis and many other tragedies that are presenting challenges for communities. As a field focused on building community and ensuring the health and well-being of the people they serve, park and recreation professionals are the heroes the world needs now more than ever.
Park and Recreation Month may not look the same this year. In fact, many things may never look the same in the future. But, this shift provides an opportunity to show the world how critical parks and recreation is and to tell the stories of the people who are caring for our public spaces and managing the many programs intended to enhance quality of life for all people. This Park and Recreation Month, we will begin to redefine the field of parks and recreation as an essential, vital necessity by sharing how the people at the heart of these parks and recreation facilities are frontline staff, confronting our most pressing health, environmental and social challenges. See below for a list of our P&R Month champions.
Here are just a few of the nominations we received as part of our "Celebrating YOU this July" campaign for Park and Recreation Month.
Responding to COVID-19
When the City of Pearland Parks and Recreation's Knapp Activity Center in Texas had to close due to the COVID-19 pandemic, Randi Wyatt, senior programs coordinator, and Celeste Rogers, senior programs specialist, knew they had to work hard and fast to come up with a solution to make sure older adults in the community who relied on the center for meals would still be able to get them. Wyatt and Rogers coordinated with their food service provider and department heads to implement a plan that has allowed them to continue to serve around 120 meals per week in a drive-through setup that ensures safety and physical distancing, as well as deliver 30 to 40 meals per week to those who are homebound.
In Wisconsin, Kathy Kline of West Allis-West Milwaukee Recreation and Community Services has transformed the Morgan Grove Family Center, where she serves as the director. The center is unique because it is housed in a two-bedroom apartment and serves children living in a subsidized housing complex that has the highest level of poverty in the community. During the COVID-19 crisis, Kline has stepped up to help serve breakfast and lunch Monday through Friday at a walk-up/drive-up site to ensure the children who rely on the center continue to receive nutritious meals.
"Kathy goes above and beyond to ensure that the children are safe, cared for and have access to the same fun programs and activities that their peers living elsewhere have," says Shelly Strasser, director of recreation and community services for West Allis-West Milwaukee Recreation and Community Services. "She always puts the needs of the center and the children first."
On a normal day in Gwinnett County, Georgia, Joe Pruitt, the natural and cultural resources section coordinator for Gwinnett County Parks and Recreation, is managing projects regarding invasive species, performing historic site rehabilitation or educating kids on a tour of the department's working farm. When the pandemic began in Georgia, Pruitt personally handled the movement of more than 52 tons of perishable food, non-perishable food and personal care products to people in the community. His selfless work enabled more than 2,600 families to get the essential items they needed during the pandemic.
"It's Joe's valued work ethic that makes collaborating with community partners seamless and allows for quick mobilization of our county resources to support basic essential needs of residents, including good housing, transportation and safety," says Mark Patterson, deputy director for Gwinnett County Parks and Recreation.
Going Above and Beyond
Carlos Garcia, the park services coordinator for the Rapid Response Team at City of Bakersfield Recreation and Parks in California, leads a team that is responsible for working with people experiencing homelessness, as well as repairing damage or vandalism in parks, restrooms and facilities. In just one year, the team has replaced numerous restroom gates, removed 18 tons of trash in a nearby riverbed and repaired numerous irrigation heads — all making a huge impact on the safety and cleanliness of the parks in the city.
"Carlos is an exemplary, yet humble, employee who displays passion for people and parks. Bakersfield is blessed that Carlos chose the recreation and parks department to share his many talents in which to serve the community," says Dianne Hoover, director of the City of Bakersfield Recreation and Parks Department.
Paulette Murphy has always had a way of bringing a community together and has made a huge impact on many people during her more than 28-year career. She has climbed the ladder and served many roles, from being a recreation specialist early in her career to her current position as the director for City of Miami Gardens Parks and Recreation.
While every promotion left the kids in Murphy's programs sad to see her go, some of those kids were so inspired by her, they went into the profession themselves. "I was one of those teary-eyed kids and as soon as I was old enough to get a job, parks and recreation [was] where I wanted to work," says Antoinette King, the assistant community center manager at City of Miami Gardens Parks and Recreation, who now works for Murphy, her beloved mentor.
A Career Move
Edric Diaz started with the City of Sanford Parks and Recreation Department in Florida as a part-time employee, cleaning restrooms and opening and closing park sites. After completing scheduled tasks, he would check the area to see if there was any other work or repairs needed to be made — cutting low tree limbs or fixing a sprinkler head. Diaz was promoted to a full-time maintenance position with the department in 2017, and in 2018, he was promoted again to a lead maintenance worker position.
According to Robert Beall, the operations manager for City of Sanford, "Mr. Diaz comes to work anytime he's needed and completes his work with a smile. He continues to want to learn more about the job and instills this in the staff working with him. He is a positive inspiration for all to model after."
For the past 48 years, Doug Kane, the adult sports coordinator for Whitefish Bay Recreation, has led one of the only badminton programs in the Milwaukee, Wisconsin area. Kane has been leading this Wednesday program in Whitefish Bay since 1975 and has known many of the participants since they were teenagers — who are now bringing their own teenagers to play with them. Kane also launched a youth badminton camp in 2014, with a goal of growing a love for the sport from an early age.
"If ever there was a case for recreation programs bringing [a] community together, it could be found by entering our field house on any given Wednesday night," says Anthony Iracki, Kane's colleague and recreation supervisor at Whitefish Bay Recreation. "I admire [Doug's] perseverance and commitment and feel fortunate to know him."
This Park and Recreation Month, be sure to thank your staff, colleagues, peers and yourself for the good work you continue to do. Share your story on social media using #WeAreParksAndRec and show the world what we already know about the people of parks and recreation: You are strong. You are confident. You are selfless. You are passionate. You are driven. You are essential. YOU are parks and recreation!
Meet Our Park and Recreation Month Heroes
The immense impact that park and recreation professionals are making in their communities is worth celebrating, and these stories are all testaments to the true value of these heroes. Be sure to follow along on NRPA's social media pages throughout the month to learn about these professionals we will be highlighting:
Aaron Watson — Mercer County Park Commission
Alicia Eckhart — City of Fairborn Parks and Recreation Division
Angela Summers — City of Henderson
Anthony Calabrese — Fairfield Parks and Recreation
Bill Tinsley — Bonnet Springs Park
Bonnie Gray — Prince William County Parks, Recreation & Tourism
Brad Wilson — Naperville Park District
Caren Lewis — Jaffrey Parks & Recreation
Carlos Garcia — City of Bakersfield Recreation and Parks
Cathy Hankins — City of Mobile Parks & Recreation
Christie Bruner — City of St. Petersburg Parks & Recreation, Healthy St. Pete
Charles (Chuck) Butterfield — Sarasota County Government, Parks, Recreation and Natural Resources
Darrell Hawks — Friends of Mill Ridge Park
David Ekness — El Dorado Hills CSD
David Mohr — Lindenhurst Park District
Doug Kane — Whitefish Bay Recreation
Edric Diaz — City of Sanford Parks and Recreation Department
Elaine Fox and Robin Pfenning — Gurnee Park District
Emerald P. Bowman — City of Winston-Salem Recreation and Parks
Eric Muecke — Pasadena Texas Parks and Recreation
Erica Perez — Town of Queen Creek Recreation
Jason Lang — East Goshen Township Parks and Recreation
Jerome Leland — City of Mobile Parks & Recreation
Jody Becker — Town of Gilbert
Joe Pruitt —Gwinnett County Parks and Recreation
John DeKemper — Cornelius Parks, Arts, Recreation and Culture
John R. Sefton, Jr. — City of Peoria
Kathy Kline — West Allis-West Milwaukee Recreation and Community Services
Kelley Morgan — IDNR-Mounds State Park
Kim McCormack — Gurnee Park District
Kurt Wolf — City of McCall
Lauren Wood — Chesterfield County Parks & Recreation
Leon Younger — PROS Consulting
Leonard Hawkins — Mobile Tennis Center
Lynanne Dellerman-Silverthorn — Town of Oro Valley
Mariana Espinoza — Kyle Parks and Recreation Department
Michael Marshall — Camp Verde Parks and Recreation
Paul Blake — Garden City Recreation
Paulette Murphy — City of Miami Gardens Parks and Recreation
Rachel Waldron — City of Dunwoody
Randi Wyatt and Celeste Rogers — City of Pearland Parks and Recreation
Rebecca Moore — Northern Illinois Special Recreation Association (NISRA)
Richard Zavala — City of Fort Worth Park & Recreation Department
Robert Jennings — Durham Parks and Recreation
Sabrina Hinkens — Gurnee Park District
Sharon Hunter-Payne — Columbus, Georgia, Consolidated Government
Shaun Beasley — Clearwater Parks & Recreation
Skot Latona — South Suburban Parks & Recreation
Stuart Brown — Town of Mammoth Lakes
Ta'Shelya Bynum — Albany Recreation & Parks
Tricia Schwall — City of Lake Forest
Wally Majors — Boynton Beach Recreation and Parks Department
For detailed photo information, see the photo gallery.
To learn more about how we're celebrating YOU this Park and Recreation month, tune in to the July Bonus Episode of Open Space Radio.
Cort Jones is NRPA's Communications Manager.
Our Park and Recreation Month Heroes