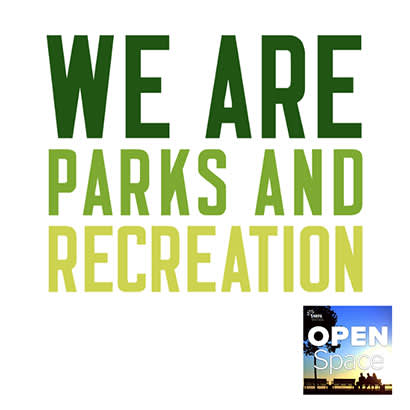 The July issue of Parks & Recreation magazine is out now, and on today's bonus episode of Open Space Radio we're diving deeper into the cover story, "Celebrating YOU This July." As you know, we usually interview the author or the subjects of the magazine article for our bonus episode each month, but in today's case, the author is already with us! Cort Jones, NRPA Communications Manager and fellow cohost of this podcast, is our guest today as he is the author of the July cover story and project manager for NRPA's Park and Recreation Month.
Park and Recreation Month is a favorite for both of us, as Cort and I have both had the pleasure of managing the campaign in previous years. While a lot of our work at NRPA consists of finding stories from the park and recreation field, the month of July is when we get to celebrate all the good work that park and recreation professionals are doing in their communities.
This year for Park and Recreation Month, we are shifting the narrative of parks and recreation and redefining the field as an essential, vital necessity by sharing how park and recreation professionals — full of passion for their communities — represent a diverse group of professionals who are confronting our most pressing health, environmental and social challenges. Recently we have seen park and recreation professionals step into various essential roles to provide services for their communities, and throughout July, we're going to be telling the stories of those selfless, passionate and dedicated professionals who are the heroes the world needs now more than ever.
Tune in to the full episode below to learn:
How we came up with this year's theme, "We Are Parks and Recreation"
How we are celebrating park and recreation professionals this July
Ways you can get involved in the celebration at your own agency (hint: download the outreach toolkit)
Learn more about Park and Recreation Month and make sure you're following NRPA on Facebook, Twitter and Instagram throughout the month of July to celebrate with us — and share your own park and recreation story using #WeAreParksAndRec.
Listen to the episode for the full story.