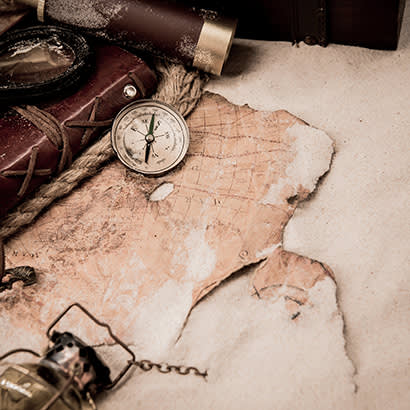 How a social media post sparked a larger conversation about P&R's role in social equity
For many U.S. residents, the second Monday in October has traditionally been a celebration of Christopher Columbus and his voyage to the Americas in 1492. In recent years, states, cities and universities across the country have begun officially replacing Columbus Day with Indigenous Peoples' Day. These changes come as a result of communities acknowledging the unjust treatment of Native Americans by the government. Indigenous Peoples' Day provides an opportunity to celebrate the people who first called the land this nation was built on home and to remember the struggles and tragedies they endured. It's an opportunity to honor their place in and contributions to the shared story of America.
While Connecticut has not yet adopted the official holiday change, several cities/towns within the state have made the switch. Currently, the city of Bristol, Connecticut, home of ESPN, is not one of those locations, but that didn't stop our park and recreation department from stirring up a reaction with a controversial October 2019 Facebook post.
In my first year as superintendent for the City of Bristol Department of Parks, Recreation, Youth and Community Services, I took on many tasks, including engaging in a strategic planning process. Like many strategic planning exercises, the process resulted in an updated vision statement and bolstered our organization's core values with more inclusive language surrounding social equity and diversity.
In October, these changes were put to the test. This was an experiment to determine if the new core values were simply "words on a page" or a living, breathing representation of our department. Aligned with the newly focused efforts surrounding social equity, our community outreach coordinator, Sarah Larson, drafted a Facebook post announcing the upcoming office closure for the holiday weekend. Sensing the post may be viewed as controversial, Larson brought the social media post to my attention and asked if she had approval to move forward. The post did not acknowledge the traditional Columbus Day holiday but rather, it read: "The Department of Parks, Recreation, Youth and Community Services will be closed today, Monday October 14th in observance of Indigenous Peoples' Day. As you enjoy the beauty of our parks this weekend, consider the Tunxis People, whose land we are on."
In a risk-adverse municipal climate, my gut reaction was to not approve the post — to play it safe. After some consideration, I decided "playing it safe" was not the right choice in this situation. Leadership is about pushing the envelope forward, making a stance for what we believe in and not being afraid to make tough choices. How could I truly say our department was moving in a more progressive and inclusive direction, if I myself was not willing to make a bold choice to advance that mission? I continued to weigh the pros and cons during the rest of the afternoon, wondering if I should log in to Facebook to modify the post. I even debated "passing the buck" and running the post through the mayor's office for final approval. After internal debate, I let the post stand and the office closed for the three-day holiday weekend with the post scheduled for release on Monday.
On the morning of October 14, the post was released. Immediately, the post gained traction as the "likes" and "loves" began to come in. Unfortunately, as the day progressed, some corners of the public began expressing negative comments. Comments included: "Happy Columbus Day," "Happy Martian Invasion Day. As long as we are making up holidays," "What a stupid holiday. Social justice warriors assemble," and "Political correctness strikes again." The post began to circulate the world of social media, with outraged individuals sharing the post in community forums to continue the heated debate. One outraged citizen called for an official apology from the city and to have the post taken down immediately. He stated, "Columbus Day is an official national holiday of the United States of America. Is this an official change by the City of Bristol as determined through City Council? Furthermore, posting 'happy indigenous people's day' is ignorant of the discrimination, prejudice, injustice and murder of Italian immigrants during the late 19th and early 20th century. As a full-blooded Italian American and citizen of the city, I am calling for the immediate removal of this status."
As difficult as it was not to react or remove these comments, we made the deliberate choice not to respond to or delete any comments. Our social media team stood back and let the post play out and continue to build reactions and comments throughout the day. Larson states, "We felt it was important to let the dialogue play out. As the comments continued to flood in, it became apparent to me that there were no people of color voicing objections, which makes you give pause to what the real issue is here. What are people really upset about?"
It wasn't long until some outraged individuals took to the city mayor's Facebook page to express their anger about the post. Mayor Ellen Zoppo-Sassu contacted me and asked for an explanation to help guide her responses to these constituents. I had expected this phone call and had given it consideration. I told the mayor that in no way had the park and recreation department denounced Columbus Day and the post had not been intended to be offensive or controversial. We wanted to take an alternate look at the holiday. As an agency that values land conversation and regularly celebrates the rich history of our park system founders, we wanted to use the day to reflect on the origins of the land itself and the people who came before us. Mayor Zoppo-Sassu was satisfied with the answer.
As the dialogue continued on social media, days after the holiday had come and gone, we began to notice our page followers had increased significantly with more than 50 new followers. Our team was in awe that while doing the right thing, we experienced this unexpected side effect and marketing benefit. We considered this a major win for bringing new, diverse people in our community under the umbrella of our organization, where we will connect them to our parks and services. Reflecting on the experience, Larson says, "Collectively, we knew that not only had we succeeded in sending a powerful message, but also we had succeeded in an unexpected marketing boost."
Throughout the "controversy," I had many moments of doubt, wondering if I had made the right call approving the post. Was the post political and outside the bounds of a government agency? In retrospect, my decision to approve the post is a testament to the leadership of the mayor, who was recently re-elected for her second term in November and has been a champion for progressive leadership. She has fostered an environment where department heads can feel empowered to make decisions and feel supported in moments of controversy. Understanding the political environment in which your organization is situated remains critical when taking educated risks.
Mayor Zoppo-Sassu states: "Diversifying our city hall leadership, boards and commissions has been a top priority of my administration. I feel it's important that we have representation for people in all pockets of the community. This Indigenous Peoples' Day post was symbolic of the forward progression we are making as a city, and I supported the department in their ability to make a statement surrounding an agenda of social equity and inclusion."
After some reflection, I felt the Indigenous Peoples' Day post was not only a statement to advance our mission, but also a significant lesson in my own personal leadership. It demonstrated to my staff that it's OK to be a risk-taker. I hope that modeling risk-taking behavior will encourage them to take reasonable risks in their daily work. I firmly believe this type of leadership is needed in our field for park and recreation agencies to enact meaningful change.
In the grand scheme of social equity issues that impact millions of people across the country every day, a simple post about Indigenous Peoples' Day is a single drop in a large ocean. However, it is symbolic of the type of leadership that park and recreation professionals need to engage in to move the needle forward. We need park and recreation agencies across the country to break free of the "risk-adverse municipal mindset" and start making moves to establish a new culture of social equity and inclusion. The City of Bristol Parks, Recreation, Youth and Community Services team is proud of the bold stance we took and our organization's ability to not only weather the storm, but also come out of it as a stronger agency.
Dr. Joshua T. Medeiros, Ed.D., CPRP, AFO, is Superintendent of City of Bristol (Connecticut) Parks, Recreation, Youth and Community Services, and an NRPA Board Member.