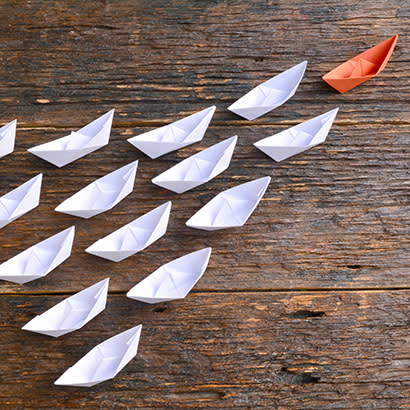 Standing the heat, saying what needs to be said and doing what needs to be done
Back in my heyday, I spent the majority of my waking hours on softball diamonds. I was a ballplayer, a coach, a competitor. While coaching in college, I found myself immersed in the study of Sun Tzu's "The Art of War" and other legendary books on the essence of leadership. In my role, I was determined to figure out how to be the best at what I did and believed that how I chose to lead (or not) would make or break our collective success as a team and speak to our character as human beings. What I did not know at the time, given my age and naiveté, was that the need to not only understand, but also exhibit real leadership would extend far beyond collegiate athletics and motivational quotes. During my 30-year career as a government employee and consultant, the critical need to challenge convention, ask tough questions, have difficult conversations and restrain from always telling people what they want to hear is what I have found to be the essence of leadership.
At the heart of leadership is the act of courage. Courage is the differentiator and the line in the sand between those who simply manage systems and those who lead. Leadership requires risk and going against the grain. Those who exhibit real leadership, act knowing that there is an opportunity for reformation and, ultimately, revolutionary change. And, these same people know that if they choose to sit on the sidelines, progress will not be made and conditions will not improve. When we think about those who challenged and demanded major societal change, the likes of Rosa Parks, Jackie Robinson and Cesar Chavez may come to mind. They reacted and responded in bold ways that inspired, energized and influenced people. And, they put everything on the line to make a difference for the greater good.
Courageous leaders honor their "true north" — a set of ethical values that guide them when the pressure is on. They don't avoid responsibility because they fear personal risk, failure or what people may think of them. They embrace knowing that they are taking a stand for something bigger than themselves. Their focus is not on being popular or criticized, but instead on an endgame and achieving a noble result. Essentially, they are driven by their "why" and are able to galvanize others around a common belief or purpose.
Leadership — What Is It Really?
From the philosopher and warrior Sun Tzu to today's leadership gurus, like Simon Sinek, we have seen an evolution of theory and research around the topic of leadership. We exist in a day and age when "leadership teams," "the leadership" and "leaders" are seemingly everywhere. These labels become a complete contradiction when we continue to conflate management with leadership.
According to leadership contemporaries Ronald A. Heifetz and Marty Linsky, who have spent more than 30 years examining and teaching the practice of leadership at Harvard University's John F. Kennedy School of Government, leadership today is:
the process of social influence that includes maximizing efforts for a common good
a choice, not a rank
something that requires courage and vulnerability
something that requires both inspiration and perspiration
the ability to disappoint people at a rate at which they can tolerate
Technical Issues vs. Adaptive Challenges
Like all problems, unexpected crisis frequently includes both technical and adaptive parts. In any state of intense difficulty, levels of disequilibrium are high, and for this reason pressure results. It then becomes easy to see crises as technical issues with straightforward solutions that will quickly restore stability. In the book, "Leadership on the Line," authors Linsky and Heifetz contend that many in positions of authority waste the opportunity that crisis presents because they respond to the expectation that order is swiftly restored — even when it means ignoring the adaptive challenge and cause of the crisis.
For example, when facing a budget reduction, many authority figures opt for the "salami cutter" way of cutting expenses (take an equal 10 percent from each division) or choose to "pluck low hanging fruit" rather than exhibiting true leadership and facing the more difficult strategic questions that should be addressed to limit future reductions and create a more self-sustaining system for the long haul. This could mean considering the alternatives and enhancing revenues, such as eliminating senior discounts if they no longer make sense. Exploring this adaptive challenge would require courageous conversations with conflicting values and strong emotions, and the appetite to do so.
The quick fix or standard operating procedure tends to be the default rather than strategic, mindful and thoughtful decision making — this would take time and leave people in a state of disequilibrium beyond what they might like.
It is suggested that the single most common source of organizational failure is treating adaptive challenges like technical issues.
Today's Realities Require Leadership
It's easy to focus energy on the fun stuff that people like to talk about. The latest program trends, ways to provide great customer service or steps to build a new facility are exciting topics of interest among staff, boards, councils and communities. These are among the things that generate enthusiasm around innovation and satisfy customer interests and demands. While all are important organizational considerations, none require leadership.
I often use the phrase, "the first through the wall is always the bloodiest," as a response when I hear someone ask the question: "Do you know any agencies that have done that before?" I find it unfortunate that there is a tendency to wait for others to lead the way before considering doing what may be necessary to move the needle toward an improved condition.
Public parks and recreation (and, governmental services in general) has found itself at a critical crossroads and is profoundly impacted by a number of adaptive challenges that have the propensity to negatively affect communities all across the country if silence or inaction continue. If we look at just one of these challenges through a "lens of sense," we begin to see not only the cause of the issue, but also the symptoms.
It is no secret that our country's infrastructure is in a state of chaos and crisis. Across the United States, our common physical resources (bridges, dams, roads, water systems) are, in some cases, beyond repair, requiring complete replacement. America has an exorbitant amount of deteriorating infrastructure. According to recent estimates from the American Society of Civil Engineers (ASCE), it would take a $3.6 trillion investment today to stop the continuation of the current backlog.
If we take a closer look at the state of public parks and recreation, maintenance backlogs and deteriorating infrastructure are of concern across the country. This results from significant building and development when times were good with less attention given to how to pay for the necessary, ongoing maintenance that would ultimately be required to care for the asset over its lifespan.
The accumulation of vast amounts of maintenance backlog in the billions of dollars is now the new normal in the public sector. In some organizations, these backlogs are far beyond what can be addressed. All too often when funding projections are tallied for both development and maintenance, the tendency is to invest in building and delay identifying maintenance dollars for another time and on someone else's watch.
Growth is exciting, but it breeds debt. Leadership is required to ensure that an organization can sustain and prosper far beyond the present.
Leading Change
Adaptation is difficult. When plants and animals adapt, they naturally lose a part of their DNA, leaving a part of themselves behind to create space for something new. All organizations include cultural DNA and they too may need to let go of some aspect of themselves to make room for something new. The questions we have to ask ourselves include: (1) what do we keep? (2) what do we get rid of? and (3) what do we need that we currently do not have or what's missing? What we don't do enough is ask the question: Where are we now and what is affecting us?
When an organization has to change, people are going to be asked to give up something that is important to them. People do not inherently resist change as the common assumption goes — they resist loss. People want to be protected and validated, and not asked to give up what is comforting or familiar. When leading change, it is important to understand that the resistance you receive is not a function of people not getting it. They likely get it. They just may not like it.
This resistance is inevitable when an organization goes through significant change. You have to choose between keeping people happy and meeting their expectations or pushing beyond comfort zones and creating an improved reality. Choosing to reform and improve conditions, even when difficult, affirms your commitment to the cause.
Many profess to be leaders. However, those who exhibit leadership do not call attention to themselves — they call attention to the cause. The collective cause of the park and recreation profession is a legacy of public lands and play for future generations. This cause must be supported by a commitment of the masses to exhibit leadership and do the tough stuff. To pick up the can rather than kicking it down the road. To focus on what is in the best interest of the common good.
When I reflect back to the days when I began reading "The Art of War" as a coach, I was not prepared to see that it was an ageless teaching of leadership. It embodied the fundamental message that it is always best to avoid creating a state of chaos and crisis in the first place. Being courageous enough to say what needs to be said and do what needs to be done is where we must begin.

To hear Sabbach talk more about leading with courage, tune in to the February bonus episode of Open Space Radio on your favorite podcast app.
Jamie Sabbach is President and CEO of 110% Inc. and Amilia Consulting USA.