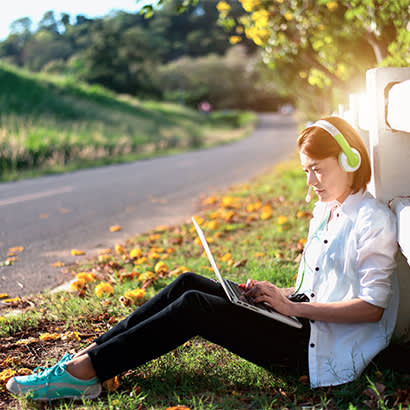 For an enhanced digital experience, read this story in the ezine.
Whether you're sharing your favorite festive sweater on a video call or ringing in 2021 at a venue, the season of holiday parties and end-of-year celebrations is upon us. As you organize engaging events for others this month, consider planning a little "me time" to support your own mental and physical health — which can be easily overlooked when managing details, logistics and new public health guidelines.
To support yourself as you support others, below are a few self-reflection questions and conversation starters for you and your team to explore:
Give yourself some space.
What is one place you can make your own (tinyurl.com/yxpp5ll7), even for a small amount of time?
If you share a workspace, what cues can you use to indicate you are in need of quiet time?
What is a short walking route you can use when you need to unplug for a few minutes?
Block time on your calendar for lunch; consider prepping a few meals on the weekend to have healthy meals (tinyurl.com/y6nfyo9q) ready to go.
Focus on what you can control.
Brainstorm one thing you can add to your morning routine to promote a sense of calmness. Write this down and share it with a friend who can support you.
Congratulate yourself on a job well done; write down two things that make you proud. Use this as an icebreaker at the start of team calls leading up to your event, especially during conversations you expect to be stressful.
Before bed, write down a list of worries or any unresolved tasks to avoid dwelling on them. Bonus points if you follow up your "worry window" time with light-hearted reading (tinyurl.com/yxncn329) and a soothing cup of tea.
Challenge yourself to a healthy habit each day, like taking a 15-minute walk, drinking eight glasses of water or swapping social media scrolling for a hands-on DIY project (tinyurl.com/y2ym8k7c).
Add play to your day.
What activities can you turn to quickly when you feel frustrated and need to calm down?
Pick a playful item you enjoy, like art supplies or a musical instrument, to display in your workspace. How could sharing your creative talents as a team strengthen your bonds and encourage collaboration?
Start your own book club with friends committed to self-care. Four of my favorites right now include:
Free to Learn (tinyurl.com/y3wgdxmz) by Peter Gray —explores how play can improve problem-solving skills.
Teacher's Guide to Resiliency through the Arts (tinyurl.com/yxt2ab3h) by Cally Flox, Dr. Melissa Sadin and Nathan Levy — you don't have to be a famous artist to get the benefits of creativity.
Playful Intelligence (tinyurl.com/yytt569p) by Anthony DeBenedet — we all need moments of wonder and imagination.
Yoga Animals (tinyurl.com/y47ulxtd) by Paige Towler — stretch break!
Celebrate wellness during your event.
What event ideas can your team brainstorm that support the physical and mental health of your staff while also engaging the community?
How can you integrate playful characteristics, like humor, wonder and imagination, into your event?
Which wellness-focused companies in your community could donate prizes and incentives?
Now it's your turn! What would you add to this list?
For additional ideas to support you during the holiday event season, visit Healthier Generation's new Feeling Healthy at Home collection at healthiergeneration.org.
Daniel W. Hatcher, MPH, is the Director of Community Partnerships at the Alliance for a Healthier Generation
(daniel.hatcher@healthiergeneration.org).