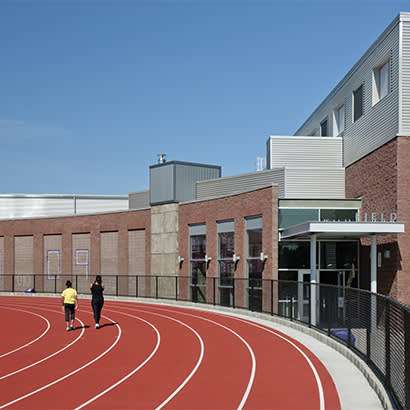 For an enhanced digital experience, read this story in the ezine.
In 1898, several schools in New York City were opened as evening recreation centers with leaders who were responsible for recreational programming. This was the beginning of a long tradition of recreation agencies negotiating cooperative arrangements with school systems, authorizing the use of school facilities during afterschool hours.
However, these joint-use arrangements are limiting. They invariably are negotiated after a school facility is built, so the space was not purposefully designed for both school and community use. Joint provision is a superior alternative. Unlike joint use, in the planning stages both agencies have input into its designs, negotiate details of their respective roles in its management and operation, and agree to their funding contributions to the project.
The Rationale for Joint Provision
The standard specifications for schools, especially junior high and high schools, incorporate multiple recreation elements that city governments want to offer their residents: sports fields, libraries, theaters, art facilities, gymnasiums, weight training areas, swimming pools, craft studios, music rooms and equipment, meeting rooms for evening classes, vocational training labs, etc.
In terms of capital costs, probably 80 percent of the investment in community recreation facilities already has been made. Adapting these to facilitate community access would require relatively modest injections of capital and would be much more cost-effective than building facilities independent of schools.
In some communities, the real problem in meeting recreational needs could be resolved if future schools and school extensions were designed so their recreational components were purposefully designed to accommodate community use.
The rationale for school districts and cities to jointly provide these amenities is summarized in Figure 1 below, which shows use of the physical plant.
The section marked "School Priority" shows that recreational facilities used exclusively by a school represent a very small proportion of their potential overall use (i.e., 180 days a year for a limited number of hours each day).Community-built recreational facilities are likely to be used extensively on weekends, in the evenings and early mornings, and during school vacations. Community facilities typically have much less intensive use on weekdays during the hours when people are at work or school. Hence, the facility-use requirements of a school district and public recreation agency are reasonably complementary.
The cost of a new high school recently constructed in my community was $112 million. Figure 2 on page 19, shows that if school and extra-curricular activities use the plant from 8 a.m. to 5 p.m. for 180 school days, this represents 18 percent of the plant's potential use. Would any business make such a large capital investment in a physical plant that it used for only 18 percent of its capacity? If the plant is available for community use during evenings, weekends and school vacations, then usage of the recreational elements could increase to 61 percent.
Elected officials on both school boards and city councils are under pressure from taxpayers to do more with less. Providing one set of recreational facilities that both school and community constituencies can share is, in essence, using the same tax dollar twice. Joint provision is likely to result in savings to taxpayers from reduced land acquisition costs, capital development costs and operating expenses.
In addition to economic efficiencies, a school's recreation complex may better serve as a social focus for the surrounding community. Intensive programming outside school hours could help foster a sense of community in neighborhoods that have no such identity. In some neighborhoods, school facilities are the largest public space and they are grossly underused. Building public facilities into a school campus alleviates the need for working parents to arrange transportation for students to after-
school programs offered by the recreation department.
Why Isn't Joint Provision More Widely Used?
Joint provision inherently implies compromises. For example, inevitably there are occasions when both parties want to use a facility at the same time. This may cause resentment and adversely affect the morale of both teachers and recreation personnel. Similarly, school administrators do not want the community having access to the school plant beyond the recreation amenities. To alleviate these concerns, facilities designed for community recreational use could be grouped at one end of a school building in a special wing or separate building. Such a functional arrangement limits access to other parts of the building.
A primary challenge is aligning the availability of capital budgets of both entities at the time needed to construct facilities. This requires a planning horizon of perhaps five years in advance of construction, so bond referendums by both agencies can be organized.
Vision: The Key Ingredient
A recreation manager experienced in partnerships with school systems observed: "The difficult part of getting these partnerships going is there is a lot of hostility because everyone is looking out for their own interests. It is hard to step back and look at what is best for the community. And, what is best for the community, particularly in these times of very difficult funding, is to combine your efforts and work together."
In most communities, schools and recreation facilities belong to the same taxpayers. This suggests no construction of new recreation facilities by either the school board or the city should be considered in isolation. Administrators in both agencies would prefer to possess their own facilities, because it gives them greater flexibility and control. Sharing creates additional challenges they would rather not have to address. However, it's not their money — it is the taxpayers' money — and if administrators and elected officials genuinely subscribe to the view that they are "public servants," then the taxpayers' interests should prevail.
Joint provision requires leadership with a "can do" attitude, rather than leaders who use the control arguments to forestall such efforts. The logical case for joint provision is overwhelming, but it requires enlightened leadership.
John L. Crompton, Ph.D., is a University Distinguished Professor, Regents Professor and Presidential Professor for Teaching Excellence in the Department of Recreation, Park and Tourism Sciences at Texas A&M University and an elected Councilmember for the City of College Station ((jcrompton@tamu.edu).