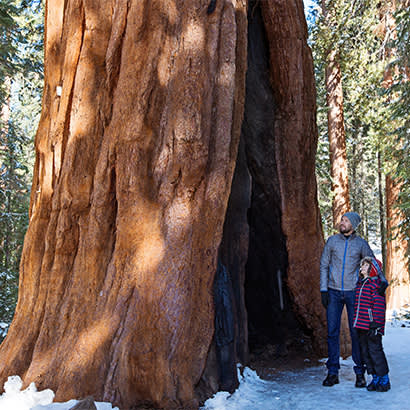 For an enhanced digital experience, read this story in the ezine.
Editor's Note: On October 29, the U.S. Department of the Interior temporarily extended the 2019–2020 Every Kid Outdoors pass for one year. The following column reflects this update and additional edits.
Since the novel coronavirus (COVID-19) spread throughout the United States in March, much of the country has spent the past several months in various states of lockdown. The pandemic closed schools, sending children home and preventing them from seeing friends and family or experiencing the play we previously took for granted. Children are largely spared from the debilitating — and potentially fatal — effects of COVID-19, but the harm to their mental health from so much time spent indoors and in isolation will take its toll.
The Centers for Disease Control and Prevention (CDC) recommends spending time outside because it is harder for the virus to spread outdoors and because nature provides physical and mental benefits. Many have turned to national parks for reflection and restoration. Many fourth graders nearly missed that opportunity this year, and could in the future.
Every Kid Outdoors Program
The Every Kid Outdoors (EKO) program has a simple goal: Help children get outdoors and explore our public lands. In 2015, the Obama administration launched the EKO program, with early support from the Outdoors Alliance for Kids (OAK), of which NRPA is a founding steering committee member. Under the EKO program, all fourth graders and their families are eligible for a pass that offers one year of free admission to national parks, waters, forests, monuments and wildlife refuges. In the program's first two years, more than 2 million fourth graders signed up for the pass. The Trump administration attempted to shutter the program, but OAK rallied against the proposed cut and managed to not only save the program, but also win its authorization for seven years through passage of the Every Kid Outdoors Act of 2019.
Studies have shown that spending at least 120 minutes in the outdoors every week is connected to improved overall health and well-being. One recent study found that spending as little as 10 minutes in nature can make students feel happier and lessen the effects of physical and mental stress.
In response to the pandemic, many state and local governments issued stay-at-home orders, and the CDC issued guidance urging people to stay physically distanced, limit travel and restrict outdoor physical activity to parks and open spaces close to home. Due to systemic racism and historic redlining, however, close-to-home parks are few and far between for many children, especially in Black, Indigenous and people-of-color communities. People of color are three times more likely than white people to live in communities with limited nature access, and 100 million people in the United States, including 28 million children, do not have a park within a 10-minute walk of their home. And, national parks and waters have been consistently overcrowded throughout the pandemic, with many viewpoints, facilities and trails packed with people.
Families that followed public health officials' guidance and stayed close to home were not able to use the EKO pass. On August 31, the 2019–2020 EKO pass expired, and the Trump administration refused to extend the pass for nearly two months before relenting. COVID-19 has shown no signs of abating, and the extension only covers kids who are now in fifth grade. Unless something changes, come next summer, another cohort of fourth graders will miss out on their chance to visit a national park.
Advocating for Children
OAK actively worked to convince the Department of the Interior and Secretary David Bernhardt to extend the EKO pass. In August, more than 30 organizations, including Sierra Club and NRPA, signed onto a letter asking Secretary Bernhardt to extend the pass. Letters from bipartisan members of Congress followed, along with negative media attention, and after two months of delays, the Department extended the pass to fifth graders for one year. However, this is a temporary fix.
The outdoors can be a place of respite and healing. We all, especially our children, will need nature to recover from the physical and mental health effects of COVID-19. Extending the EKO pass into next year was a no brainer. The real work lies ahead to ensure that all children have expanded opportunities to enjoy the benefits of the outdoors they desperately need.
Jackie Ostfeld is Founder and Chair of Outdoors Alliance for Kids and Campaign Director for Sierra Club Outdoors for All (jackie.ostfeld@sierraclub.org).