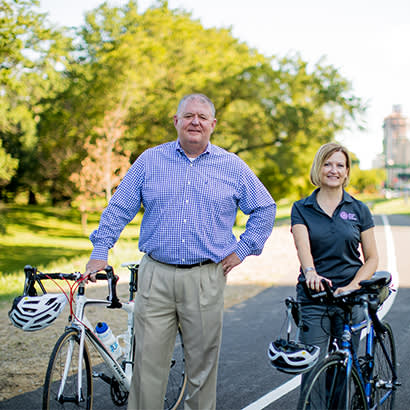 For an enhanced digital experience, read this story in the ezine.
In the decade since I began serving as president and executive director of the nonprofit park conservancy Forest Park Forever in St. Louis, Missouri, I've had many conversations with peers in the parks space. They've seen how organizations, like Forest Park Forever, Central Park Conservancy and others, have had successful partnerships with their respective city governments; in many cases, those I speak with are interested in adapting what's worked for longer-running conservancies like ours. What follows is my effort to boil down the key learnings I've been sharing, in the hope that I can contribute something to the continued advancement of our important roles.
With different groups around the table, you need a shared plan at the center. The more than 1,000 individuals, groups and institutions that steered the 1993–1995 Forest Park Master Plan process did three especially smart things: they brought the community into the process at the start for engagement en route to solutions; those solutions weren't overly prescriptive, ensuring the plan can stay relevant and usable a quarter century in; and the plan strove to balance the needs of a diverse public seeking diverse activities. By having a core document like this, your park can continue developing in a strategic way even as the decades, administrations and conservancy teams change.
Public-private partnerships don't start perfectly — and they need constant attention. Leaders who preceded me share that our own Forest Park Forever/city of St. Louis relationship took some time before early skepticism could be replaced by shared understanding and open cooperation. Even decades in, we continue working on having a healthy partnership. For those in partnerships like these, there will be rocky times — and your relationships will go through stages. But the simple fact is that the better the two groups can work together, the better for the park and the better for the region.
Agree to responsibilities in writing. My first task as president and executive director was to shape and put into place a formal new agreement between Forest Park Forever and the city of St. Louis that would transcend administrations and institutionalize practices that serve Forest Park well. Among the key deliverables: establishing Forest Park Forever's role as a true partner with the city; creating a bond deal to build the next phase of capital projects in the park; and establishing a cooperative maintenance agreement that articulated how the city and Forest Park Forever would operate and maintain the park together.
A community board plays a vital role. For every new capital restoration project in Forest Park, there is a formal nine-step process in front of the 25-person Forest Park Advisory Board. Projects benefit from having a variety of perspectives around the table. And from year to year, the park has a built-in and diverse advocacy group that is well-versed in the spirit and intent of the master plan as new potential projects come into view.
Grow deliberately. Since 2010, the Forest Park Forever team has doubled. In order to manage this growth successfully, we found success by methodically building out a small senior leadership team, followed by a departmental leadership team that has been able to set its budgets and goals, which must click into place with the larger annual organizational goals we set as a team each fall. This sounds straightforward — but if it's done right, it can be foundational to steady and thoughtful growth.
Actively learn how to be a better fundraiser. Early in my conservancy role, it was key for me to hire a top fundraiser as a senior leader, then have him build out a fundraising team. Concurrently, with the support of select board and staff, I worked to continually hone my own skills in this area. I needed to learn all I could about presenting myself as a leader intertwined with the organization's successful future — which transformational gifts would make possible — and I needed to feel as comfortable as possible with the art and science of the ask.
Keep your word, tell your story. At least once a quarter, I remind my leadership team that if we can continue fulfilling two crucial tenants, we'll be successful: Deliver on what we promised during the planning or fundraising stage; and invest in telling the story of the success that came with their support. In doing so, we'll build trust and momentum.
Develop relationships with peers, and learn and share with them. I am part of a working peer group with my green-space colleagues in St. Louis. We talk shop across the board monthly — from upcoming projects and industry trends to how we're responding to COVID-19 and more. Park and conservancy leaders have much to gain by deepening their relationships with other nonprofits and civic agencies — understanding your own region's landscape, and knowing who the conversational leaders are and ultimately where your own park fits into the bigger picture.
Leverage volunteers strategically. Across a range of roles, volunteers are a remarkable force multiplier. We've benefited greatly from partnering with our local convention and visitors commission, Explore St. Louis, which provides well-trained front-line visitor representatives at the park's popular visitor center to supplement our own staff at no additional cost to us. While horticulturists occasionally can be proudly protective of the spaces they're paid to care for, I've been adamant about the larger benefits of matching them up with willing volunteers to help weed, mulch and more. And, we have a series of board committees whose members dig into key initiatives and advance our strategic plan in important ways.
Plans and studies help power the future. I've seen firsthand how investing in comprehensive plans or studies can yield significant gains. For example, in 2019, we worked with the city to complete a comprehensive Natural Resources Management Plan. This year, we secured a seven-figure gift to support the ongoing restoration of the forests in our park. The donor was aided by seeing us clearly demonstrate the need and our plans in our long-view study; and we benefited from being able to match up a prospective gift with exactly the right type of improvement Forest Park needs, rather than have a gift determine what work should be done.
While I have, of course, focused on the positive in this article, there are several areas where Forest Park Forever continues to learn, adapt and improve. Our work on diversity, equity and inclusion will be crucial and defining for us in the coming years. But with a strong partnership with the city of St. Louis and generous supporters making our work possible, we have built a solid foundation that delivers a great deal for St. Louis residents and visitors from 170 countries. If a burgeoning conservancy or a parks department is able to gain something from this look back at what I've learned in my first 10 years, I'll consider it a win for a field that is proving more vital than ever.
Lesley S. Hoffarth is President and Executive Director of Forest Park Forever (lhoffarth@forestparkforever.org).