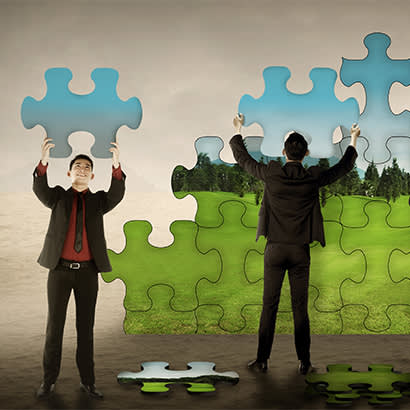 For an enhanced digital experience, read this story in the ezine.
Could P3s be the missing puzzle pieces for parks?
The Oracle of Omaha, Warren Buffett, said it best during the economic meltdown of 2008: "You only find out who is swimming naked when the tide goes out." However, when it comes to the recession of 2020, it may be the novel coronavirus (COVID-19) pandemic that ultimately reveals which cities were truly prepared to make changes by the way they sustained their parks and protected their park budgets. The massive economic downturn and lingering health crisis continue to show that people rely on parks for open-air respite. During the early days of the pandemic, cities witnessed a surge in public park usage while shelter-in-place orders were in effect.
COVID-19's "early stage" institutional impacts are already being felt — public-sector budgets have changed dramatically, and not for the better. The decline of city and county tax revenues will mean that now, more than ever, park budgets will depend upon partners from the private sector and from the philanthropic world. One uncertainty in this current economy is the effect on corporate willingness to engage with non-revenue generating initiatives, since park partnerships will almost always fit in that category.
This global health crisis will likely be defined by our response to it. Do we adapt, come together and innovate to create a new and brighter future? That's how the Great Depression and World War II led to the birth of one of the greatest middle classes in the history of the world.
To ensure that our parks truly succeed, how can public agencies and private companies collaborate with one another — and with the non-governmental organizations (NGOs) that stand ready to participate? What are the ingredients for success with such park partnerships?
These are the two questions at the heart of recent discussions among some leading personalities who have dedicated themselves to public-private partnerships (P3s).
Lessons from Georgia
In 1993, a handful of community leaders in Peachtree City, Georgia, chose to form the Southern Conservation Trust (SCT) as part of Peachtree City's development plan for the wetland mitigation of Flat Creek, a high-priority stream within the Flint River watershed. What's more, SCT is a nonprofit land trust and public recreation organization that serves the Southern Crescent of Metro Atlanta.
According to Katie Pace Quattlebaum, SCT's CEO and executive director, "Over the following years, SCT facilitated park management and development agreements with the city of Peachtree City, the Fayette County Board of Education, Fayetteville City and now private landowners in multiple counties in Georgia. We also own and operate three nature preserves in Fayette County. Giving landowners the option to donate the land to a nonprofit that will later develop the property into a park has been a huge incentive."
Quattlebaum believes that P3s for parks and public nature areas have created a unique and cost-effective way to provide public access to lands. SCT now provides access to more than 1,200 acres of public lands in Fayette County through eight public nature areas, "and we are currently working on the development of six new public areas that will be completed by late 2020," she says.
These partnerships allow SCT to tap into private funding and foundation resources to fund park development and implement them in creative ways outside the normal scope of a city park. Quattlebaum says that they "work hand-in-hand with scout groups that build benches, kiosks and footbridges, as well as conduct research at the parks."
Partnering with SCT allows cities to have a very low-cost agreement that develops and manages the parks with SCT resources instead of theirs. Quattlebaum adds that, as a nonprofit, if there's a need to complete a project on-site, "we don't have to go through the typical bureaucratic process to achieve it, we can just implement what needs to be done for the betterment of the park and our visitors."
Being a conservation-focused organization also gives SCT the ability to focus on water quality, wildlife habitats and other natural resources that most city parks don't take into consideration in their planning. Having skilled conservation and park staff also gives SCT the ability to lead dozens of environmental education opportunities at those parks each year, offering another free benefit to the cities and the general public.
Without P3s, Quattlebaum asserts that "a lot of smaller towns and cities wouldn't have the capacity to own these lands" — and wouldn't be able to make these lands available for the public to enjoy nature safely. The SCT manages everything from the initial development of the park to the day-to-day operations, including insuring the park, maintenance of the parking lot, the building of restrooms, all trail maintenance, marketing, education and so much more. "We host large events at the nature areas we manage," says Quattlebaum, whereby all the associated costs are covered by the nonprofit, including holiday events, festivals and guided hikes. These are "all things that smaller towns don't have a park and recreation department to accomplish," she points out.
Lessons from Oklahoma
One park partnership cited by enthusiasts is Gathering Place, a community park in Tulsa, Oklahoma. Tony Moore, executive park director of Gathering Place, likes to say that it was "designed by Tulsans for Tulsans." A local partnership linking the public sector with the private sector is "at the genesis of our DNA," he says. Gathering Place's commitment to partnership first started with the 90-plus donors, led by the George Kaiser Family Foundation, who together gave more than $400 million to make it a reality. In that partnership, the city of Tulsa provided a $65 million infrastructure donation in the form of roads, stormwater drainage and bridges.
In order for a park like Gathering Place to live up to its mission to be an inclusive "park for all," Moore believes that the focus had to be on "establishing trustworthy relationships with our cultural communities. Outside of the institutional donor partnerships, Gathering Place was intentional in building civic relationships with community stakeholders. We certainly realized that these relationships will take effort and will be authentically validated over time. But we are committed to the longevity of the task." Their first two years of offerings — programming and signature events — also reflected the intent "to appropriately connect with our city's diverse demographics by providing events that were culturally relevant and genuinely resonated with our audiences," Moore notes.
Gathering Place has been busy forging business partnerships. Moore says that he's heard from a wide range of organizations seeking partnership opportunities. "We knew that it would be important for us to be very strategic in our selection process in choosing the right partners that properly aligned with our mission and brand," he says. "We also knew that we had to personally manage our new brand in a way that would make our park attractive and sustainable to potential partners for years to come. We creatively sought partners with a variety of non-competing products and services." There's a wide range of organizations that Moore cites, including "exclusive beverage partners, transportation partners, cellphone partners, airline partners, mobile app partners, preferred hotel partners, not to mention our vitally important special event title sponsors." He adds that he "sought organizations that we thought had a reciprocal relationship of value with the park and who also shared and embraced our mission."
Reflecting on their experience with a P3, Moore says that "initially, there were some economic motivations, as corporations were leaving Tulsa and geographically migrating to larger markets in nearby cities. We needed a park with a halo effect that could help make Tulsa a more vibrant place to live, work and play."
Moore and his team contend that community-based parks have lots of capacity for revenue generation and relationship building. "My advice to peers in other cities would be to first take a deep look at your park and attractions, identify all the external-facing attributes and the value that your park has to offer….Don't sell yourself short," he says. "There are more propositions of value than you might think. Challenge yourself to look at things via a non-traditional lens. Take a look at your community and identify those high-probability businesses and organizations with a need and desire to have [a] strong community presence. Identify those organizations [that] are already spending on community and civic initiatives."
To understand their civic missions, Moore encourages others to find out what's important to those businesses. "Be aware that it's not always the very important but more predictable needs, such as corporate citizenships, employees' community involvement or sustainability positioning," Moore says. "[It's] sometimes simple needs associated with health and wellness, hunger or homelessness. Read their corporate reports and seek to understand where they are socially as an organization. You may be surprised to find that there are many low-hanging civic opportunities that your park can help in curating by providing a public platform for community outreach."
Peeking around the corner during a time of uncertainty, Moore sees "a resilient and stubborn movement where community parks will continue to flourish." Any such successes, he says, "will only happen through joint synergies and philanthropic inspiration, but this has to be the commitment to the future. Our parks cannot die from the reallocation or starvation of public funding nor from the tightening or spend-down of private philanthropy. It will require both the public and private sectors."
Lessons from Oregon
Eugene, Oregon, with its 168,000 residents, is known as "TrackTown USA." Eugene's official slogan is "A Great City for the Arts and Outdoors." It's also referred to as the "Emerald City." Runners from all around the world come to Eugene; many go running in Alton Baker park on Pre's Trail. The trail is named after Steve Prefontaine, an iconic University of Oregon runner.
The University of Oregon also has longtime links to Nike, as the company's cofounder, Phil Knight, is a graduate and major benefactor. The Oregon-based multinational sporting goods and apparel corporation actually began in Eugene.
Matt Sayre, managing director of Onward Eugene, an economic development organization that recruits new tech and life science companies to the region, offers some guidance. "Livability and outdoor amenities are some of the key draws to Eugene," he states. "Right now, one of the unexpected benefits of our abundance of open spaces that have complemented social distancing measures appears to be fewer cases of COVID-19 relative to more compact urban metros like Seattle and San Francisco." Sayre himself is an avid runner and uses Pre's Trail at least twice a week.
The origin of Pre's Trail can be traced back to several P3s. Community organizations, including the Oregon Track Club, the Steve Prefontaine Foundation and private donations from Bill Bowerman, cofounder of Nike, all played a role. In more recent years, financial support has come from Jim Jaqua, who also has ties to Nike's origin.
Lessons from Stormwater Partnerships
Craig Holland, senior director of urban water for the Global Cities program of The Nature Conservancy (TNC), contends there are some lessons that can be transferred from other domains into the world of parks-focused P3s. The P3 projects he has worked on have not been aimed at public parks. Rather, they've been focused on creating natural stormwater management practices on private property that yield a public benefit. Sometimes, those projects have public accessibility or visibility where they create an aesthetic benefit for a community. These are not parks, per se — at least not in the traditional sense.
Holland offers some advice to peers looking for specific ways they can overcome the main impediments preventing successful park partnerships of this kind. The first is to "engage early and often with your public-sector partners. Bring them into your process for structuring deals, managing risk, hiring qualified contractors, and highlight both the successes and failures. It's important when creating a new partnership or market that is managed by government to help them understand the business model of the market participants. This will make policy and programmatic changes more responsive to the needs of the market participants."
Ensuring the success of a partnership depends on a few key elements, according to Holland. His TNC team does an after-action debrief for all projects that they undertake to document what did and did not go well. "Based on that analysis, we try to expand relationships with contractors that we work well with and provide feedback to those that didn't work out," he explains. Since Holland and his colleagues are acting as project developers, not engineers or general contractors, one of his primary goals for market participation "is to build up the local expertise for successful project analysis and delivery," he says. "To the degree we can, we try to create long-standing partnerships with firms that share our values and desire to expand market uptake. This ensures those firms will continue to invest in the human and project resources necessary to scale up their businesses to match the city and our ambition, which are aligned."
Looking down the road, Holland is mindful of one key fact: during the more than 10 years he's been doing this work, he has "seen cities become increasingly more sophisticated in how they engage the private and NGO sectors, structure and manage their programs, and create incentives that drive market activity." The cities are getting better at "marrying the myriad benefits of building more natural stormwater infrastructure across city agencies and priorities," including water quality, urban heat island mitigation, flood mitigation, increased green space and workforce development. Perhaps that is the silver lining for parks and recreation, especially during these uncertain and challenging times.
Gordon Feller is Founder of Meeting of the Minds and serves on the Boards of multiple nonprofits and for-profits, advocating for partnerships as an executive advisor to both corporations and governments. See Feller's Twitter.