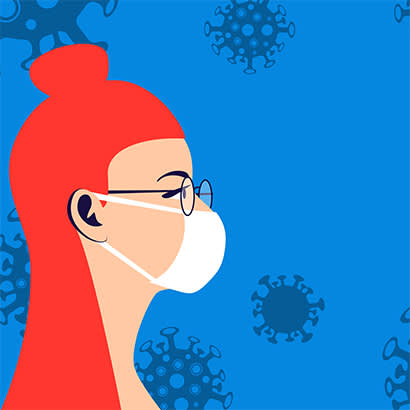 For an enhanced digital experience, read this story in the ezine.
Editor's note: The following article includes recent corrections and updates.
A closer look at the new normal that looms ahead
Just six months ago, our entire world was turned upside down by the coronavirus (COVID-19) pandemic. Nationwide, most businesses, schools, churches, parks and recreation facilities shut down. Many believed it would just be a short time to "flatten the curve" of the rate of infections and get back to normal. Yet, now in the heat of summer, we find that coronavirus infection positivity rates have surged, and more than half of U.S. states are facing increasing rates of infections. And, this is all before a second wave of infections that epidemiologists predict is virtually certain to strike America this fall.
In addition to the pandemic and the resulting economic recession that has profoundly affected hundreds of millions of people, there are also momentous changes taking place across the country in support of racial equality and social justice that are embodied in the Black Lives Matter movement. As change piles upon change, there is one outcome that is increasingly apparent: parks and recreation will change forever.
Because of the pandemic, public parks have become more important to people and more essential to our health and well-being than perhaps at any time before this pernicious disease threatened our health and freedoms. Mike Kelly, general superintendent of the Chicago Park District and NRPA board member, says, "This pandemic hits us at every level — financial, health, economic, even emotional. One thing it has shown us is how important parks are to every walk of life." Phil Ginsburg, director of San Francisco Parks and Recreation, agrees: "Parks are not just 'nice to have,' they are 'must have.' They are critical infrastructure and vital to the public."
Despite widespread disruptions to our society, the pandemic is demonstrating that community-oriented public systems that are grounded in the needs of local communities and neighborhoods, such as public parks and recreation, will be strengthened rather than fractured by the pandemic. Parks and recreation has already proven to be highly resilient and attuned to serving public needs. Responding to the pandemic, park and recreation systems have ramped up daycare for the children of first responders, provided shelter for people experiencing homelessness, continued meal programs for children and offered health services at community centers. The pandemic is showing how the mission of parks and recreation is evolving to include serving as a provider of social and health services in the effort to rebuild and reconnect communities.
So, what has changed and why, and what will inevitably change in the future?
The Shape of Parks
Parks and recreation facilities will look different than they do today. Already, park planners are looking at the redesign of common areas and public gathering spots with an eye to improving the flow of pedestrian traffic and maintaining physical distancing. For indoor facilities, the reconfiguration of existing spaces may not be all that expensive, but the retrofits of HVAC and air handling systems to reduce coronavirus loads will be expensive and complicated.
Interestingly, COVID-19 is causing expansions of the public realm in ways that few would have predicted. Urban public space that was once heavily tilted toward providing vehicular access is rapidly transitioning to accommodate human powered travel, outdoor dining and public recreation space, boldly claiming territory for outdoor activities and new kinds of urban parks.
In the future, the public will be giving up a lot of privacy to use indoor recreation facilities and participate in programs. There will likely be temperature testing at entrances, greater visual surveillance and possibly even facial recognition scans. At a minimum, the public will need to provide personal information to participate and many may opt in to using phone apps to give personal location data to inform health departments for potential contact tracing. Certainly, there will be less human touch, figuratively and literally with contactless payments and no-touch transactions.
The Shape of Recreation
During and after the shelter-in-place orders due to COVID-19, visitation at state and local parks exploded. The crush of public use has required agencies to be as flexible and adaptable as possible. Early in the pandemic, local parks and trails were inundated with visitors who just wanted to get out daily for physical activity. Now that some jurisdictions are well into phased reopening plans, visitation has been greatest at recreational hotspots, such as beaches and waterfronts, which have been overwhelmed with visitors. As a new round of infections spiked in states such as Florida, Texas and California, some jurisdictions opened and then completely closed their beaches, whipsawing the public's expectations of how they could use their parks, and what was expected of them when they did.
In Florida, Miami-Dade County's reopening experience with overcrowded beaches and parks exemplifies how park and recreation agencies have demonstrated incredible adaptability and resilience in meeting the challenge of keeping people safe. "We realized that we needed to deploy a whole higher level of awareness and education to keep the public safe," says Maria Nardi, director of Miami-Dade Parks, Recreation and Open Spaces. "The mayor decided that the first thing to reopen was parks. These would be the test sites to ensure that things would work smoothly."
The department had to mobilize in a matter of weeks. It hired more than 600 park and beach ambassadors to patrol the beaches, waterfronts and marinas to encourage people to wear masks and respect physical distancing. Since there were no concerts or sports events, the department contracted with an event management company to employ those who were temporarily unemployed. School crossing guards who had been out of work were also recruited. In all, Miami-Dade has hired 800 people to serve as information providers and goodwill ambassadors. "People realize they have to watch out for themselves and others," Nardi says. "We have had challenges, it is true, but recently, I really saw the value of our approach. One of our ambassadors asked a young man playing basketball on an outdoor court to put on his mask. A friend who was playing with him said, 'Hey man, I want to play basketball, put on your mask.' He did, and he came back the next day and the day after, wearing his mask every day."
Programs and activities for older adults, beyond virtual or highly physically distanced activities, are likely to be seriously impacted for a long time — perhaps up to two years or longer. Recreational activities for the most vulnerable populations will remain limited until there is widespread community testing and development of an effective vaccine. P&R staff may employ creative ways to increase virtual programming and offer telehealth and chronic disease prevention services for older adults, but they are not likely to return to in-person activities for a long time.
The impacts of the pandemic on youth activities, especially sports, have been abrupt and will likely be long-lasting. While youth who are participating at the elite level on travel teams or school teams will be most likely to return fairly quickly to skills development and competition, youth who are at the margins, especially those in underserved communities without access to team sports or without the ability to 'pay-to-play,' will be the most negatively affected. The longer the disconnection from sports lasts, the less attraction youth may have to returning to or even trying organized or team sports.
The Business of P&R
Budget reductions spawned by the COVID-19 recession are likely to last for years and, in turn, will result in significant reductions in staff, operating budgets and capital construction. Budget challenges will be aggravated by the likely long-term loss of fees and charges from reduced operations.
Even when the economy begins to recover, park agencies are likely to be among the last public sectors to rebound. Analysis of the recessions of 1980 and 1991 by Dr. John L. Crompton of Texas A&M University showed that there was a one- to two-year period of recovery in terms of expenditure levels, but parks and recreation took almost a decade to recover as a proportion of government spending. More recent analysis of data from the Great Recession of 2008 to 2009, by Drs. Andrew Mowen, Nick Pitas and Austin Barrett of Penn State University, showed that as of 2016, park agencies have still not recovered to prior spending levels nor to prior proportion of government spending. Dr. Mowen says, "It took about a decade to recover from past recessions, but this one may take even longer."
Ginsburg of San Francisco says that revenue recovery plans are critically important. "City budgets are being decimated. Some of our critical sources of revenue from music festivals and other large group events will not come back for a long time. We must develop sustainable sources of revenue because we are headed for a couple of years of really hard times."
"Parks are no more immune than any other public-sector agency or corporation," says Kelly of Chicago Park District. Many agency directors agree that workforce planning is critical but exceedingly difficult right now. "Retaining benefits will be part of the great debate," he says. "If you want to attract good workers and talent, you have to look at what you are offering employees."
The uncertainties of future funding could lead to the greater employment of "disposable workers," a term that has gained prominence in the gig economy. Even before the pandemic, many agencies turned to hiring part-time and contractual staff to perform what are effectively the functions of full-time employees. Such workers supplement the workforce, but are often prevented from gaining critical benefits because they work less than the number of hours that would qualify them for benefits. When annual budgets must be cut, these workers and other part-time workers are the first to go. Will this be the future workforce of parks and recreation — a contracted out workforce or an employed class of "disposable" workers who have little or no benefits and even less job security?
Post COVID-19 workforce planning can no longer depend on attracting top-quality workers without offering certain benefits, and health insurance will be critical from now on.
A Greater Orientation Toward Health and Equity
Institutionally, because of the COVID-19 pandemic, parks and recreation will become integrally linked to health equity, food security and hunger prevention. This will be especially true in low-income and communities of color. Park agencies have become essential meal providers to children and youth, where meals are provided in before-school, after-school and summer meal programs. The pandemic exposed deep-seated disparities when meal distribution networks, primarily through schools, were disrupted. Basic nutritional needs that were augmented by schools ceased to operate or had to shift gears and rely on community partners for distribution, including parks and recreation. These conditions are likely to persist when schools reopen with different operational structures this fall. Out-of-school time programs will be relied on to provide safe childcare and expanded food access services; however, racial and equity disparities exacerbated by COVID-19, including access to healthy foods, will continue to widen unless there are interventions directly addressing the inequities.
Regarding the disparities in nutrition and food security, parks and recreation can make a real difference for vulnerable children. The existing crisis can be reversed if federal, state and local governing bodies act to repair the damage to deprived children who can no longer participate in quality meal programs. Funding must be purposefully redirected to nutrition and meal programs where they are needed most. Restoring these programs, however, may come at the exclusion of funding other priorities, particularly for those communities that have adequate park and recreation services and facilities. NRPA, through its Walmart Foundation grant program, will be piloting interventions linking people of color and under-resourced communities to needed social services and healthcare through a nutrition lens, with the intent to contribute to building more effective food security systems in communities.
Many park agencies have already embraced their role in helping to provide greater food security for poor and under-resourced communities by facilitating community gardens, farmers markets, and farm-to-table or community supported agriculture (CSA) cooperatives. Greater opportunities exist to convert parkland to urban farms, community orchards, and sites for training programs for sustainable food supply and green infrastructure management.
Social Justice and Racial Equality
The COVID-19 pandemic has exposed fault lines of inequality in our society. Disparities in healthcare, social services, public safety, and yes, even in parks and recreation, that were largely under the radar have been laid bare and are all the more painful for their sudden prominence.
"Low-income families have been hit the hardest," says Kelly about the impacts of the pandemic. "It has been very clear that minorities have been disproportionately affected. We see greater rates of infection, more hospitalizations and more deaths in African American communities. This is why we as a city have to invest greater amounts in those communities that have been most affected. We must make the kinds of investments in parks and recreation facilities that will help the families of these communities in our city. If this isn't a wake-up call, I don't know what is."
As reported by the PEW Charitable Trust citing multiple public health studies, there is growing proof that racism is a public health emergency, and more than 20 cities and four states have now passed resolutions declaring racism a public health emergency. The disproportionate impacts of COVID-19 on Black, Latino and Indigenous U.S. residents with up to four times the number of infections than non-Hispanic white persons, have been shocking.
Detrick Stanford, former park and recreation director and now chief operating officer of Clayton County, Georgia, says that the Black Lives Matter movement and the growing awareness of racial injustice will have a profound effect on parks and recreation. "How parks and recreation delivers services to the community will forever change." The overriding message of the Black Lives Matter movement is inequality, he says. And because parks and recreation is on the front lines of societal change, we must also be at the forefront of addressing social and racial inequalities. "If we are fighting health inequalities, we are fighting racism," he says about the grave inequities in healthcare, access to good nutrition and environmental pollution that black communities encounter.
"Addressing health disparities involves a range of social, economic and health factors," Stanford says. "Parks and recreation [has] real solutions for addressing public health outcomes. We have great resilience in our country, but we must provide the context to why things must change and then be courageous enough to make the changes we need to make. We can do this."
Will parks and recreation change forever? As far as a return to normal, Kelly says, "I think Americans are incredibly resilient. There will be a return to normal someday." But the next normal may be so far down the road that it will not ever feel like the old normal again.
Thanks to Allison Colman, director of health at NRPA, for contributing to this article.
Richard J. Dolesh is an Editor at Large for Parks & Recreation magazine.