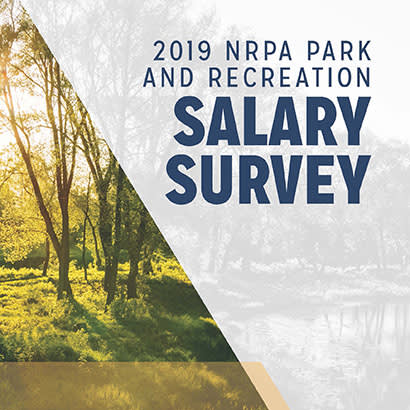 A good starting place for park and rec salary examinations
One word often comes up when describing park and recreation employees — passion. Passion for the natural environment, for the mission of parks and recreation and, especially, for the residents of their local community. The Bureau of Labor Statistics estimates that there were more than 157,000 full-time employees of local park and recreation agencies throughout the United States in 2017, with several hundred thousand more part-time and seasonal workers.
It is these skilled teams that program events, maintain facilities and otherwise ensure that all U.S. residents can access and enjoy all that their local park and recreation agencies have to offer. While an innate passion and enthusiasm drive these dedicated individuals to work daily, fair compensation is necessary in retaining and further recruiting the best employees.
The 2019 NRPA Park and Recreation Salary Survey report features detailed base salary and bonus data, including sample job descriptions, for 10 typical park and recreation agency positions:
Park and Recreation Agency Director (or Executive Director or Superintendent)
Planning Director (or Superintendent)
Director of Finance (or Administrative Director or Business Manager)
Recreation Director (or Recreation Superintendent or Assistant Director - Recreation)
Park Operations Director (or Maintenance Director or Maintenance Superintendent)
Park Operations (or Maintenance Foreman)
Facilities Manager
Athletics Supervisor (or Athletics Manager)
Aquatics Supervisor (or Aquatics Manager)
Recreation Programs Coordinator (or Recreations Programs Manager)
Many factors, such as region, education, certification, agency size, years of professional experience and more, go into an agency's base salary and bonus structure. These factors are acutely important in the field of parks and recreation because of the uniqueness of each agency and make the 2019 NRPA Park and Recreation Salary Survey report a good starting place for salary examinations.
Aside from detailed base salary and bonus data for the 10 positions previously mentioned, the salary survey report touches on another area of importance to employees — benefits. An agency's benefits package can either "make it or break it" for recruiting and retaining the best candidates. The 2019 NRPA Park and Recreation Salary Survey report gives an overview of the typical leave time, health insurance premiums, retirement plans and salary or bonus adjustment determinants found at park agencies throughout the United States. It also dives into various minimum-wage policies and the factors used to determine seasonal workers' starting wages.
The passionate individuals of parks and recreation strive to enhance the community experience of each resident who visits their facilities or attends their programs. While they are not looking for praise, they are well within their rights to make a decent living doing what they love, which, in turn, makes their community healthy and vibrant.
Learn more about the salary survey or download a summary of, or access, the full report.
Melissa May is NRPA's Senior Research Manager.